I used the new Google Pay for over two years — here's why it's amazing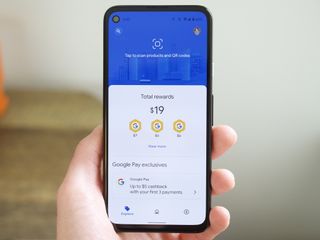 (Image credit: Joe Maring / Android Central)
Google overhauled Google Pay in the U.S. with a brand new design and exciting feature additions like cashback rewards and the ability to send and receive money from friends and family with ease. Oh, and because Google likes building messaging services so much, it baked one right into Google Pay so you can text your contacts from within the payments platform.
While these features are making their way to the U.S. for the first time, customers in India have had access to these features for a few years now. The redesigned Google Pay is based on a payments platform that Google introduced in India over three years ago, called Tez. Tez means fast in Hindi, and the service was built from the ground up for Indian users and works on the country's centralized Unified Payments Interface platform.
Tez started out as a service to transfer money to your contacts, and Google added rewards and offers to the platform shortly after launch. It then picked up the ability to pay and manage bills for phone service, power, heating, broadband, and others. And six months after launch, Google added a chat feature to Tez.
Tez immediately gained momentum in India, racking up 750 million transactions in the first 12 months. The lightweight service worked great on budget phones, and Google then folded Tez into Google Pay back in August 2018 to streamline its payments platform, and in doing so created the Google Pay that's now making its debut in the U.S.
Now that you have a better understanding of Google Pay's journey, let's talk about what makes it a standout platform. I use the service regularly to transfer money to friends and family. Back when going out with friends was still a thing, Google Pay was the go-to option for divvying up the bills.
Source: Android Central
Google Pay is also a great way to manage all your bills in one location. I rely on Google Pay monthly to pay my phone, broadband, and credit card bills, and the fact that I don't have to go into individual apps to do this clinched the deal for me. Google also has a local businesses feature that's particularly handy for finding nearby stores, and in the U.S. you will be able to find the nearest gas station based on your location.
But the defining feature in Google Pay is the rewards and offers. Not only did I end up saving a decent amount of money via cashback offers by using Google Pay, but I also got free subscriptions to Audible, YouTube Premium, and other services.
Google heavily incentivized Google Pay in India, and that allowed the service to gain significant momentum in the country. Google also does timed events to attract new users and is currently running a Go India mini-game within the service that rewards users with cash prizes for transacting on the platform.
The result of these efforts? Google Pay is now the dominant payments platform in India, touting 75 million transacting users a month and clearing over 500 million transactions every month.
Google is using a similar strategy in the U.S. where it is offering attractive cashback offers and rewards, and that should allow it to make headway in the country. As for that chat feature, I used it more than I thought it would. Turns out all Google needed to make Allo work was tack a payments platform to it.
After two years of usage, Google Pay has become one of my favorite Google services. It does everything I'm looking for in a payments platform; it offers a centralized location for paying bills, I can easily send money to friends and family, pay online and at retail stores, and the rewards are a nice bonus.
I set up my Google Pay account in the U.S. earlier this week, and the feature-set is identical to the Indian version of the service. Google is offering a financial monitoring service in the U.S. in addition to all the other features, and that should allow Google Pay to stand out just that little bit more.
It's exciting to see these features make their way to the U.S., and if you are interested in seeing what the new Google Pay has to offer, hit up the link below to install the app.
Get paid
The only payments service you need
Google Pay now offers an easy way to send and receive money from friends and family, and lets you pay online and at retail stores. The best part about the service is that it now has attractive cashback offers, and you also get a dashboard to easily view your finances.
Get the Android Central Newsletter
Instant access to breaking news, the hottest reviews, great deals and helpful tips.
Harish Jonnalagadda is a Senior Editor overseeing Asia at Android Central. He leads the site's coverage of Chinese phone brands, contributing to reviews, features, and buying guides. He also writes about storage servers, audio products, and the semiconductor industry. Contact him on Twitter at @chunkynerd.
Any idea when and if it might come to Canada?

I thought it already works in Canada???? Installed it but haven't used yet?
Winnipeg

I used Google pay 3 times, just really to be nosy, but to be honest it is more hassle than it is worth, if i wanted to use contactless a contactless debit card would work better. To be honest i see very few people using their phone to pay for stuff, When Apple first started Apple pay you would see a few doing it and looking around to see if other people was watching them, but I do not even see that now.
i don't think paying by phone have really taken off, well not in my little city, maybe in London or other big cities.

Agreed! I have not seen anyone yet use their phone for such a thing. Unfortunately...I still see "older" people (mostly women) still writing checks to pay for groceries! That is annoyingly SLOOOOOOOOWWWWWW. But with the chips in cards it is so easy to just stick it in the reader and presto...bill paid. With every card and/or bank having their own app it is very easy to keep track of finances. Having to introduce a separate app to keep track of all the other apps/accounts/cards...seems counter intuitive and more complex to me.

Cheques in the U.K. have more or less gone, I don't th8ink any store accepts them now. You say it is easy to keep track of finances, yes it is if you have a smartphone or a computer. My Dad hardly used his debit card when he was alive, it was cash, I admit I do like using cash, used it today to get some shopping after work, if I really have to I use chip and pin on the debit card. i don't have a contactless card, my bank did send me one a couple of years back, I phoned them up and told them to send me a normal card., which they did, but not without a lecture about how good contactless cards are and how secure they are. but paying by phone don't seem to have taken off that well.

Of course starting in January US users have to start paying a fee when sending $ to friends/family, while in India it remains a free feature. Why?

How do you set up bill pay with google pay... I have been using it for years, actually started with Isis pay then softcard for obvious naming reasons, then Google wallet, then Android pay, then pay with google, and now just Google pay again or G pay lol... Don't see any options in the app to set up bill pay accounts.

Yeah your article is B.S.! Do your research! Google pay in the United States does not support Bill pay nor is the chat feature available either! Waste of time, I verified by contacting google support in California.

What good is it if it does not have MST like Samsung Pay.

Yeah, i think without that, any other platform is kind of useless. Any time I've ever tried Google Pay, something just wouldn't process, so i said screw it. With mst, you know it will work everywhere

Heads up: the new Google Pay app doesn't (yet?) support boarding passes. So you still need the old app installed if you want to keep them there.

All this glowing praise and you ignore the one fatal "feature" of the new Google Pay: Google is now charging 1.5% for every use on instant P2P transfers. Since this constitutes 100% off my use case (quickly transferring $ to family members), after several years of using this service without cost I'll be shopping for another P2P payment method. Zelle looks promising. You also don't mention that if you opt into some of the cashback features, you are literally giving Google permission to analyze all details of your financial transactions to customize offers and ads. No thanks.

Samsung Pay still has it beat with MST alone

A lot of countries don't use it these days, even loyalty cards they normally have a barcode. The only card i have that uses MST is my discount card for work. The cash machines still use MST, so i was told a couple of weeks back, which surprised me.

With what the US government plans on doing to google, this will no work for long. They plan on breaking all of google apart. Mainly if free countries like the US that like their privacy from big companies.

I have used Google Pay for contactless payments for a couple of years now. Now when I open the app it asks me to install the new Google Pay. Apparently the new version is not considered an update - or maybe it will be pushed out to everyone using the current app at some later date. Until any version of Google Pay starts supporting all the financial institutions I use, and being accepted at more of the businesses I patronize, it is barely worth the effort.

These would be the food equivalent to Google Pay...
Vegemite
Haggis
Balut
Mopane worm
Lutefisk In other words, Google Pay is an acquired taste. New features in Google Pay? They may be new features TO Google Pay, but they been available in other apps for years. In the US, Canada, Mexico, Europe, Japan, Brazil, and many other places, Google Pay is very late to the game. There are many apps that do everything GPay does and they often do it better. If you argue the case that GPay consolidates all those features in one app, well that's just not original or compelling.