Huawei MediaPad M5 Lite hands on: Kid-friendly doodle pad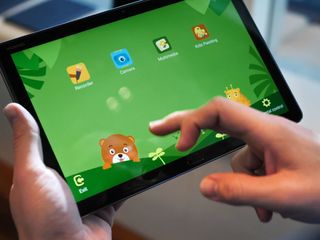 Sharing a tablet with young kids sucks most of the time, and not just because their fingers are inexplicably sticky no matter how many times you clean them. It's important to lock down the software so kids aren't getting into apps they shouldn't but doing so in a way that isn't overly complicated or restrictive for you as the parent isn't always easy on an Android tablet.
Huawei's new MediaPad M5 Lite solves this with a new kid mode, and it's a singular highlight in a tablet that otherwise feels exactly the same as the company's previous efforts in this space.
Image 1 of 3
Image 2 of 3
Image 3 of 3
The MediaPad M5 Lite is a 10-inch Android tablet with a 1920x1200 resolution, an active stylus included in the box, and a Kirin 659 under the hood. It's running Android 8.1 with EMUI 8 on top, with no mention of when the latest version of Android can be expected in update form. In both specs and UI, this tablet is dangerously similar to the last couple of tablets released by Huawei. And on one hand, that's not a bad thing. It's a familiar experience, and if you already have and enjoy a Huawei tablet the consistency is useful.
The kid apps are where things get different and interesting. This Kids Space is protected by a pin number so the kid can't leave this area to explore the rest of the tablet, and as the parent you have total control over what apps are available within Kids Space. There's a special kid version of the camera UI as well as a paint app and some other fun things, but everything else is the normal Android apps. If you want your kid to have access to Netflix, for example, you white list it in the settings and it is available within this kid mode.
Image 1 of 5
Image 2 of 5
Image 3 of 5
Image 4 of 5
Image 5 of 5
Unlike most of these "kid zone" apps, you don't actually have to launch the app for your kid. The fingerprint sensor on the MediaPad M5 Lite can be set to launch Kid Mode directly when your child's fingerprint is detected. This means you can set the experience up so your kid can use the tablet entirely on their own and you don't need to worry about whether they're getting into apps they shouldn't or spending your cash in the Play Store without your permission.
Huawei's new tablet is going to cost you $299, which gets you 3GB of RAM and 32GB of onboard storage. Comapred to the similarly spec'd but stylus-free Kinds Fire HD 10 Kids Edition at $199 and the more capable and dramatically nicer UI in the 9.7-inch iPad at $279, it's difficult to justify buying this thing. But if you like the EMUI experience and you'd like a special secure area for your kids to share your tablet with you, the MediaPad M5 Lite is here for you.
Russell is a Contributing Editor at Android Central. He's a former server admin who has been using Android since the HTC G1, and quite literally wrote the book on Android tablets. You can usually find him chasing the next tech trend, much to the pain of his wallet. Find him on Facebook and Twitter
YouTube says the chip is a Kirin 659, and article says 925. I think 659 sounds more plausible.

For $60 more just buy the adult version with the more powerful processor and 4GB of Ram. That is definitely a better deal than any of the Chrome OS tablets put there.

Agreed I have the m5 and it is brilliant
Android Central Newsletter
Get the best of Android Central in in your inbox, every day!
Thank you for signing up to Android Central. You will receive a verification email shortly.
There was a problem. Please refresh the page and try again.