These are all the Huawei/Honor phones coming out in 2018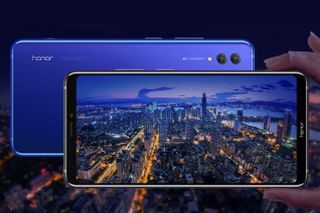 Although it may not be as popular as Samsung or Apple in the U.S., one of the world's biggest smartphone brands is Huawei.
Huawei often releases some of the best and most interesting Android phones of the year, including powerful flagships and more affordable options through its Honor sub-brand.
It can be hard to keep up with Huawei's endless releases, so to help keep you in check, here are all the phones the company's launching in 2018.
The phones we're still expecting
Huawei Mate 11
Towards the end of 2017, Huawei decided to go out with a bang with the impressive Mate 10 and Mate 10 Pro.
The Mate 10 Pro paved the way for Huawei's 2018 lineup, featuring the Kirin 970, a large 6-inch 18:9 screen, and fantastic dual cameras.
Rumors surrounding its successor are still pretty light, but if it's anything like last year's model, it'll be big, powerful, and a true beauty to look at. The Mate 10 Pro was the first in the series to adopt a new glass back, and we'll likely see Huawei continue that trend this year with the Mate 11.
Huawei Mate 10 Pro review: Best Android flagship for battery life
Honor 8X
Released at the very end of last year, the Honor 7X continues to be one of the best ways to spend less than $200 on a smartphone well into 2018.
Honor really hit the nail on the head with the 7X, offering a sturdy metal design, fast Kirin 659 processor, 5.93-inch 18:9 display, and respectable dual cameras for just $199 in the U.S.
We fully expect an Honor 8X to be announced before 2018 is over, featuring a similar price and even more bang-for-your-buck.
Honor 7X review: The new budget champion
The phones that have already come out
Huawei P20/P20 Lite/P20 Pro
A few months after the Mate 10's U.S. launch, Huawei came out swinging once more with its P20 series — consisting of the P20, P20 Lite, and P20 Pro.
There are a lot of similarities with the three phones, including glass designs, fingerprint sensors, and notches in their displays.
While all of the handsets are worth a look, the P20 Pro is easily the most eye-catching. In addition to its ultra-reflective and color-changing glass back with the Twilight color, you'll find not one, not two, but three rear cameras — including a 40MP RGB sensor, 20MP mono sensor, and 8MP telephoto one.
The end result of this wild combination are some of the best photographs you can take from a smartphone, especially when it comes to low-light shots.
You'll find a lot to love about the P20 Pro, but depending on where you live, buying it could prove to be a bit tricky.
Where to buy the Huawei P20 Pro in the U.S. and Canada
Huawei Porsche Design Mate RS
If the P20 Pro isn't cool enough for you and you've got endless amounts of cash to burn through, the Huawei Porsche Design Mate RS might be the perfect fit.
This is essentially the same phone as the P20 Pro, but it's got a different design, stunning red color, in-screen fingerprint sensor, and a pain-inducing $2000 price tag.
The Porsche Design Mate RS certainly isn't for everyone, but it's easily the most eye-catching phone in all of Huawei's lineup for the year.
See at Porsche Design (opens in new tab)
Huawei Mate SE
On the complete polar opposite end of the spectrum from the Mate RS is the Huawei Mate SE.
The Mate SE costs just $249 in the States and comes with a 5.93-inch edge-to-edge 18:9 FHD+ display, dual 16MP and 2MP rear cameras, Kirin 659 processor, 4GB RAM, 64GB of storage, and a large 3,340 mAh battery. It's also available in both Grey and Gold colors.
You get a lot of bang-for-your-buck with the Mate SE, but if you want to stretch your dollars even further, I'd suggest checking out the Honor 7X that was released at the tail-end of 2017.
Honor 7X vs. Huawei Mate SE: What's the difference?
Huawei Nova 3
If you like the Huawei P20 but wish it came in a more affordable package, that's where the Huawei Nova 3 comes into play.
In regards to its design, the phone looks very similar to its P20 cousin. The front is home to a 6.3-inch Full HD+ display with a 19:9 aspect ratio, and because this is 2018, there's a notch at the very top.
Around back is a glass finish that comes in Purple, Black, Aqua Blue, and Primrose Gold/Yellow colors. This is also where you'll find the fingerprint sensor and dual 16MP + 24MP primary cameras.
Under the hood is the Kirin 970 processor, 6GB RAM, and Android 8.1 Oreo. Huawei will officially unveil the Nova 3 on July 18, but it's already up for pre-order on VMall right now.
Honor View 10
Honor's first phone for 2018 was the Honor View 10, and boy does it have a lot to offer. This is one of the pricier Honor phones at $499, but it comes equipped with just about every flagship feature you could ask for.
The Honor 10 impresses at first glance with a metal unibody design and ultra-slim bezels. The display measures in at 5.99-inches with an 18:9 aspect ratio and has a resolution of 2160 x 1080. There's a fingerprint sensor underneath it, 3.5mm headphone jack on the bottom of the frame, and dual 16MP + 20MP cameras on the back.
Other goodies include the Kirin 970, 6GB RAM, 128GB of storage, NFC, and Android 8.0 Oreo with EMUI 8.0 on top of it. Add all that together with a face unlock feature and a long-lasting 3,750 mAh battery, and you end up with one heck of a phone.
See at Amazon (opens in new tab)
Honor 10
The Honor 10 was released in late April, and it has more in common with the Honor View 10 than just a similar name. Just like the View 10, the Honor 10 has the Kirin 970, 6GB RAM, and either 128GB or 64GB of storage. However, that's where the similarities end.
You'll find dual cameras on the Honor 10, but they're a bit different with 16MP and 24MP sensors. There's also a 24MP shooter for the selfie camera, 5.84-inch 1080p LCD screen with a notch at the top, and a reflective, color-changing glass back just like the Huawei P20 Pro.
The Honor 10 is available in China and the UK, and depending on the storage configuration you choose, you'll spend between $414 and $478.
Honor 10 announced with the P20's design and a much lower price
Honor 7A/7C
Next up, we've got the Honor 7A and 7C. These are the cheapest phones on this list, coming in at £139.99 and £169.99, respectively.
You won't find the most impressive specs on the 7A and 7C, but what you do get is all the basics for a solid experience at an incredible price.
The 7A is the more affordable of the two, offering a plastic body with a metal-like finish, Snapdragon 430 processor, 2GB RAM, 16GB of storage, and a single 13MP camera. With the 7C, you get a faster Snapdragon 450, 3GB RAM, 32GB of storage, and a depth-sensing 2MP camera to go along with the primary 13MP shooter.
You can purchase the Honor 7A and 7C in the UK and India.
Honor 7A + 7C bring face unlock to the sub-£170 price point
Honor Play
There's been a recent interest in gaming phones in the Android space, with notable handsets including the Razer Phone and Asus ROG Phone. Honor's the latest company to take a stab at this growing niche with the Honor Play.
A good gaming phone needs to be plenty powerful, and the Honor Play delivers here. It's powered by the Kirin 970 and comes with a feature called GPU Turbo that allows you to eek out even more performance when playing particularly demanding titles.
You've got your choice between 4 and 6GB of RAM depending on the model you choose and 64GB of storage is present for housing all your local files. Other specs include a 3,750 mAh battery, Android 8.1 Oreo, and a 6.3-inch 19:9 screen with a resolution of 1080 x 2280.
The Honor Play is launching first in China with a starting price of around $375.
Honor 9i
The Honor 9i was also announced alongside the Honor Play, but it ditches the gaming focus and instead aims to be your typical Honor mid-ranger.
Up front is a 5.84-inch 19:9 display with a 1080 x 2280 resolution. The Kirin 659 powers the phone along with 4GB RAM and a 3,000 mAh battery should offer respectable endurance.
Other features include dual 13MP + 12MP cameras on the back, 64 or 128GB of storage, and Android 8.0 Oreo.
Similar to the Honor Play, the Honor 9i is also launching in China and carries a starting price of $220.
Honor 10 GT
In early July, Honor officially took the wraps off of the Honor 10 GT. This is mostly the same phone as the Honor 10 that was released earlier in the year, save for the fact that it has a whopping 8GB RAM.
Aside from that, everything else is just as you'd expect. The Honor 10 GT is powered by the Kirin 970 processor, has a 3,400 mAh battery, 5.8-inch 2280 x 1080 display, 16MP selfie camera, 16MP + 24MP rear-facing sensors, and the rare 3.5mm headphone jack.
The Honor 10 GT is launching in China on July 24, and while pricing is still unknown, it'll likely cost around $500 or so.
Honor Note 10
A little over a week before Samsung takes the wraps off of the Galaxy Note 9, the Honor Note 10 has conveniently been announced just ahead of it.
First thing's first, this is a big phone. There's a massive 7-inch screen on this puppy that's paired with a Super AMOLED panel and a resolution of 1080 x 2200. The tall 18:9 form factor should help out a bit with usability, but even so, there's no getting around the point that this thing's massive.
Other specs for the Honor Note 10 include the Kirin 970 processor, 6GB/8GB RAM, 64GB/128GB internal storage, and a monstrous 5,000 mAh battery. Add that together with a PC-like liquid cooling system, microSD card support, and dual cameras, and you've got a well-rounded package.
The Honor Note 10 goes on sale August 1 with a starting price of $409 for the 6GB/64GB model.
Updated July 31, 2018: Added the Honor Note 10 to the list!
Android Central Newsletter
Get instant access to breaking news, the hottest reviews, great deals and helpful tips
Joe Maring was a Senior Editor for Android Central between 2017 and 2021. You can reach him on Twitter at @JoeMaring1.
Give me the Mate 10 pro with headphone jack, higher resolution screen, better cameras, faster SOC, SD card support and we'll have a winner! (Of course keep the fingerprint sensor in the rear and the ir blaster) Don't forget about good US Band support Huawei.(VOLTE on AT&T would be nice to have)

I wouldn't hold your breath on VOLTE. AT&T locks VOLTE and WIFI calling to branded devices. My understanding is it's possible to get VOLTE support, but it has to go through AT&T's certifications. I don't see that happening. But then, I could also be wrong.

Bet they're devastated....

Which ones are supported by US carriers?

I have a Mate SE and it works great with AT&T. I understand it works equally well with T-Mobile or any other GSM provider.

Which ones are not in the cross hairs of the US Congress that they have been warning us against using?.. Oh yeah none of them... Pass.

Some people rather belief in totally unproven claims of Huaweis espionage than in proven claims of manmade climate change. Weird world!

Great point. Not to mention the average age of a member of Congress is like 57-62. Fossils making technology decisions...

Global warming?!? Please, it snows in Washington DC. All the proof you need that it's BS.

Ha ha. Just like the 100 plus deg we have here in Newfoundland all July. Try again

My gut feeling is that their phones are extra secure at this point in time. Right now Huawei is a serious competitive threat to Samsung, LG, Apple, Nokia, Qualcomm, Mediatec, Intel, Erickson, Linksys, Cisco and lord knows what other big tech company. All of them have a huge financial incentive to show the world some proof that Huawei is an agent of the Chinese Communist Party or the People's Liberation Army. That evidence would effectively demolish a very aggressive business competitor without any of them having to build a better or cheaper mousetrap. And yet, no evidence has been produced of some deliberate security hole. And that does not even include how badly Google would want to avoid any association with an entity that was using Android for nefarious purposes. Furthermore, the NSA, the CIA, the Mossad, MI6, the Surete, the FSA and who knows who else have also failed to provide any evidence that Huawei is spying on its customers. Zip. It's frankly kind of hard to believe that a company that is enjoying a business run like Huawei would be stupid enough to commit corporate suicide by allowing its products to be used as a porthole for espionage. The fallout would be devastating if exposed.

Please don't think for yourself! Only listen to the Gov't, They know what is best for you. C'mon. Apple phones are made in China. so are Samsung. Huawei is #3 cell phone brand worldwide. You don't think there are politics behind. Huawei are bad!? They sell cheap phones that work well and compete with Apple and Samsung for a fraction of the price. If China wan't to see my kids first day of school, I don't care. If you truly believe that Huawei and only Huawei are capable of tracking you, hacking into your phone, and mapping where you go, get real. FBI, CIA, NSA, Homeland Sec, and any other intel agency have been doing that for almost 20 years. China and Russia are not Marvin the Martian. They are not seeking world domination. Time to stop listening to Russia is communist and wants to rule the world! This isn't 1960 and China isn't the new big enemy. We are on a world with other countries. We trade with them to make money. The same way they do us! Take off the foil hat and you can come out of your bunker.

Would LOVE to see a US release of the 6.9-inch Honor Note 10, on T-Mobile, as an Android One/Android Enterprise Recommended.

Looking forward to the Honor 8x. I'm still rocking my honor 8. Great phone all around.
But that P20 Pro looks nice though..

Same here. The Honor 8 is really well done

Those flagships look beautiful. Never had a Huawei and probably never will, but I hope someone else follows in their color footsteps.

Samsung hold ur balls as Huawei offers quality with very minimal compromises
Android Central Newsletter
Get instant access to breaking news, the hottest reviews, great deals and helpful tips
Thank you for signing up to Android Central. You will receive a verification email shortly.
There was a problem. Please refresh the page and try again.