Where to buy the Huawei P20 Pro in the U.S. and Canada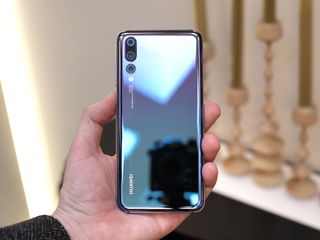 Thanks to its striking design and triple rear camera setup, the Huawei P20 Pro is easily one of the most unique Android phones to be released so far in 2018.
You can buy the phone in both the United States and Canada, but since Huawei isn't officially selling it in the U.S., doing so there is a bit trickier than in Canada.
In any case, here's how you can get your hands on the phones in the respective countries.
United States
Amazon (Quality Deals Shopping Center)
First on our list, Amazon seller Quality Deals Shopping Center has the P20 Pro listed on the mega-popular shopping site for $842.40. At the time of publishing this article, Quality Deals Shopping Center has a 96% positive rating in the last 12 months with 215 reviews.
That $842.40 price gets you the Midnight Blue color, but if you want to step up to the Twilight or Black options, you'll spend $874.89 and $939.00, respectively,
There's a 30-day return policy upon the arrival of the phone, but it's noted that a 20% restocking fee may apply.
eBay (never-msrp and sobeonline1)
Our friends at Android Police spotted a couple sellers on eBay that are currently running pre-orders for the phone, and for folks that are dead set on using it State-side, this is your best bet for picking it up.
Both sellers have very positive ratings (99.0% for never-msrp and 98.8% for sobeonline1) with never-msrp selling it for $789.99 and sobeoline1 charging $849.99. That's not cheap by any stretch of the imagination, but it's also not terrible considering that the phone isn't officially being sold here in the country.
No matter which seller you choose, free shipping is offered.
You'll find 30-day return periods for both sellers, but the way these are handled is slightly different. You'll pay for return shipping no matter which one you choose, but sobeonline1 does note that a 15% restocking fee may apply.
eBay (jtbcglobal)
Another eBay seller we recently spotted in jtbcglobal. Jtbcglobal has the P20 Pro going for $879.99, making it one of the most expensive of the bunch.
This is a factory unlocked version of the P20 Pro and comes wiht a 24-month warranty from Huawei. The phone's in new condition, shipping is free, and you've got 30 days to return it for your money back or exchange it for a different item.
As for jtbcglobal's seller rating, they're currently sitting at 92.6% with 693 reviews.
Canada
Rogers & Fido
In Canada, Rogers in selling not only the P20 Pro, but the P20 and P20 Lite, too.
Looking specifically at the P20 Pro, the phone costs the following with the carrier's various plans:
$249 with the two-year Premium+ Tab
$449 with the two-year Premium Tab
$599 with the two-year Smart Tab
$999 with the two-year Talk & Text plan or outright with no plan/tab
If you purchase the P20 or P20 Pro, Rogers has an exclusive offer that'll let you grab a free Huawei MediaPad T3 tablet when you activate the phone on select two-year plans.
If you're buying the P20 Pro at Fido, pricing looks like this:
$0 down on a two-year Extra Large plan
$199 down on a two-year Large plan
$359 down on a two-year Medium plan
$479 down on a two-year Small plan
$740 when buying without a plan
Similar to Rogers, Fido is also selling the P20 and P20 Lite.
Telus & Koodo
For Telus customers, you can grab the Huawei P20 Pro for as little as $250 down depending on the plan you choose. If you prefer buying the phone outright, it'll cost you $980.
Telus is also selling the regular P20, but unlike Roers and Fido, you won't find the P20 Lite here.
Moving over to Koodo, you'll also find the P20 and P20 Pro with the P20 Lite being absent once more.
For Koodo's pricing, you're looking at the following:
$450 with Tab Large plan + $20/month for 24 months
$ 620 with Tab Medium plan + $15/month for 24 months
$740 with Tab Small plan + $10/month for 24 months
$980 without any monthly plan
Bell
Last but not least, Bell's selling the P20 Pro, too.
Buying the phone with a 2-year plan w/ at least 1GB of data and $80/month charge per user will let you grab it for just $249. Those same requirements with a $70/month charge per user kicks things up to $449, and buying the P20 Pro without any contract will set you back $1049.
Updated June, 2018: Added new sellers for both the U.S. and Canada that are now carrying the P20 Pro!
Get the Android Central Newsletter
Instant access to breaking news, the hottest reviews, great deals and helpful tips.
Joe Maring was a Senior Editor for Android Central between 2017 and 2021. You can reach him on Twitter at @JoeMaring1.