Huawei P20 and P20 Pro hands-on preview: Triple threat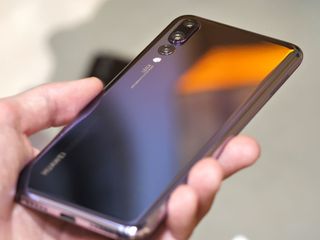 The most common criticism leveled at the hot new Android phone of the moment, the Galaxy S9, is that it's kind of a boring upgrade. Samsung did just enough to justify releasing a new model, and little more.
The perfect foil to that device, then, should be Huawei's P20 series. Just announced at a glitzy launch event in Paris, the P20 takes the core hardware of the Mate 10 Pro, encases it in shimmering curved glass, and equips it with a crazy new camera array, boasting a combined total of 68 megapixels across three sensors.
The P20 and P20 Pro represent a major departure from the design language of previous Huawei phones. It's all about the curves now, with beautiful mirrored finishes and glass panes that blend almost seamlessly into the metal frame.
There's a standard loadout of colors available: black, gold and blue. But the ones you'll really want are the stunning gradient finishes, which shift through colors on the vertical, and shimmer as they tilt through the light. We got some face time with the "twilight" gradient finish ahead of today's launch event, which shifts through turquoise, to blue, to purple. There's also a "pink gold" gradient finish for the P20 Pro.
It's reminiscent of what we first saw in the HTC U11 last year, and needless to say, looks spectacular. Whatever other issues you might have with the P20, it's hard to fault the aesthetics and build quality of the gradient-finished P20s. These are the best-looking Android phones I've used, and I've used pretty much everything.
As with previous models, the differences between P20 and P20 Pro go beyond the size of these devices.
The P20 has a 5.8-inch LCD panel, while the larger, more premium and much more interesting P20 Pro steps up to a 6.1-inch OLED. And yep, that's an iPhone-style screen notch up top. Notches are a thing now, and Huawei isn't the only manufacturer aping this iPhone X design trait.
Some people will hate the notch, but I don't find it all that distracting, mainly due to the way it's implemented. Neither P20 has an unnecessarily large display cutout -- they're just big enough to house the earpiece, sensors and a 24-megapixel front camera.
That front camera enables face recognition too, which we couldn't test ahead of launch, but which Huawei says can unlock the phone in as little as half a second. That's faster than the iPhone X, though it remains to be seen how well it'll perform in darker conditions. At least Huawei already has a decent track record in this area, with the impressive face recognition capabilities of sister brand Honor's new View 10 phone.
Both P20s run Huawei's Kirin 970 processor, of course -- the same chip that powers the Mate 10 Pro. In other areas, the spec sheets do diverge a little: You get an extra couple gigs of RAM in the P20 Pro (6GB, up from 4GB), as well as IP67 water resistance and a bigger battery.
The smaller P20 is only rated IP53 (splash-resistant), which is disappointing considering that water resistance is such a table-stakes feature in a modern flagship.
The P20 should do fine with its 3400mAh cell, but the Pro steps all the way up to 4,000mAh. That's the same rating as the Mate 10 Pro, so given the other hardware similarities here, the P20 Pro should match the legendary battery life we've seen from that model.
More: Huawei P20 vs P20 Pro specs
And that brings us to the meat and potatoes of these phones: The unique camera setup that really sets the P20 series apart. The standard P20 has dual cameras, a 12-megapixel RGB shooter augmented by a 20-megapixel monochrome camera, with new, larger 1.55-micron pixels for improved low-light performance. These sit behind f/1.8 and f/1.6 lenses respectively.
But what's really unique is the absolutely bonkers triple camera setup of the P20 Pro. So let's zero in on what's going on in this cluster of components on the top left corner. The P20 Pro has a 20-megapixel monochrome sensor, like the regular P20. The main sensor is an enormous 40-megapixel unit, a huge sensor by smartphone standards at 1/1.7 inches. The third camera is an 8-megapixel 3X telephoto camera -- 8 megapixels at f/2.4, with optical stabilization.
An array of extra sensors is onboard too, including a color spectrum sensor for more accurate white balance, alongside laser autofocus. The laser AF unit is just one of four ways in which the P20 Pro's cameras can focus, the others being phase-detection (standard for high-end phones cameras), depth focus -- by triangulation using the three cameras -- and contrast focus.
In a meeting ahead of today's launch event, Huawei also demonstrated how the NPU -- Neural Processing Unit -- in its Kirin processor can predict erratically moving subjects and keep them in focus, where competitors might quickly lose the subject. For example, a flower blowing in the wind, or kids and pets.
This combination of cameras (plus the NPU, of course) lets Huawei do quite a few unique things that we really haven't seen before in a smartphone camera. Thanks to the new telephoto lens and high-res main sensor, up to 5 times hybrid zoom is supported in the P20 Pro, up from 3X in the Mate 10 Pro. The combination of a high-res RGB sensor, plus monochrome, plus a true telephoto lens means the P20 Pro can eke out more detail from zoomed shots where other phone cameras might produce a blurry mess.
At the risk of jumping to conclusions before we give the phone our full review treatment, it's pretty clear to me that the P20 Pro has probably the best telephoto camera on any phone to date.
The 40MP main camera can help in low light too, in tandem with the AI hardware inside the Kirin processor. The P20 Pro uses a kind of pixel-binning, combining four pixels into one, equivalent to 2 microns in size, to work magic in darker conditions.
Huawei has expanded the number of scenes that can be recognized by its AI scene detection and the NPU has also been drafted in to help with a seriously impressive new night shooting mode.
Now, instead of having to stand perfectly still or use a tripod, Huawei's AI stabilization system can take continuous exposures -- up to four seconds -- and then use the NPU's intelligence to pull out a bright, clear image. What seems to be happening here is that the phone is continually pulling data from the camera, then using its AI capabilities to compensate for motion and perspective differences. It's not unlike the "HDR+ Enhanced" mode you'll find buried in the settings on the Google Pixel 2.
The results in the P20's night mode aren't quite the same as one long exposure -- nor are the results as instant as a regular photograph -- but in my brief time with the feature, it was impressive. If real-world use matches up with my first impressions, it could be a great option for the times when you have the opportunity to take a longer exposure, but don't want to carry around a tripod.
We're just scratching the surface of what the P20 and P20 Pro cameras can do here. There are countless other features we didn't have time to fully test ahead of today's launch. To name but a few: AI composition assistance, which will nudge you towards improving the way your photos are framed. For instance, the P20 will be able to identify subjects in group shots and prompt you to fill out the frame appropriately. And for landscapes, it'll be able to find horizon lines and prompt you to align these for a more pleasing overall image.
And Huawei is onboard with 960fps slow-mo capture too, though like the Samsung Galaxy S9, this will be limited to 720p resolution. (The company claims the 40MP camera's pixel-binning, and ISO ceiling of 102400, also helps it avoid some of the low-light issues seen in rival slow-mo implementations.)
The software side of Huawei phones has always been a mixed bag, but at least now we're up to Android 8.1 in the new EMUI 8.1 build. Huawei of boasts significant performance improvements in this version -- responsiveness up 60% and smoothness up 50% compared to EMUI 8. Some of that seems to be thanks to a few slick new animations. Regardless, we'll have to wait for review time to judge overall performance.
EMUI 8.1 otherwise sticks close to what we already knew from previous software versions -- this is a highly customized version of Android, with a handful of weird quirks -- for instance, the way music player notifications are handed. (EMUI pulls colors from the app icon, not the album art, for reasons unknown.)
Other new features are mostly contained in the Gallery app, where Huawei's on-device AI can now tag more than 100 different types of photos, and rate and organize them using its own aesthetic score.
With the P20, Huawei is challenging the assertion that smartphones have become boring. It's doing so through glitzy, eye-catching hardware and envelope-pushing camera features. The P20 Pro in particular could be the perfect antidote to a relatively safe and unexciting upgrade from Samsung this year. The main questions to answer in our full review will be around software quality, and whether EMUI is still littered with nagging software issues.
And, of course, just how well the P20 Pro's whizbang camera features compare to the two Android camera champs from Samsung and Google.
Stay tuned.
Alex was with Android Central for over a decade, producing written and video content for the site, and served as global Executive Editor from 2016 to 2022.
EMUI...... Nope, I tired on the Mate 10 its a mess

What do you consider a mess there? My parents have 2 standard issue androids (samsung a7 and sony xperia) vs mine m10pro, and I see no issues or tragic dissimilarities... So, what exactly turned you away from m10pro?

I don't think it's a mess. I do appreciate it's not for everyone however and can see some of the frustrations that turn people away. Aggressive battery optimisations being top of the list that in turn affect notifications etc too. Most of it can be fine tuned to your liking but little annoyances can grow into huge ones in a short time

You nailed it. I really have it a try just wasnt for me

P20 Pro.... SOLD! It's blown everything away on the DxO Mark by a sizeable margin

It's so far in front I think the Pixel 3 has its work cut out catching it this year

Maybe. Remember that the Pixel was doing all this magical stuff with only one lens...

It may be Dxo king but Dxo is no longer credible and the pic samples are horrible, basically 2012 quality. I expect better quality pics than this. The real camera Kings are the Pixal 2/xl and the HTC U11/plus. Don't be fooled by this crap.

Dxomark are a legitimate benchmark. Overall score isn't, but their individual scores are nice

Not anymore. When they started climbing in bed with manufacturers for a payoff they lost all credibility. The evidence is out there. Just like most tech review sites are in bed with manufacturers, including this site. I'm not a conspiracy theorist but I am a realist and can think for myself and see the evidence all over the internet and in person. Just like most of the tech sites last year praised the Samsung S8/+ and the exynos chip. That thing would throttle very quickly from heat but you never read about that unless you looked for it. Same this year with the exynos chip as it is still a heat fest basically built for benchmark scores but not real life operation or sustainability.

And where did you see these alleged 2012 quality samples?

The camera samples from Dxomark are in the link below. The first sample looks kind of sketchy with blurry details towards the bottom (leaves, grass, fence). However, the rest of them look pretty darn good. I notice that Dxomark does not use colorful scenes in the low light shots, which does not give you a good perspective on how well a camera can pull colors out of a dark image. I also find it interesting that they chose to make their low light comparisons with the iPhone X and Pixel 2, neither of which are as good as the S9 Plus or U11 at low light. I would say they are still KINDA credible, except for climbing in bed with Apple so eagerly and giving them an artificially high score. I've done recent camera shootouts myself with other professional photographers, and the U11 just flat out embarrassed the iPhone. Yet, Dxomark still ranks the iPhone much higher. https://www.dxomark.com/huawei-p20-pro-camera-review-innovative-technolo...

Remember the Dx0Mark overall score includes video, something Apple does excel at.

Dxo is as far as you need to look. But they are all over the web and Twitter.

Pixel is far away from being a king, like any other mobile camera it does something right and it fails at other

To bad this phone is going to get much traction in the us.

If you care about OS updates at all avoid this phone. My Mate 9 still stuck on Nougat with October 2016 security patch

Howcome you're that far back anyway. Most people have their Mate 9 on Oreo now?

Using the UAE model mate 9, I guess that's why

Treble means absolutely nothing. Makes things easier for OEM that is it. OEM still has to have the ambition for updates .

True but it at least makes it less hassle for those companies that are in no rush to update regularly.

My mate 9 has had Oreo for 2 months... (USA)

My Mate 9 was updated to Oreo in February, and the US was the last place to get it. Check your settings.

Looks great, I know it's preference but the front would have looked more great if they could have moved the FP sensor to the back.

Now when is the mate 10 pro getting 8.1? Hmmm

Comes with a roll of tinfoil to create a hat for American buyers!

Can this be purchase(usa) to work on Tmo. ?

Yes. It has LTE bands 2, 4, 5, and 12. It's missing the latest 66 and 71, but almost every current phone is. Good luck finding a seller though.

Yep. trumpanzees ruined a great phone with their fear tactics and false protectionisim. Where do you think all those MAGA hats were made. Clue: it was NOT the US of A! How about all those tacky trump branded clothes. Again Clue: it was NOT the US of A. Then he goes after one of the good companies from China. Gotta love the brainless!

I don't recall Trump actually saying anything about the Huawei issue at all, maybe I missed it. Wasn't it the heads of the intelligence agencies that came out and made comments? Also, regardless of anything else, hats can't spy on you and smart phones certainly can so I don't know if equating phones made in China to hats made in China really holds up. Edit: What I mean to say is, I understand that is his stance as well, just that I don't remember the direct comments he made separate from the intelligence heads.

The US Gov. has been crapping on Huawei since 2002, but has never issued a shred of evidence.
The NSA did get caught hacking Huawei servers, so really who is the security threat?

Considering that the NSA has backdoors into all of the US networking equipment, US chipmakers' specs are readily available to them, Huawei gets none of their parts from a US company, and Huawei is rapidly becoming the design leader in smartphones (and other devices)... it's not surprising that the US government is trying to stop their momentum. I could easily see Huawei eventually becoming #1 in smartphones, sooner than most think.

If the next Mate 11/20 comes in that gorgeous Twilight color option and has a 4,000+ mAh battery, it'll be an instant buy for me to use on T-Mobile. IDGAF what Cheeto and his band of cronies say. I don't care if the Chinese government spies on me, I've got nothing to hide. As if Google doesn't spy on me already? Google already knows the type of porn I'm into, so shrug. Trump is just mad that Huawei isn't allowing the US a backdoor into their phones. Besides, if they're so concerned, One Plus phones should've been banned long ago, especially after they were CAUGHT trying to spy. But you don't hear anything about them, right? Oh, and really ask yourselves why Samsung isn't allowed to sell Exynos variants in the US? It's cause Samsung doesn't want to give the US any info! The government is in bed with Qualcomm, on the other hand, lol. Wake up, people.

i actually liked EMUI, but when i updated to 8 on my Mate 9, i started missing a lot of notifications

After seeing this I have to say i'm gonna jump on board just the camera alone is worth it for me :) As much as I enjoy my Samsung i think it's time for a change.

Don't tell my Mate 10 Pro but I think I like her sister (P20 Pro).

After looking at pic samples the camera is basically 2012 quality. It's really horrible for 2018 standards. It my be improved with an update but I have my doubts. Dxo is not credible any longer and are on the take.

Lol, there is always one.

That being said, I think DxO is a crock of shat. HOWEVER, I laugh at the people who have "brand X fanboyisms" and state my Brand x phone scored a number on DxO but when another phone beats it, they come out and state DxO is a joke. Hint: it is.....FOR ALL CAMERAS!

Think it might have more to do with Leica's input and larger sensor.
Both well known for reducing picture quality....

James E1 - can you share a link to the photos you ar referencing? On the Dxomark page, the first sample has some sketchy foreground details, but the rest of the photos looked very good.

All you need to do is look at the photos from Dxo. Zoom in on just about every face picture. Smudge fest, watercolor, painting. I don't need the processing to apply makeup that doesn't exist. You may see grain on the Pixel but that's acceptable over smudge. The P20 removes way to much detail by over processing it. It can be fixed with an update but I doubt it will because this was done by design.

It's not "just about every face picture", it's only in the portrait mode pictures. It applies a "beauty face" filter in addition to a simulated bokeh, which phones that cater to the Asian market often have. I personally don't like it, but it's really only a concern if you 1) use portrait mode a lot, and 2) are really bothered by the "beauty face" effect.

Look again. It's in almost every face picture. You can even see the smudge in outdoor daylight pics. It's present to some degree in every picture and it was done by design to hide noise. In some cases it is justified, in most cases it's not. It's horrible and simply not acceptable. I can almost guarantee you that the hardware has the potential to produce better photos than this. It's in the processing. They should have at least given the user the option to turn off the smudging. Dxo received a nice check for this review.

😂😂😂😂😂 Someone is obviously a Samsung or Apple fanboy taking this L poorly.

Nope, never owned either one. Have plenty of friends and family that do though.

EMUI is shocking, had it on the Mate 10 pro, never again! Hot mess!

But does it have a 3.5mm headphone jack and microsd card slot?

You know it doesn't. But free Boss headphones and 128GB of storage does mitigate this somewhat.

This is the first phone since I bought my Galaxy S7 that I've actually really wanted to buy. Telus should be selling, hopefully soon!
Really wish it had a headphone jack, but the other features of this thing might finally convert me.

Oh look, an iHuawei. Why do these brands think Apple design must be copied to a tee, even when it's been heavily criticised? The notch is one thing, but the way the rear cameras are designed is just shameless.

Yes three rear cameras just like Apple..

Wow looks like an amazing camera

It's not. It a smudge fest. 2012 quality at best. Hardware may be fine but the software and processing is simple not up to par. May be fixed with an update but I have my doubts as this was by design.

You are just so wrong.
The Jpeg algorithm may not be to your taste in which case shoot Raw.
I took your advice and looked at all the pictures I could find on Google and the more I saw the more I was convinced the camera is head and shoulders better than the competition in every category.
Or are you suggesting all Tech sites have been bribed?

i totally agree. Smudge fest is the perfect expression for this. Unacceptable. The Mate 10 did the same thing and not software update fixed it. I've seen pictures on gsmarena and they show these horrible outputs.

As an iPX user: Notch is fine, especially given no bottom bezel plus the tech they pack in the notch itself Notch + bottom bezel = not fine.

Android needs bottom bezel due to navigation otherwise it would be a complete failure. This way it's only half a failure.

I think they meant the bottom bezel with the fingerprint sensor. The bezel could be smaller like the S9/+ and LG V30 phones.

Bottom bezel is needed for the fingerprint sensor/home key. This is preferred for many users who frequently unlock their phone without picking it up or looking at it.

Now Samsung has competition. In fact, Samsung has a problem on its hands. Top camera, volume buttons on the right side of the phone, proper flat(ish) screen (edge screens are aesthetically nice but not functionally nice or easy to protect), finger print scanner in the right place, monster battery, etc. This year I was going to upgrade from my Note 5 to the Note 9 but I am now going to keep my Note 5 (especially as it seems Samsung was going to stick with the back fingerprint scanner) and just get me the P20 Pro. What Huawei is doing now is what I had expected from Sony, i.e. to deliver excellent handsets to compete with Samsung.

Ive seen reports that the p20 pro will not work in the US :(

According to their website it has (among others) LTE bands 2, 4, 5, and 12. Aside from T-Mobile's newest bands 66 & 71, that's the bands used on every phone (except 2) released for their network so far. It'll work very well.

I do not comment on the phone itself because i can't stand it (copy of apple and notch). The camera is a huge piece of hardware that should produce some incredible pictures for smartphone standards. But i've seen on a different page (g..m arena) the pictures which were taken - the night shots are what Huawei always had as night mode and they look great as long as you don't zoom in. The normal pictures with the 40mpx camera look as bad! i'm sorry to say that, but the presentation venue yesterday was the wrong one! it should have been the Louvre - a better place to show off the best digital paintings of today!
I would expect so much more from such an array of cameras and sensors. Having all that zoom and i don't know what other features but leaving out the actual quality of the picture is a no-go!

It should be noted that the 40MP main sensor actually uses the elements in a "binned" arrangement. In short, each group of 4 pixels can be combined to act as one. It technically may have 40 million elements on the main sensor, but the output can be 40 MP or 10 MP. This may explain why things can fall apart a bit when zooming in if it's a 10 MP shot.

Yeah, ok, I see it now. Over processed. The model does have very interesting ears though ;)
The GSM Arena review page with photos is linked below.
The low light photos in particular do poorly. Underexposed in 40 MP mode, drastic loss of detail in 10 MP mode which is supposed to be the best mode (for this camera) in low light. I would have to compare the same shot with the current bests of lowlight; the S9 Plus and the U11. https://www.gsmarena.com/huawei_p20_p20_pro_hands_on-review-1741p4.php

I have to agree in total with @James E1
Checking out also DXOMark website and the sample pictures they are not really bad, but they do not impress me at all. Sharpening and smudge - just too much!

I am at a loss to know what pictures people are looking at.
The pictures taken in portrait mode do look too smooth for my taste but portraits taken in standard mode are excellent.
Night shots have more detail and are far better exposed with more contrast than my Pixel.

If it was using a sd845 I'd be down to buy this; sd845 has a better built CPU and GPU, an all around useful hexagon DSP, an overkill ISP that can record UHD 60 fps HDR, and perhaps the SPU might be useful. The kirin just uses generic ARM cores and GPUs; they can't quite compete as well with Kyro and Adreno. And the hexagon dsp is just too useful to not have.

And yet, in real life usage the Kirin 970 is more fluid and play games smoother because it's a beast nonetheless.

« That's faster than the iPhone X« Speed is one thing , security is another

They want to proove that smartphones are not boring by copying the d'iphone design?! And the number of times they bring AI is borderline comical
Android Central Newsletter
Get the best of Android Central in in your inbox, every day!
Thank you for signing up to Android Central. You will receive a verification email shortly.
There was a problem. Please refresh the page and try again.