'HTC Sense 5' spotted on Droid DNA in China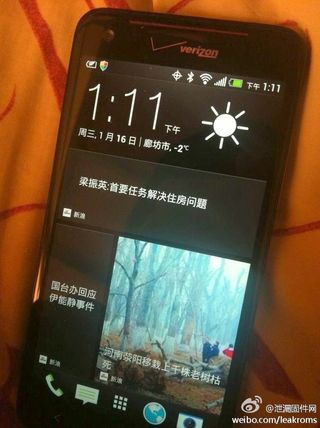 Following the leaked images of a new version of HTC Sense running on what seems to be HTC's upcoming "M7" flagship, another photo has emerged apparently showing Sense 5 on Verizon's Droid DNA. The shot surfaced via the user "LeakROMs" on Chinese social network Weibo, and it's a dead ringer for the software pictured on the supposed M7 device just a few hours ago. In addition to the re-worked icons, we can also see the new Sense weather widget and a home screen split into dedicated sections for social networking, news and tutorials.
Now, this is far from official confirmation that Sense 5 is headed to 2012 devices line the DNA. But it seems to show someone, somewhere is experimenting with a new version of HTC's UI on existing handsets.
Who knows what form the finalized version of Sense 5 might take, but the prevalence of this design across multiple leaks suggests HTC is re-working its software from the ground up. We'll keep you apprised of any further details, and we'll be live from Mobile World Congress in Barcelona next month, where HTC is expected to publicly unveil its 2013 line-up.
Source: LeakROMS; via: HTCSource
Android Central Newsletter
Get instant access to breaking news, the hottest reviews, great deals and helpful tips
Alex was with Android Central for over a decade, producing written and video content for the site, and served as global Executive Editor from 2016 to 2022.
I don't have a lot of experience with HTC (DNA is my first phone of theirs), but I would be pretty shocked if the DNA didn't get Sense 5/Android 4.2. After that though, I think it's probably a crapshoot.

Android 4.2 probably, but don't hold your breath on Sense 5. HTC did not want to upgrade Sense 3.x devices to Sense 4 even when they did upgrade the Android OS. The excuse was preserving the user experience people were accustomed to. Sense 5 looks like a Windows Phone wannabe with those tiled widgets and simplistic clock+weather widget, and many users would not appreciate having their Sense 4.x experience replaced with that.

no you will see not only 4.2 but whatever the next is, plus Sense 5.0. THe phone is too new

I was thinking SGS IV for my next phone, but if Sense 5 looks and works this well I may well be getting my 3rd HTC phone.

based on those other renders, I'm guessing those panes are widgets that are removable.
If so, it's looking like HTC is finally getting the idea and slashing bloated sense into a much nicer minimalistic UI. Could change my opinion on HTC, I'll be keeping an eye on this device and sense 5

If this is the new Sense, then I would love to see the rest of it. It seems to be a step in the right direction, but what it comes down to is how efficient it is. People bitch and moan about sense all the time, I was able to have my HTC Inspire updated to 3.0 a few months before I upgraded, functionally and visually I loved it, but it lagged/stuttered/crashed a lot.

I hop they finally integrate Google+ into friendstream. I like being able to have all my feeds inside one app.

Looks like shit. HTC is going in the wrong direction again.

Intelligent contribution. -_-

Actually while it might not be worded very well it as a contribution and a valid one at that. I personally dont like what I see in that screenshot. I actually like sense and the little details/features as well as how it brings everything together. What I dont like about sense is how it hogs up resources like ram and cpu. Give me sense with the stock aosp recent apps, app drawer, and notifications and ill be happy. Plus the camera. The camera is probably the reason why I havent changed to an aosp rom.

No I totally get what he is saying. It may not be everyones taste. But there are different ways of saying you don't like something without sounding like a doosh.

I love how many people hate HTC. Its a great phone company, and I love my LTEvo :).

Looks a lil too TouchWiz-ish

Their hardware is so consistent and premium looking I'm happy they're changing up the OS skin. It's the #1 reason I won't consider HTC I just can't get past that look and I don't like to root/custom rom my phones so it's a no go for me with them. I think Sony and Motorola are doing it right. Motorola is pretty close to vanilla android and Sony's UI looks mature and clean.

Hopefully the DNA will get it though with the new DNA root method mine will get it either way.

The clock widget is uuuuuggggggggllllllyyyyy.

This is a downgrade to the current Sense UI... ick

I wouldn't mind seeing this on the EVO LTE sometime soon if it fixes the bug that the Sense 4+ brought to the device.

Unfortunately HTC lost me for a bit. I know nothing big to them but I think its indicative of the problem they are facing. Sense is very bad on an Android system. As others have pointed out, it bogs it down by hogging resources. If you use an HTC device and have never used something else you may not notice it but I did. Random rebooting or strange crashes would occur and for years I just dealt with it. Then when the galaxy note 2 came out I took a chance and bought it. It's shocking to me how well this one runs the same processes with no trouble. I can't remember the last time I had anything crash on me. Granted it is a more powerful phone than my HTC amaze but really what I asked of my amaze shouldn't have been hard for it. What I do miss about sense is the enhanced interpolation. Everything spoke to everything very well when it did work. But I have found apps that nearly mimic that same function. Sense had contacts right and social media better than anyone else, and still do. I am actually shocked that no one has come up with a truly similar friend stream app that has the same functionality and widget set available.

This is a ugly.
Don't do this htc, please.
Ugliest font i've ever seen.
Ugliest interface ever.
Even touchwiz looks better.

if I don't get the new update through HTC Verizon I'm going to drop my service and never buy HTC phone again thank youI love this phone I paid a lot of money for this thingit's only fair that we get the update
Android Central Newsletter
Get instant access to breaking news, the hottest reviews, great deals and helpful tips
Thank you for signing up to Android Central. You will receive a verification email shortly.
There was a problem. Please refresh the page and try again.