HTC Sensation clears the FCC, T-Mobile radios confirmed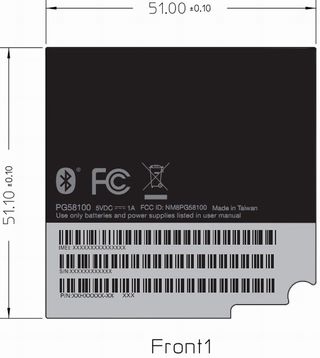 The HTC PG58100 (also known as the HTC Sensation) has officially cleared the FCC, making it legal to sell in the United States, which is good, because T-Mobile totally is going to sell it in the United States. Other documents at the FCC show that both front and rear cameras exist, as well as the standard Wifi and Bluetooth radios, which, of course, the Sensation (and just about every other new phone) has. This doesn't mean we'll be seeing it on the store shelves any time soon -- that part's up to the carriers.
There's some confusion out there about the PG58100 being the HTC Doubleshot (aka the MyTouch 4G Slide). It's not. We're talking two different phones here. The phone that just passed the FCC today is the HTC Sensation, according to the model number. The Doubleshot's leaked files show it to have PG59100 as it's model number, and there's no record of that one at the FCC just yet. The confusion is understandable considering the sheer numbers of Android phones and the cryptic code names they all use. (Just ask Phil; he mutters them in his sleep. Or so I'm told.)
Source: FCC via UnwiredView
Android Central Newsletter
Get instant access to breaking news, the hottest reviews, great deals and helpful tips
Senior Editor — Google Ecosystem
Jerry is an amateur woodworker and struggling shade tree mechanic. There's nothing he can't take apart, but many things he can't reassemble. You'll find him writing and speaking his loud opinion on Android Central and occasionally on Twitter.
I sure wish this was coming to VZW. I love my Tbolt, but this bad boy is even better.

I mostly agree. Love my TBolt; sure, this is better, but not sure if I'd enjoy it more than I enjoy my TBolt (and I'll have had the TBolt for at least two months before this is released).

I cannot wait to try this phone out. T-Mobile has longed for a Superphone, and this is it. Also, the HTC DoubleShot (myTouch 4G Slide) should be an awesome phone with a slide out keyboard. Both Sensation & Doubleshot should be running Sense 3.0 & should have GingerSense. How can we lose (Besides AT&T buying out our T-Mobile)?

"(Besides AT&T buying out our T-Mobile)" That's the loss. You sure you want to be on contract with T-Mo when the merger goes through? I suppose the merger could be thought of as T-Mo breaking its contract, thus letting you leave without an ETF, but if not, watch out.

It will be longer than 2 years before we will have to deal with any AT&T BS. I will be renewing a contract when the SGS2 drops without a 2nd thought...

that merger is questionable at best. The FCC already has said before that they are not in favor of the big four companies having mergers, especially any involving AT&T or Verizon. Plus, even if that does happen (which it won't), your t-mobile contract would be honored by at&t. It doesn't break the contract if they keep the terms, so even if they were to merge, it would actually be a good opportunity to get a new contract with tm right BEFORE the merger. You would keep the great plan, and get a larger network (with presumable better service). Next time do some reading before you go making up information.

yes please. I cannot wait to get this bad boooooy!

I really can't see this beating out my G2X... especially with HTC and their horrible battery life/undersized batteries and sense bloat. I think the g2x will run faster/longer but I hope I'm proven wrong. I'd love to go back to a 4.3 inch screen. It'll take alot to make me give up my g2x with cm7 though.

Will the bootloader be locked?

How's the Bootloader business?

Took a long while until the Android world had came
up with better phones than the iPhone (if that
indeed happened…). The Android super-phones
started with the Motorola Atrix (first dual-core,
qHD etc), Followed by Sony Ericsson ARC (thin as
hell, 8MP Caemra etc), the LG P990 (aka Optimus 2X
– dual core, lightweight, great battery life etc)
and the spec "king" the Samsung Galaxy S 2
(fastest CPU, best display technology etc). Here's
a nice spec comparison I found –
http://www.ineze.com/pro?
q=atrix%204g,%20arc,%20p990,%20sensation#c_tbl
Which phone shall take the crown?
Android Central Newsletter
Get instant access to breaking news, the hottest reviews, great deals and helpful tips
Thank you for signing up to Android Central. You will receive a verification email shortly.
There was a problem. Please refresh the page and try again.