HTC Sensation Android 2.3.4 update rolling out across Europe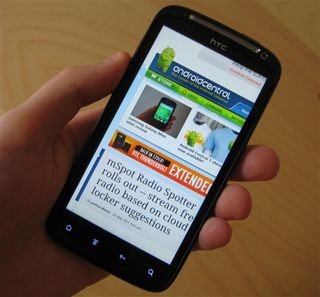 HTC Sensation users in Europe are reporting that the long-awaited Android 2.3.4 update for the device is now being pushed out over the air. There's no changelog available from HTC just yet, but being Android 2.3.4, the update should add video calling capability through Google Talk and the front-facing camera. If we had to hazard a guess, we'd say that a sprinkling of bug fixes and performance improvements may have been sneaked in there too.
It's also worth mentioning that this update is for unbranded Sensations only for the moment, so if yours was bought through a carrier, you'll have to wait a little longer while they approve it.
Unbranded Sensation owners, be sure to hit the comments and let us know how your update went.
Source: XDA
Alex was with Android Central for over a decade, producing written and video content for the site, and served as global Executive Editor from 2016 to 2022.
Thunderbolt should have it by Christmas!!!! Woo Hoo!!

So this means EVO 3D may get this also?

Need some EVO3D Love here in the states. COME ON!!!!!!!!!!!!!!!!!

Looks like thunderbolt will be the last phone to receive gingerbread.

I'd say that's a safe bet.

lets do this . hopelfully the lockups will stop on my 3VO once it rolls over here.. Note: even with the lock ups it's still a killer device.

lets do this . hopelfully the lockups will stop on my 3VO once it rolls over here.. Note: even with the lock ups it's still a killer device.

there's a quite a few evo3D & thuderbolt owner in here.... sadly my sensation is T-mobile brander so ill have to wait... plus i'm rooted.

I have an unbranded Sensation and I'm not getting the update. Maybe because I'm located in The Bahamas?

Ugh no fair :( when is my T-Mobile htc sensation 4G getting this update or any mr update to fix some bugs I am having smh so lets go T-Mobile and Htc let's get this show rolling its been 2 months already!!!!!

I wonder if the Galaxy SII will be next.

Well, I'm gonna continue enjoying 2.3.5 on my OG Evo..

Along with your single core processor ;). Jk

Still waiting on o2. Hoping for a little more stability in Sense 3.0. It's a great interface, just occasionally a little stuttery.

Just got the update! Installing now! P.S. Im living in Latvia and im on carrier 'Bite'

Cool:) what did the update bring/add and fixed?

Just installed the update. It briefly enabled making screenshots with any home-button press. Now it does so when I press the power button and home at the same time. I guess I won't need root after all. Excellent!

Also, HTC Sense seems a lot smoother than before. Hopefully stability is improved as well.
Android Central Newsletter
Get the best of Android Central in in your inbox, every day!
Thank you for signing up to Android Central. You will receive a verification email shortly.
There was a problem. Please refresh the page and try again.