HTC officially announces the Rhyme for Verizon, Europe, Asia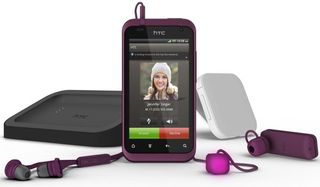 And here it is, folks: the HTC Rhyme (aka the Bliss). Coming to Verizon on Sept. 22, the 3.7-inch smartphone has Android 2.3, a 3.7-inch WVGA (480x800) display and a 5MP camera, along with the latest version of HTC Sense, seen only in leaks until now. It's also got a 1GHz Snapdragon processor and 768MB of RAM.
The real story, of course, are the accessories. There's the plugless dock (the trio of gold contacts is a telltale that you just place the phone in it), a glowing "charm cable" that plugs into the 3.5mm headphone jack, a sports armband and a Bluetooth headset. Note that the tangle-free earbuds are NOT of the Beats Audio variety.
The Rhyme -- which will cost $199 for all that purple goodness -- will be hitting Europe and Asia next month as well.
We're at HTC's event now -- hands-on impressions coming up.
Get the Android Central Newsletter
Instant access to breaking news, the hottest reviews, great deals and helpful tips.
why don't you announce the update for the thunderbolt

that is what i am saying lol but really why is this phone in purple

It also comes with a couple tampons

i think my wife just found a replacement for the OG Droid. the rumors are $50 w/ a 2 year contract. have to admit that is a steal for a phone with those specs and all those accessories. not going to appeal to everyone, but most women for sure will love this phone and that price tag.

is that official? i'm not following the press event, was that announced? i know it says that in the article above, but i have also read $50 on other forums. just wondering if anything is 100% official.

Engadget has it at $199 also. http://m.engadget.com/default/article.do?artUrl=http://www.engadget.com/...

Well how much would a typical Android phone plus dock run? I don't think the price is out of line. Wish my Dinc came with a dock, y'know like the one they announced when the phone came out but never appeared?

This is a fu*king joke right?

how dare they make something that might appeal to someone other than yourself! HTC should be ashamed.

Uh, what is a "glowing charm cable"?

"Honey, I can't find my phone!?" "Look for the glow then follow the cable" "oh, got it thank goodness for my glowing charm cable! "

it glows when you have a notification, women can let it hang out of ther purse and men can let it hang out of there fanny packs...

That new Sense UI looks just like the old Blackberry Zen UI that came on my Pearl in 2005.

I love that the headline is worded as if Verizon was a country/continent. "Coming soon to North America, Antartica and Apple."

I can't wait to see how Verizon markets this with scary "Droid" sounds, mechanical robot arms, and flying lightning bolts.