HTC One X Jelly Bean update arrives in more countries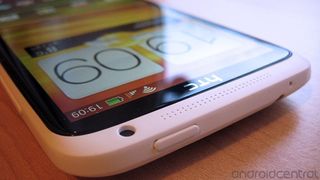 This will be old news for those of you in Asia, but the Android 4.1 Jelly Bean update for the international HTC One X -- that's the one sporting HSPA+ data speeds and a Tegra 3 CPU -- has today begun pushing out to more countries.
According to reports from Twitter, XDA and elsewhere, One X devices with the CID (customer ID) of HTC_044 have started receiving the Jelly Bean update as of this morning. Territories included in this latest wave of updates seem to include South America and Eastern Europe, amongst other locales.
The update also includes the latest version of the manufacturer's UI software, dubbed HTC Sense 4+. A minor update over the previous version 4, Sense 4+ adds in new camera capabilities and re-vamped Gallery and HTC Watch applications.
One X owners will first receive a small over-the-air update to prepare the device for the Jelly Bean update, followed by a larger 365MB OTA that includes the new Jelly Bean ROM.
If you're getting Jelly Bean on your One X for the first time today, let us know how you're getting on (and where you are) down in the comments.
Alex was with Android Central for over a decade, producing written and video content for the site, and served as global Executive Editor from 2016 to 2022.
So how many times will android update itself before the old/outdated 4.1 comes to the Evo LTE

From the looks of things, a lot...

hey hello hope be fine ...
Any news About One X AT&T ? Update to JB ?? thanks for all :)

And still nothing regarding the LTEVO.

I have contact HTC USA, Evo 4G LTE fan page and Sprint via Facebook. Sprint and HTC has responded back basically saying they dont know when the update will come but they are working on it. This is crazy in my opinion! This was suppose to be the Flagship, top phone and we are getting no love at this point. They will have a new software out codenamed who knows what by the time we get Jelly Bean! #HighlyPissedOff

Well the HTC One X is the HTC flagship and top phone, which is why it got the update first.

all other factors held constant, phone updates have little bearing across carriers. I dont know AT&Ts lineup (aren't they getting the One X+?) but sprint does not have a rumoured HTC flagship phone close to release which means that the EVO LTE should be priority number one. If there was another phone launching with JB, then upgrading older phones would take a backseat, esp with the exclusive period carriers prefer to push the newer phone/software. The fact that there is no new phone and no indication of evo lte getting JB is puzzling. I bet it will be out before january is over.

I'm a bit doubtful... and I hope I'm wrong on this one... about the update being out by the end of January. In the past there usually have been a leak or two prior to the final release from the people testing it. If it's in test, then they are keeping it pretty locked down.

HTC is a multinational company, their international model is more important then their watered down regional variants.

You are not alone. I am well beyond being pissed off. Next phone for me will be a Samsung.

Yeah, because gawd knows Samsung never abandons a phone.....

Samsung tends to update their flag ship devices like Note2 and GS3 - They have already passed it to ATT, but ATT wants to take their sweet precious time. The difference is that HTC is not even done with the JB update for the LTE EVO 4G which is sad and shows they don't care.

And you know this How? Its just as likely Sprint is sitting on this update, not HTC.

So sad for EVO LTE owners... They don't ever mention the phone, or know when any updates are coming. This silent treatment could play a role in my and many others next phone purchase.

I am from India. I have got the update on last Friday that is 23rd Nov. It is not an automatic update, u have to manually check for the updates. First a small update with 1MB size will be installed and then 4.1.1 with 350 MB size will be downloaded and installed. My CID is htc_038. u can download update from here http://fotadl.htc.com/OTA_ENDEAVOR_U_JB_45_S_hTC_Asia_India_3.14.720.24-...

Hi I've downloaded the update but it's not installing. What am I doing wrong. Please can you help me. Ps its the Indian one endeavour

You probably rooted your device at some point by flashing a custom recovery, then flashing SuperSU, right? Then, first protect your root using Voodoo RootKeeper (on the PlayStore) and simply flash the stock recovery back (on XDA). Update your device, and restore your root.

I purchased an international One X last week and it arrived yesterday. Within a couple hours of being active on StraightTalk via AT&T it was ready to update. I did do a manual update check, however.

The update was reported in your own forums well ahead of the other sources you mentioned in the story. Further, for some of us on AT&T, there can be a problem with the APNs after the update, such as no cellular data and no MMS. Everybody I know on AT&T had this problem, but some of the other carriers might not. SEE THIS POST before you rush in to apply the update. It may be worth recording your APN settings. Observations:
No Birthday bug.
Every time you plug it into a computer, USB debugging is turned on whether you want it or not.
If you take all the default settings for power saving, you can kiss network connectivity goodbye when screen is off. Adjust power saving to leave network data on if you want to use push mail, get IMs etc.
More of the HTC bloatware can be disabled than before, such as all of their mapping apps.

I'm in Toronto on Rogers. Got the first small update pushed last night. I went and manually checked for software updates right after and JB was ready to go!

I am probably done with HTC after my EVO LTE. In the past I haven't liked Samsung due to how the phones feel but I suppose that's the direction I'll go next time unless Sprint gets another Nexus phone which I am 50/50 on right now. I think Google is done with CDMA and LTE which means I'll probably never get one. I cannot leave Sprint but would really like an up to date Nexus.

Google isn't done with LTE. They may be done with LTE on CDMA devices, or CDMA in general. If so, its just because Google has a better idea of the future than the carriers. Sprint and Verizon will soon be done with CDMA, because LTE is GSM, and once LTE is fully deployed by Sprint and Verizon you can bet CDMA will be done everywhere in north america.

Hi I've downloaded the Indian ota download but how on earth do you actually implement the jellybean update. Can anyone help me with this. Hello is there any one out there, or am I the last person left. Please someone answer my plea for help.

Here's hoping the EVO LTE gets 4.1.1 Jelly Bean/Sense 4+ by January 9, 2013 (6 months after the release of Jelly Bean). I think that's a reasonable thing to ask of HTC and Sprint, don't you?

finally got 4.1.1 on my One X. looks good, feels great, smooth.

Hey i have HTC one X and even i have updated to Jelly Bean also but the old effect of wallpaper is gone in Ice Cream Sandwich the wallpaper used scroll side way like paranomic in jelly bean its been static, i am unhappy with it, it was good in Ice Cream Sandwich and in keyboard the minimizing funtion is gone we have to every time press back to hide it. other than evrything is good but if that function been also there would have been more good.

I did received the Jellybean update last week and had successfully downloaded. So far it works well on my One X, smoother if compared to the previous ICS...nice! - Kuala Lumpur

YES! Finally got the update to Jelly Bean on my HTCOX.
I'm here in the Netherlands/Holland.
Great to have you 4.1.1.......... lets play.

CID__622 Hong Kong version in Ukraine just got my update after I checked it at 4 am today, I can actually notice the smoothness, there was a problem with my external speakers at first, there was no sounds, I just went to my volume settings and moved them and the sounds came out, apart from that, so far no glitches or problems.

4.1.1 finally on my htcox. 6.12.2012 in Romania. Nice touch android developers. one thing I don't understand. why is the wallpaper static now ?

Updated my One X last night. UK - Orange branded.

How did you manage that? I've got a orange branded one x and still not getting update even when manually checked

When will the update be released in the Middle East ???? been waiting for it since sooo long ago :(
Android Central Newsletter
Thank you for signing up to Android Central. You will receive a verification email shortly.
There was a problem. Please refresh the page and try again.