HTC One production capacity to double in May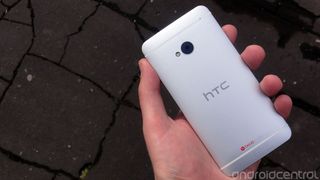 Component supply issues behind it, HTC ramps up production of flagship device
Despite suffering some early setbacks due to camera component shortages, HTC is looking to ramp up production of its flagship HTC One handset. HTC North Asia president Jack Tong told Taiwan Focus that production will double in May and rise further in June to meet "strong demand." Speaking at a news conference, Tong added "We are optimistic about our high-end sales during April and June."
Tong also highlighted the HTC Butterfly (the global version of the Droid DNA sold in Asia) as a strong performer, noting that sales had increased by as much as 50 percent since a price cut made it free on-contract in Japan. The Butterfly, Tong says, should also be getting a software update with Sense 5.0 and new features like BlinkFeed before the end of the month.
A shortage of specialized camera components resulted in shortages of HTC One stock around the phone's European launch, which had the knock-on effect of pushing back the U.S. release slightly. After a pretty dismal few months of financial results, HTC will be hoping that this increased demand for its phones will result in a stronger set of numbers in Q2.
Source: ZDNet, Focus Taiwan
Alex was with Android Central for over a decade, producing written and video content for the site, and served as global Executive Editor from 2016 to 2022.
Too late for a lot of us. My local T-Mobile store was lucky enough to get 7 on release day. Still no replacements recieved yet. Had to replace my wifes phone that died, and had to go with iPhone 5, which had no trouble meeting T-Mobile rollout. SGS4 Delayed til May 15th. Think I will hang on to my HTC Amaze 4G a few more months.

I've had my T-Mobile S4 since April 30th, I preordered mine.

Actual sales numbers or projections would have been nice to hear from HTC instead of vague terms like "strong demand" and "optimistic". I mean are we talking millions of units or hundred thousands of units?

Loving my HTC One and trying to convert folks to purchase one.

More reason to believe it's coming to Verizon!

I was thinking the same thing, crossing my fingers!

How is this phone (ONE) better than the DROID DNA? DNA has a bigger screen & FREE on contract? Dont get everyones logic on VZW's side. I have a ONE for AT&T & IMHO its a very nice piece of hardware, but the software sucks, has dead pixels & is buggy. Also camera blows. Have a Note II on T-Mobile for personal use, like the AMOLED screen much better.
(Even tested the Z10, thought its camera and screen were better than the ONE)

Can you be more specific? I've had no buggy issues with Sense 5 on my One and im almost willing to bet you don't have one, because bugginess is not a ONE complaint at all. The OS is smooth , fast and jitter free. It's the best Sense overlay yet and this is my 3rd HTC "not" EVO. As for the camera "blows" .. again WTF are you talking about...? compared to what?

This is silly. If you had a brand new phone with dead pixels, buggy laggy software and a camera that "blows" you would have returned it, not pisted this rant. You don't have a One.

The way you responded to this comment and the fact that you do not own either of the phones you speak of, suggest you have no idea what you're talking about. Why don't you try a One before you declare it trash?

If this comes to Verizon I'm may have to jump on it. I was hoping to hear something about the Motorola X phone but I didn't. Who knows maybe later. I don't have an upgrade until September anyway

What about a Sense 5 update for the EVO 4G LTE?

how about some more quality control while youre at it, htc? havent yet seen a perfectly built htc one to date! i dare other htc one suers to prove me wrong!

What's perfect? My friend's One doesn't have any problems.

not problems, im talking about fit and finish. check if there is a gap between speakers and polycarbonate, i can guarantee its not "zero-gap" as advertised.

No gaps here! Mine was perfect out of the box! Still is BTW! And, it's a beast!

Zero gap isnt in reference to the plastic speaker covers and the shell

@Alex Dobie Thanks for the post. HTC should be done more surprising action on their some other smartphone, like HTC did a good work about inventing HTC ONE. Day-by-day the smartphone world is more competitive. Thanks in advance

Just in time for them to launch the inevitable One+

Proof that the world needs more PIMPS!

Are those guys (HTC) still around?

Good news. I now hope India gets the HTC one without further delay.

Without a doubt the best smartphone. Almost perfect.

I agree. Best android phone out right now.

This is good news. That means they are ordering components at such a high rate...and KEEPING those orders...that suppliers are considering HTC a "tier one" customer again. Regardless of the public not receiving firm numbers on sales, this speaks to very healthy volume. That's good for the entire Android ecosystem as a whole, as nobody that's sane wants to see only Samsung devices being sold.

Your post should have begun with the sentence: "My far reaching assumptions."

Sounds loke some htc shills here. Iphone and galaxy still dominate. Htc one is hardly worthy of a purchase.

It's great to see that the demand of HTC is increasing but expected to get tough competition from apple and Samsung in the market.
Android Central Newsletter
Get the best of Android Central in in your inbox, every day!
Thank you for signing up to Android Central. You will receive a verification email shortly.
There was a problem. Please refresh the page and try again.