HTC hosting events in NYC and London on Feb. 19 - 'M7' on the way?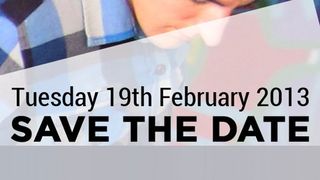 Invites to HTC events on Feb. 19 have just arrived in our inbox -- one in London, another in New York City, both running concurrently. Looks like that rumored "M7" handset could be on the way!
We're expecting HTC to show off its latest flagship device at the pre-Mobile World Congress event. Rumored to feature internal specs and design language similar to the Droid DNA, the "M7" will be HTC's first flagship smartphone of 2013. From what we've seen leak in recent weeks, it'll also pack a completely redesigned version of the company's "Sense" UI.
HTC will be hoping that by launching a week before Mobile World Congress it'll stand out from the crowd of smartphones and tablets at the show. The timing of the events also means HTC will be able to show off its new stuff to a wider audience just a week later, and ride a second wave of publicity out of MWC.
We'll be live from London and New York on Feb. 19 to bring you full coverage of whatever HTC announces.
Android Central Newsletter
Get instant access to breaking news, the hottest reviews, great deals and helpful tips
Alex was with Android Central for over a decade, producing written and video content for the site, and served as global Executive Editor from 2016 to 2022.
Thats a bold step by HTC! wish & wonder what they have BIG to announce :)

AT&T will release the HTC M7 before the Sony Xperia Z?

Oooooh, bold move making two events at the same time

only thing that matters to me about any new HTC phones is how much internal storage will it have? less than 32g and it is a paperweight! would really prefer 64g, don't care.SD card.or not, just give me some.storage or I will never buy another HTC phone....

HTC One X+ has 64 GB of storage and a Tegra 3 with 1 GB of RAM and an 1800 mAh battery.

It's actually got a 2100 mAh battery, so there...that makes it even better :) Been an HOX+ owner for a month now and couldn't be happier. I can't see the M7 coming to AT&T anytime soon as the HOX+ was just recently released.

The M7 is coming to Verizon, Sprint, and AT&T.

HTC isn't foolish, they HAVE to release with every major carrier in order to stay in the game. They need a hit this year. I've got an upgrade on my account soon, so I'll be watching very carefully. Larger battery, more internal storage, and no obnoxious camera hump, and I'm sold!

Why do you want so much storage? 16gb is usually more than enough.

AtAt least 32gb movies music files....apps

Because high end games usually take 1-2 gigs of data. Three or four games and you've maxed the storage on a 16Gb device. Believe me, I know. I have a 16Gb GSIII with a 32Gb sdcard and that is barely enough to keep up with these high end games that are taking up massive amounts of storage.

my 8 + 32g thunderbolt is packed... I could delete a couple things but my phone also entertains my son.. I don't want to micromanage my phone overtime I want to download something,(what do I want to delete?) I also like having a few android backups which hog up some space so I can alter Roms without going through all the settings over again...

16GB is nowhere near enough. SOME of us want to actually store stuff *ON* the device and not be constantly chained to a "cloud". Bumping from 16 to 32 can't cost more than like $5 in mass production quantities.

UGH 16gb is anemic. I've got a 160gb iPod classic. 16gb on a phone is laughable at best!

HTC's big announcement, their devices will be running iOS from now on!

If this phone doesn't come to T-Mobile, who do I blame?

IMO, if HTC wants any hope of a come back, they should bring back user replaceable batteries. It's one of the major reasons I couldn't consider them recently when looking for a new phone and instead went with Samsung (Note 2). I know others have done the same.

That is beating a dead horse... And the batteries are typically user replaceable (takes 5 min on the Evo LTE, for example) they are just not "quick replacement" or "swap" type. Although there might be designs where it really isn't feasible to replace them (gluing, crap like that), and that would be a shame.

Being a long time Sprint customer with no plans to leave the carrier, I waiting how this will impact the Sprint HTC EVO brand. In my opinion, the Sprint HTC EVO 4G LTE, while very similiar, was a much better device than the HTC One X and other device introduced last year. I am hoping for an HTC M7 version of the next HTC EVO branded device but better specs like they did with HTC EVO 4G LTE. Unless there is an announcement at MWC, my guess is that Sprint and HTC will have a separate announcement of the next HTC EVO device - that is if Sprint doesn't abandon the EVO line. If memory serves me, Sprint usually makes its EVO announcements in April or May. Anyways, I am an HTC fan(boy). I have liked every Sense UI version for the most part much better than the stock UI. I do wish HTC made it easier to change the UI without rooting the device (I am not that big in to rooting). I think HTC makes well thought out devices with smart UI design.

Alex you have left of the RSVP details, how am I meant to blag my way in now? I do hope for the sake of HTC primarily and for Android as a whole that this(these) handset(s) are a huge success. After all successful manufacturers usually mean better innovative devices. PS after all this let's hope they are Android devices.
Android Central Newsletter
Get instant access to breaking news, the hottest reviews, great deals and helpful tips
Thank you for signing up to Android Central. You will receive a verification email shortly.
There was a problem. Please refresh the page and try again.