HTC EVO 3D available for preorder as part of super secret Best Buy presale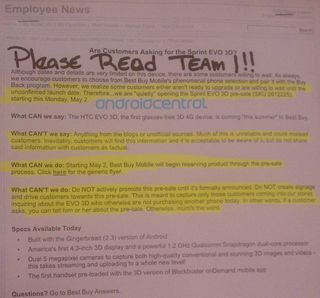 According to this memo that's going around Best Buy, you're not actually supposed to listen to anything we're saying here. Because what do we know? We're just a blog. (Or maybe they're referring to that other blog.) But the fact remains that the HTC EVO 3D -- that's the newfangled 3D-capable phone that we saw at CTIA -- is available for preorder at Best Buy Mobile.
Here's the deal: You've gotta ask for it. Best Buy isn't actively promoting the presale, and there's a good chance that there's a secret handshake involved. (We tried this one.) But otherwise, it should be standard Best Buy preorder procedure: You fork over a little cash in exchange for a gift card and the promise of a phone once it's released. You can then apply the gift card toward the total cost. As for when it's coming? Still no word, other than this summer.
We've put word into our official Best Buy contacts for some official confirmation (you know, not from a blog), but we've also walked into a store and confirmed this for ourselves. So if you wanna preorder an HTC EVO 3D, go for it.
Thanks, anon!
Android Central Newsletter
Get instant access to breaking news, the hottest reviews, great deals and helpful tips
I can't get it from BBUY anyway. Sprint cut our upgrade in half when they started screwing around with what exactly a new "Premier" Customer. I know BBUYs out right price will be more than Sprint's in store price. I'll just wait, buy it off contract, and when my contract is up in NOV... we'll see what happens.

You can still get the full upgrade credit. You just have to call customer service to get it. Be nice don't complain and the nice cs person will hook u up

But do you call prior to/at the same time of the purchase of your new cell phone or can I call now and have them activate my 2 year discount so that way it's there when I want to buy the Evo? My contract renews next June for the full $150 discount...

To solve this problem you can either call and hope that you get a good rep or u can switch ur plan to the premier gold for 3 months get the phone and switch back to regular plan. I can confirm option two works and I will have my EVO 3d in June

I got Sprint to waive my ETF because of the Premier change. I left on April 1 and bought a Thunderbolt on a 1 year contract. Very happy I made the change. I'll probably go back to Sprint in June 2012 for the third Evo and play the Premier Gold game -- raise my plan for 3 months to qualify for Gold and get my upgrade, and then drop back down. Sadly it's the only 1 year upgrade available now after Verizon dropped its 1 year contract on April 17.

Yea this new premier program blows, and right before this phone is released :(

Its so stupid. Now you're going to have a ton of people not wanting to upgrade because its not enough money off to upgrade. Come NOV, i'll just have a choice.

I thought as long as you were a premier gold member you still get the full 1 year upgrade?

They changed it so you have to be a premiere customer for 10 years. But if you call and are cool they will probably change it for you.

No, if you have "Gold" status (or have been with Sprint for 10 years), you can upgrade each year. It's only "Silver" premier members that have to wait every 2 years.

They changed the meaning of "GOLD" so that the $70 Anytime Mobile plan is no longer Eligible. Your plan needs to be atleast 89.99 . . . which is BS.

OR you have been a customer for 10 or more years on ANY plan (like I am). I don't think it is BS. Being a customer for 10 years is a lot more of a feat than just a certain dollar amount plan. They had to raise the price limit because too many people qualified with the more expensive plans. They would go out of business allowing 2/3rd+ of their smartphone customers to upgrade every year with the full discount. I can understand some people being upset, but it is a business decision, nothing personal.

Just called the best buy by my house and they said that they were not taking pre-orders for the evo 3D and they also stated that they didn't know when they would start

This EVO 3D pre-order is completely unofficial, as in, Best Buy is just collecting a list for when Sprint opens them up. They could do the same for iPad 5 - it's only a list of interested people. There is not even a price that they could tell you yet.

False, this is very much official. I personally walked into two local Best Buy stores and both were willing to put me on an official pre-sale list with a $50 down payment in exchange for a $50 gift card, all you have to do is ask about the presale. Granted they don't have a launch date yet, but it's still an official pre-sale.

Neither we nor Best Buy even knows the price yet, it just shows $50 for now - it's quiet and has no details or release dates - this is as unofficial as you can get. Sure, Best Buy is taking the names down, I get it, and probably uses the $50 gift card technique, but this basically brings no new information, that's all I'm saying. There's no point pre-ordering the EVO 3D, as it'll likely be way cheaper online, and I wouldn't buy one without seeing reviews anyway. The last time an Android phone actually sold out was what, the original EVO? I'm pretty sure by now HTC has gotten us covered at launch.

Pre ordering something isn't to say you are paying full price. I pre-ordered and it's going to be my upgrade since I get one every April usually. Also early adopters aren't generally afraid of the sell out factor, to be honest it's just about being impatient (at least in my case) and wanting it NOW. I believe with my whole heart that companies purposely don't make enough supply for the demand. This is why Best Buy notoriously orders at most 20 phones for their good stores on launch day and in smaller towns (like Brentwood, TN) they will order a handful or less. Creates the illusion of higher demand (not saying they need an illusion) I didn't pre-order my original EVO and if it wasn't for some poor chap at the Green Bay Store that didn't show up to get his reserved phone by the end of the day, I would have had to wait almost a week or so to get in on the next shipment. Sure not the end of the world but at least with me putting my 50 bucks down I know there is an Evo 3D with my name on it for a limited time...WITHOUT having to go wait in lines, or fight the insanity of launch day buyers. As far as price. Sprint is smart enough to continue to follow the industry sweet spot model. 199 on 2 years would be my guess, POSSIBLY 249 for the first couple months while demand is high. Retail, i don't care, because i never pay retail.

Checked all year on my upgrade and it was showing available for upgrade since december of last year even added a line this year still same date but now it's showing october of this year WTF!!!

Do what I did, email or call them and have them fix it. When I got my Evo in June it showed my upgrade was this year in June, but I paid off contract and have had service since February last year. So I emailed them as a pissed off customer and they fixed it on their site. Now it says February not June.

Thanks for the info I'll check it out and post my results

Just got off the phone with sprint and their system is auto generated so everyone was affected by the change so by calling or emailing (stated above) resolves the issue note that they say it can take up to 24-48 hours to see the change

Went in to BB, they knew about it and allowed me to preorder. Said I was the first! It is on their system because they gave me a register receipt that has PRESELL EVO 3D on it. The person who rang it up also told the other employee (he was training her) that for now, the preorder is just for those who ask.

Same experience at my store. The Best Buy Mobile girl knew about it, and only knew the info listed on this flyer. Same procedures as the EVO 4G, just we dont know as much info yet. I was paying with a gift card, so I basically just swapped one for the other, no cash out of pocket.

Ok,cool... But they had to have told you what the full price for the device was.... How much is it going to be?

Nope, they don't even know that. All they know is what we are seeing on the flyer. The pre order costs $50.

Whack.... Oh well. I'll probably wait until an official pre-order begins. Hopefully Sprint does one as well because I certainly dont want to pay full price from a Best Buy phone, they usually charge about $100-$200 more than the actual retail value from Sprint.

if this is true, than thank you for the heads-up.

Oh, this is MOST DEFINITELY true... Go look at the "Reg prices" for any phone for Sprint Best Buy has and compare to Sprint's website. Dont go off and preorder from Best Buy if you intend to outright buy it without a new contract agreement at full retail price.

I put $50 down on a gift card. They don't know the price. I guess those ordering now will order regardless of price. If you change your mind, you have the gift card. They are not giving an expected date of release yet, although he expects the date to be announced soon. Probable release early June.

What's the "killer app" that would make me want a "3D" cell phone?

Maybe the specs, regardless of 3D?

Perhaps the killer specs (cpu/memory/res) that blow away most other phones out there?

What are the "killer features" that you dont want that would NOT make you want this "3D" cell phone?

How much $$$ is Best Buy charging for the pre-sale??

$50 is what they charge for pre-orders

Thank you very much for the information, guys. I attempted to "chat" with a Sprint customer service rep a few minutes ago, but she gave me an insanely incomprehensible explanation. I think she was just trying to say that 'Although Best Buy offers the pre-sale, the first batch of EVO 3D phones will actually arrive at Sprint first. So if you were to get them directly from Sprint, you'd actually get it before the Best Buy customers...' FWIW

I've never known this to be the case. Don't think they will change their game plan now.

Got my pre order, thank you Phil and the androidcentral crew for the up to the minute coverage. Bestbuy didn't even know about it.

Well... If that Best Buy didnt know about the pre-order yet they still sold you a pre-order.... I'd be worried...

Please anyone who gets info on release and price share it as soon as posible! Ive been on an internet hunt like crack trying to find out! Just want to circle the date!

Pre-ordered today. Best Buy in Braintree, Ma., if anyones interested. First one to reserve too...excited for that 1.2Ghz DC and some new sense...lets not forget 2.3!

Well, I ordered the HTC Flyer yesterday online, might as well go in and be done with the phone too .... got my eye on that Samsung Galaxy s2 though .....

I can confirm for those in North East Wisconsin that the two Green Bay locations are doing the pre-orders. Just left the Best buy mobile store at the mall (the staff there is much easier on the optic nerve than in the big store) and put my 50.00 down. They gave me a gift card and reserved my spot. Obviously can't comment officially about the release date but I've been an early adopter since way back in the days of the Motorola Startac on Sprint... It seems to me that these pre-orders never happen more than 6 weeks out from the date of the product launch. Pretty excited to see what's to come with the 3D...and wifey...treat my EVO 1 kindly please. It's been good to me.

A lot of people think that 3D in general is a gimmick, much less 3D on a cellphone, but my friend made some pretty good points as to why the EVO 3D sets a new standard for smartphones. Read his article: http://hand-gadget.com/2011/04... also until this 3D phone comes out i will be using this app to take 3d pics http://wp.me/p1wchx-3b

It's going down baby !! First week of June I'll be rockn that bad boy!! I just ordered mine here in Houston Texas this morning!! Yeah!!

Its funny because as soon as I clocked in at work, I read this post and went up straight to best buy mobile from PCHO(where I am stanioned) and asked them about it. They quickly sssshhhhed me and said YES, but don't go out advertising it! Haha. Hilar.

Absolutely true... Best buy here in the Big Apple is well aware of the Htc Evo 3d and this is a happy day for me. From this point on we are 4 to 6 weeks away from Evo 3d day

I pre-ordered mine earlier today! I even get the full upgrade price after a quick phone call that I made to Sprint a few days ago.

This phone is awesome, if Sprint brings 4G to Phoenix this month I will get it. But now T mobile has a 79 dollar unlimited plan and there throttled speed is Sprints normal 3G. Guess I'm getting the Gallaxy S2.

T-Mobile will throttle as long as you pass their "unlimited" 2GB line... That's what makes Sprint a winner over the competition...it's all the little things that Sprint does for it's customers like nights and weekends starting at 7pm for free and free TeleNav navigation...

I agree with you. But, Sprints data speeds in phoenix are only a little faster than T mobiles throttled speed. My girlfriends Vibrant is always atleast 10 times faster than my Evo. I am going to be back for the next Evo if Sprint improves in Phoenix.

Is it working with GSM NETWORK?
Thanks

I have just talked Bestbuy, Orange that they are taking EVO 3D presale with purchasing $50 gift card. She said the presale is showing on their system. Believe it or not, she also mentioned that the phone starts releasing on May 8th.

I preordered mine at one of the local Best Buys today.

Just came from Best Buy. My local Best Buy said I could not pre-order. I called 188bestbuy and after searching a bit, the customer service rep said she saw that you in fact could pre-order. I asked her could she call this particular Best Buy and confirm what she told me. After waiting on the line for 20 minutes she comes back and says they told her the same thing. Going to try a different one tomorrow.

Just got my preorder in...WORD!!!! Can't wait...

Hey guys, I want everyone to know...you can get Sprint customer service reps to reset your upgrade eligibility. I upgraded to the Evo last June on launch day. Since the change to the Premier Program, technically, my upgrade eligibility would be 04/12/2012 according to the new requirements. My original upgrade date was 06/01/2011. I preordered my Evo 3d yesterday, then immediately got on the horn with Sprint. After going back and forth with the rep for a minute, a supervisor finally agreed to let me keep my original upgrade eligibility. He noted my account,gave me his customer service id as well as the memo id.of the note. When my original upgrade date comes up, I just call, give them all the info and they will reset my eligibility. Sprint knows they can't lose customers and a lot of time, they will work with you. Just be calm and respectful...see ya on Evo 3D Day...

Hey guys, just preordered my EVO3D at Best Buy, the guys don't know anything about when or how much, the guys said it might be 3 weeks but he's also been hearing they might be pushing it back to July, I hope not but since that's the phone I'm waiting for regardless I just went ahead anyway. Paid for the preorder with a $50 gift card I had lying around so no money out of pocket. I'm already elegible for upgrade so hoping Best Buy is going to have same price as Sprint because I like the idea of paying the lowest amount up front since they handle the rebate for you.

I was in the same boat as a lot of other people who got the og EVO during its lauch month last year. Sprint cut me down to silver last month so I was stuck with $75 off just when the EVO 3D is around the corner from lauching. I got help from sprintusers.com & got my full upgrade back through a tier override! EVO 3D, here I come!!!
Android Central Newsletter
Get instant access to breaking news, the hottest reviews, great deals and helpful tips
Thank you for signing up to Android Central. You will receive a verification email shortly.
There was a problem. Please refresh the page and try again.