HTC DLX leaks come full circle with the international 'Deluxe'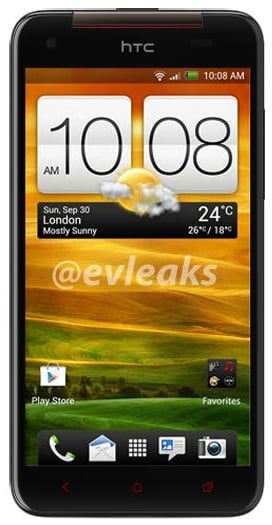 We've seen the HTC Droid DNA and J Butterfly for the U.S. and Japan respectively. Now it seems HTC's monstrous 5-inch smartphone may be getting a wider international release in the future. The image above comes via notorious Twitter leaker @evleaks, who identifies it as a "global edition" of the "HTC Deluxe." You may remember the Deluxe or "DLX" codename from successive Droid DNA leaks over the past couple of months.
There's no information on which territories might be seeing the phone but if it's GSM unlocked, it should work just about everywhere. Europe might be a likely target for a global version of the DLX, though HTC has only just released the One X+ on European shores.
If the Verizon and Japanese versions are any indication, this handset should pack a quad-core Snapdragon S4 CPU, along with 2GB of RAM and a 5-inch, 1080p SuperLCD3 display. That's about as good as it gets at the moment in terms of smartphone specs.
Anyone excited for a possible international version of such a beastly handset?
Source: @evleaks
Alex was with Android Central for over a decade, producing written and video content for the site, and served as global Executive Editor from 2016 to 2022.
That's great.So Sprint is most likely going to be the only major US carrier without this phone? I know HTC and Sprint have good relations... Can only be hopeful I guess.

heard that sprint is getting its own HTC phablet exclusive not sure when.

I hate exclusives. There is less motivation for manufactures/carriers to update, way less accessories, less notoriety, and less support for issues.

They'll probably make the new EVO from it.

Yep, that's what I said when they first leaked images of this phone. If they include removable storage like the EVO LTE, I'm in.

AT&T is a pretty major carrier and they don't have this phone, so why would you think otherwise? Here is HTC's pattern for those who are playing along at home: International GSM version of phone gets released:
Desire/Sensation/One X Sprint gets a tweaked CDMA version announced around or at Spring CTIA:
EVO 4G/EVO 3D/EVO 4G LTE with AT&T version often introducing some network feature late/summer Fall
Inspire (AT&T HSPA+)/Vivid (AT&T LTE)/One X Verizon gets a tweaked LTE version released in late Fall (super late for the Thunderbolt, it was the next year, due to LTE issues)
Thunderbolt/ReZound/Droid DNA T-Mobile, well recently, they get the GSM version or ?
Sensation -> One S Rinse, Dry & Repeat.

I'm interested to see if this will have a larger battery and a MicroSD slot, and if it does, will it work on Verizon's LTE network here?

Nope, it won't have CDMA or B13 LTE.

Seriously, I want this for Sprint.... like now.

So I can buy this outright and stick my TMo sim in?

yup. But personally I prefer the note 2

Sounds like a McDonalds burger.

Considering the 5 inch screen somebody must have super-sized that thing.

Super pumped...until I see what battery this beast has...I know LCD3 is going to be less taxing than a super amoled...but lets see at least 2500 mAh on a 5 inch phone eh?

IIRC, The VZW version has a 2020mAh battery, but the Butterfly has a 2500mah. so, fingers crossed for 2500mAh. ;)

J Butterfly has the same 2020mAh battery: https://www.androidcentral.com/e?link=https2F2Fcli... The differences are Droid DNA has Qi wireless charging and regular Sense 4+ and the J Butterfly has microSD slot and the Rhyme-like version of Sense 4+

This! People will game on this bad boy. Bring the juice.

what I'm waiting for. 32gb and 2500mAh battery international DLX fingers crossed

2500mah battery,forget it,wont ever happen as sad as it is.HTC doesnt prioritze battery life the least bit

Hopefully this one wont be gimped like the Droid DNA version with only 16Gb for storage and no microSD slot.

If Sprint gets a version of this without an sdcard slot, I'll be forced to upgrade to the LG Optimus G with 32Gb built in. I don't worry about the skins anymore. I use Apex Launcher for a stock feel, while keeping all the manufacturer features in tack.

Only if it comes with a bigger battery and at least 32 GB of storage. But even then, the Nexus $ is just too sweet a deal to even let me wander! :p

SWEEEEET hope this comes to TMO with HSPA+

Really hope an LTE version makes it to the UK. If they give it 32GB internal storage and a 2500mAh battery and it'll be THE top phone hands down. Can anyone give me an educated guess as to when I might be able to get my hands on one if it comes to old Blighty??
Android Central Newsletter
Thank you for signing up to Android Central. You will receive a verification email shortly.
There was a problem. Please refresh the page and try again.