HTC 'Desire Eye' specs leaked, set to include a 13MP front-facing 'selfie' shooter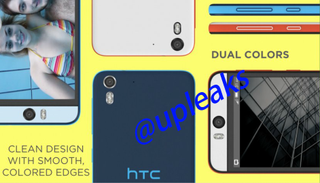 Smartphones with upgraded front-facing shooters are becoming more popular as the demand for high quality "selfie" shots increases. HTC could address this demand with a new entrant to its Desire family, if the latest leaks are to be believed. The HTC "Desire Eye" purportedly includes a dual 13-megapixel camera configuration, and a Desire 820-like plastic body, according to specs and images leaked by upleaks
That makes the Desire Eye a higher-end proposition than most Desire phones, with specs to rival the HTC One M8. It's also interesting to see the "Eye" brand appearing in connection with the Desire line; earlier rumors have also pointed to an "M8 EYE" arriving with a 13-megapixel plus Duo camera setup.
As well as the above information on the HTC Desire Eye, @upleaks also claims that the HTC One E8, HTC One Mini 2, HTC Desire 816, HTC One M7, HTC One Mini and HTC One Max will sport "selfie-specialized" once Android L has been released. As with any unconfirmed rumors, take all this with a pinch of salt until any official announcements are made.
Source: Twitter (@upleaks)
Get the Android Central Newsletter
Instant access to breaking news, the hottest reviews, great deals and helpful tips.
13MP Selfie cam. Mother of god...

Um....a little over-kill dont ya think? I'm sure the selfie-takers will disagree.

A week and a half ago I would have said, "Yes, that's stupid and crazy and a waste of money. Give me more battery or something else." But then I took a trip out west with my Nexus 5. The pictures I took out of the back of the phone were amazing, but since we were in the mountains and camping and often not around people, we ended up taking selfies on the Nexus 5. They're a bit below average and every picture we took of us in the landscape was super terrible. I would have loved to have a quality camera on the front of my phone. I now understand that 'selfie' cameras, despite the vain name, can add a lot to the usefulness of a phone!

well no one can ever argue with personal opinions like that with actual situations.....I guess I just havent had a problem with my G2. but now that i'm looking at some of the photos from the front....I can see how some people would love a better front facing cam.

Their phones are so tall there should be plenty of room for the selfish cam. That said the specs are good, removable battery. Wonder if there's an SD slot? Posted via the Android Central App

If you're going to be taking all those high res selfies than a SD card slot or higher storage options are necessary Posted via Nexus 7 2013 or Galaxy S5

Leave specs....the front camera in the pic seems like work of photoshop. Where are the speakers?

If you're buying this phone you're probably not going to make calls with it. It's just for selfies

Hmm removable battery? And they gave up on front facing speakers? This doesn't seem right. But I wish all HTC plastic body phones came with a removable battery :)

Well, you probably can't have front facing speakers with that pretty large camera on the front. At least not dual speakers. Posted via my Mate 2 :)

Please at least make the front camera a wider lens. I use my front camera from time to time to take pictures with my wife and baby, and it's tough to fit everything into the scene, compared to the rear camera.

HTC seems like a rutterless ship right now. They better hit it out of the park on Oct. 8th and with this Nexus tablet. Posted via Android Central App

It's a fake, and a really bad one.
First - there is no ear speaker.
second - this looks like a simple photoshop copy of the back camera
third - dual flash leds in front? your screen already gives you plenty of light.

This selfie fad needs to die.

This can't be real. Does HTC really need more camera gimmicks? Kiss BoomSound goodbye on these, they have nice size bezels but no way they can fit the speakers they use and that big camera in the bezel of their phones.

All the HTC phones except the M8? That's real nice

God that name is such a mouthful Posted via the Android Central App

Anyone worried that its a 801 chip, 2 gig and only a 2400 mAh battery??? Sounds like the Moto X might have the upper hand on this phone. I have the G2 and its plenty fast with only the 801 in it, but thats a very old chip in todays world. I think they will sell....but only if the front speakers actually make it on the device and the camera is actually solid.

The G3 has an 801 in it... Not the G2. Posted via Android Central App

either way, I think the 803's (even tho its a slight bump) are out there in force and with the 805's now coming out, why not give the best internals to your phones so people dont just look at numbers...then move to the Samsungs. I think HTC's are great, except the cameras. I dont think putting an older chip-set in a new phone will win customers....ask Motorola.

HTC needs to stop trying to rely on gimmicks and make a good all around phone available worldwide that ppl will wanna buy! Ok ok.. The Boomsound speakers are cool, but the camera gimmicks gotta go! 13MP with OIS on the back and a 5MP in the front with wide view is all anybody needs! Lawwd this company needs to stop playing games and get with the program.. Smh.. Posted via Android Central App on The Nexus 5

Have to agree. Love my M8 but just upgrade the camera. Even the front shooter is more than enough. Better battery life too. Posted from my M8

Come on HTC... I don't want to see myself from that distance in 5mp .. let alone 13mp.

Weird. So M8 Eye will be One with a 13MP camera, Desire Eye with One internals, slightly larger screen..and two 13MP cameras. Bleh. Just do a new Max with all the improvements you want to the back camera. Stick to the Desire 820 as your selfie phone. I just feel like HTC's blowing it sometimes.

Yeah what's the pont of this phone? The 5mp camera on the One M8 is more than enough. Sony just brought it with the xperia Z3's, HTC needs to innovate again. Iove my M8 but the camera is certainly a pain point. Just upgrade that to a decent 13mp camera like the LG G3 and you have the best android phone you can buy. Upgrade processor and increase battery life significantly. Design is already the best. Posted from my M8

Yeah. I would have liked to see a more significant update. A new Max with a better camera, Snapdragon 805 and 3GB RAM, with maybe a Quad HD screen. The Desire 820 has a back 13MP and front 8MP. HTC's just doing lame duck updates unless these rumors end up being small time updates for other regions with real surprises in store for the Double Exposure event.

promising, but i still going to hold my breath till it comes out.