HTC Desire 820: The Android Central casual review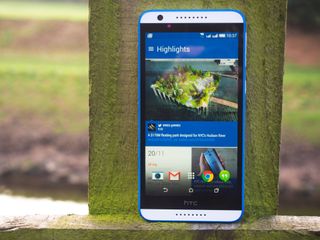 HTC's second 'mid-range flagship' this year is a solid improvement in almost every area
The past year has seen the HTC Desire range — the Taiwanese manufacturer's line of mid-range handsets — expanded to cover everything from the super-cheap Desire 510 to the selfie-centric Desire EYE. And with it, HTC has introduced a new, unashamedly plastic design language, while keeping software performance and features mostly in line with the flagship HTC One.
Earlier this year we checked out the Desire 816, finding it to be a solid mid-range flagship with just a couple of minor flaws. For late 2014, the 816 has been succeeded by Desire 820, a revamped incarnation of this compelling mid-ranger boasting upgraded internals and a sharp new design. On the outside, the new two-tone chassis introduces bolder colors into the mix. And on the inside there's a faster 64-bit capable CPU, along with upped storage and RAM, and a significantly upgraded camera setup.
We'll dive deeper after the break, in a casual review of the HTC Desire 820.
About this review
We're writing this review after a couple of weeks of on-and-off use of an Asian dual-SIM HTC Desire 820 (A51_DTUL) on software version 1.13.720.2. We used two SIMs in our device — one on the EE network (LTE-capable), and another on Vodafone UK. The EE SIM was our main SIM, as the Asian Desire 820 doesn't support Vodafone UK's LTE bands — however it does support Band 3, which is the main band used by EE. If you're importing a Desire 820, remember to double check network and band coverage before buying.
We also tested the 820 for a brief time with only the EE SIM inserted, and didn't notice any significant changes in performance or battery life.
HTC Desire 820 video walkthrough
Hardware
Like its predecessor — and most Desire phones released lately — the HTC Desire 820 is a big, bold, unapologetic slab of glossy plastic. It knows it's plastic, and it's not trying to be anything else. Nevertheless, the 820 is surprisingly lightweight and easy to hold and use despite its large footprint. It's a little thinner and lighter than its predecessor, and the rounded corners and rectangular frame strike a good balance between ergonomics and gripability.
HTC's latest mid-ranger comes in a range of two-tone color options; we're using the white and blue model, which takes a mostly white plastic body and spices it up with deep blue accents around the screen, buttons and camera components. It's a far cry from the cold, premium metal of the One M8, however it's a step forward earlier single-color Desires. There's an undeniable slickness to the plastic casing, but we never felt we were in danger of dropping the phone during our couple of weeks of use. The use of predominantly lighter colors also means the inevitable fingerprints it accumulates are much less visible.
The Desire 820 doesn't strike us as a comprehensive redesign of the Desire 816, and the family resemblance is still plain to see. It's clear that HTC's given careful thought to just about every area of its plastic design, though. Despite the almost identical device footprint — in fact, the 820 is a hair taller than the 816 — there's something about the new model that just feels sharper and fresher. That's thanks to a combination of factors — the new color palette, the lack of any visible joins and the 820's lighter weight and slimmer profile.
And mercifully, the power and volume buttons have been moved to a more sensible location — over on the right edge, with the power key situated about two thirds of the way up.
Whereas HTC's high-end stuff exudes a cold, metallic professionalism, the Desire 820 (and the similar looking Desire EYE has more of a playful look. The glossy plastic will be a turn-off for some, but the 820 isn't creaky or flimsy in any way, nor does it attempt to emulate another material. Instead this is simple, honest plastic.
In typical HTC style, the front is dominated by the large display — a 5.5-inch 720p panel — and front-facing BoomSound speakers. The audio setup is more than sufficiently loud, though perhaps not as bassy as the HTC One's speakers. And the display, while nowhere near the eye-watering pixel density we're seeing at the high-end, is just about sharp enough for most smartphone-related tasks — at least assuming you're using a language with roman characters. You can absolutely see individual pixels without much effort, but from a normal viewing distance it's actually a pretty good-looking screen. Colors are vibrant without being overblown, though greens are somewhat over-saturated. And the panel boasts excellent daylight visibility, even in bright sunlight. (Or as bright as it tends to get in England in November.)
That giant screen is flanked by some fairly substantial bezels too. And while we're sure there's plenty going on behind those ample borders, the extra space around the screen brings additional heft to an already large device.
Speaking of internals, the Desire 820's main point of interest for mobile tech nerds is its octa-core Qualcomm Snapdragon 615 processor. It's the first handset to use this 64-bit capable chip, which pairs four ARM Cortex A53 chips at 1.0GHz with another four A53s at 1.5GHz. It's worth noting, however, that while the hardware is 64-bit, it's still running a 32-bit version of Android 4.4.4 KitKat. It will, however, be updated to Android 5.0 Lollipop to take full advantage of its 64-bit hardware. The Snapdragon 615 pairs its 64-bit cores with an Adreno 405 GPU, which provides more than enough power to keep HTC's Sense UI running without a hitch, as well as powering the handful of games we threw at it, including Subway Surfers and Monument Valley.
That fancy new SoC is backed up by 2GB of RAM — up from the 816's 1.5GB — and 16GB of storage, of which just under 10GB are available for your own stuff. There's also a microSD slot supporting up to 128GB cards, and some apps can be offloaded there too. The additional RAM will help future-proof the Desire 820, but the additional internal storage is the most welcome change from the 816, which scraped by with a paltry 8GB. That said, 16GB is really the bare minimum we'd consider acceptable these days.
We've been using the dual-SIM Desire 820, and as such there's a second SIM slot located under the plastic flap on the phone's left edge. Both are nanoSIM slots, as before, and HTC's software provides tools for juggling SIMs as needed.
Software
By now we're more than familiar with HTC's Sense 6 UI, having used it on a plethora of devices this year. As such, we were right at home with Sense on the Desire 820, and for the most part the user experience matches that of more expensive phones like the One M8, with the exception of a few missing features. Notably absent are Motion Launch, which lets you double-tap the screen to unlock, along with the dedicated Zoe shooting mode in the camera app, and some other imaging features.
HTC's novel DotView functionality is fully supported, however the DotView case for the Desire 820 wasn't available at the time of writing.
For the uninitiated, Sense 6 is HTC's flattened, modern take on a smartphone UI, built around the BlinkFeed home screen reader, which brings social and news updates to your home screen as a scrollable slide-out panel. Sense comes with a variety of theme options, and our blue Desire 820 was set up with a matching UI theme out of the box. (Others you may be familiar with from previous Sense 6 phones are available in the Settings app.)
Other Sense 6 highlights include HTC's Gallery app and Zoe photo-sharing service. Photos are arranged automatically into highlight reels, complete with matching music and visuals. And using HTC Zoe you can share these creations with friends and allow them to contribute their own content. Zoe has yet to take off in a huge way, nevertheless it's a fun feature to play around with, especially considering
Like many modern smartphone UIs, Sense is flat, stylized and colorful. However HTC's software tweaks are implemented in a way that complements Google's design language, and as a result the whole thing feels like a cohesive whole.
What's more, Sense is fast — really fast. We're past the days where scrolling stutters and input lag were a characteristic of every Android phone; nevertheless, the work HTC's put into making Sense super-responsive is plain to see. Some of that's software, but the extra power provided by the Snapdragon 615 processor is also plain to see. The Desire 816 wasn't exactly slow, but when using its successor you definitely feel like there's more headroom before you hit the limits of the hardware.
Being a dual-SIM phone, the Desire 820 we used includes software tricks for switching between the two SIMs you've got loaded up. Naturally, you'll get two signal strength meters up top in the status bar, and the built-in Dialer and Messaging apps allow you to choose whether to call or text using SIM 1 or SIM 2. Only one SIM can be active for data at a time, however, the other one being limited to 2G connectivity. And under Settings > Dual network manager you can choose your preferred SIM — that's the one used for data. Switching is a simple as selecting the SIM you want from a dropdown, and the handover is more or less instantaneous.
If you're constantly swapping SIMs, the distinction between SIM 1 and SIM 2 might get a little confusing. However we found Sense's dual-SIM implementation to be pretty straightforward.
For more on HTC Sense 6 and its features, check out our review of the HTC One M8
Camera
HTC's camera efforts have largely underwhelmed in the past year or so, however the company has shown signs of improvements with recent devices like the Butterfly 2. The Desire 820 uses the same enhanced 13-megapixel sensor from the latest Butterfly, though with a less comprehensive camera app and single LED flash.
Around the front there's an 8-megapixel selfie camera which captures a reasonable amount of detail, though the relatively narrow angle of the lens means you'll struggle to get multiple people into one shot.
Similarly, the Desire 820's camera app is rather limited compared to its high-end brethren. In addition to straight-up front and rear shooting modes, you've got Split Capture, which takes photos from both cameras simultaneously and produces a split photo out of the two. There's also Photo Booth mode for capturing a series of selfies in that style. And that's basically it. If you were hoping for more advanced photographic tricks from the HTC EYE experience, you'll be disappointed. In any case, the regular rear camera mode has plenty of features to play with, even if frequently-accessed modes like HDR require a few too many taps to activate.
The good news is the Desire 820's rear camera hardware is actually pretty good, especially for a mid-range handset. In fact, if anything we'd say it seems to perform a little better than the Butterfly 2 in terms of overall image quality, perhaps due to updated software tuning. Daylight images are captured with a reasonable amount of detail, and colors that are generally accurate, if a little subdued. Dynamic range has improved noticeably from previous HTC cameras, and so has the HDR mode used to capture more detail in scenes with challenging lighting. In fact, aside from a little added noise in overcast conditions, there's really nothing much to complain about when you're shooting outdoors.
Image 1 of 13
Even low-light photography — which brings with it an increase in noise and a loss of fine detail — isn't terrible, and in darker conditions the camera's higher megapixel count means images look decent enough when viewed zoomed out. That said, the 820 is beaten hands-down by optically-stabilized rivals when shooting in the dark.
Video remains a mixed bag though, and footage from the Desire 820 exhibited the telltale mushiness that we've seen from many other HTC cameras this year.
So it's not a flawless performance from HTC, but the fact that we're seeing this kind of image quality from a mid-ranger gives us hope for next year's flagship.
Battery life
Fortunately the move to a slimmer chassis this time around hasn't come at the cost of battery life. The Desire 820 comes with a 2,600mAh fixed battery that's more than capable of powering it through a full day of use. You won't get multiple days out of this device without resorting to power-saving modes, but we never ran out of juice before the end of the day.
Our typical usage patterns included browsing and social networking over Wifi and LTE with two SIMS in serted, along with the occasional bit of gaming and YouTube playback. Even lengthy browsing sessions didn't seem to take too heavy a toll on the 820's battery, and we didn't notice any significant change in battery life when using one SIM compared to two.
All in all, battery life probably won't be an issue for vast majority of users. HTC does provide a power saving mode that cuts down CPU speed and background data to squeeze more life out of the device, as well as an Extreme Power Saving mode that disables all but the most basic phone functions. We didn't find we needed to use either during our time with the 820, however.
The bottom line
HTC already had a pretty good "mid-range flagship" in the Desire 816. The 820 takes the foundation of that phone and builds upon it with improvements in just about every area. It's slimmer, lighter, faster and takes better photos.
Being such a direct successor to the 816 means the Desire 820 also shares some of that phone's weaknesses. For starters, it's going to be too big for a lot of people — this is a device designed for those who value screen size per dollar, and if that's not you then you'll want to look elsewhere.
What's more, many highly capable 2013 flagships now sell for around the launch price of the Desire 820 — £259.99 in the UK. Year-old android phones like the LG G2 offer more hardware muscle, a higher-res screen and a more capable camera around a similar price point.
The Desire 820 does have the benefit of being a new phone, however, and as such it's right up to date with the latest HTC Sense UI, with an update to Lollipop planned to take advantage of its equally new internals. In any case, if you're in the market for relatively inexpensive phone with a huge screen, a fun design and a ton of features, the HTC Desire 820 is definitely worthy of your attention.
Get the Android Central Newsletter
Instant access to breaking news, the hottest reviews, great deals and helpful tips.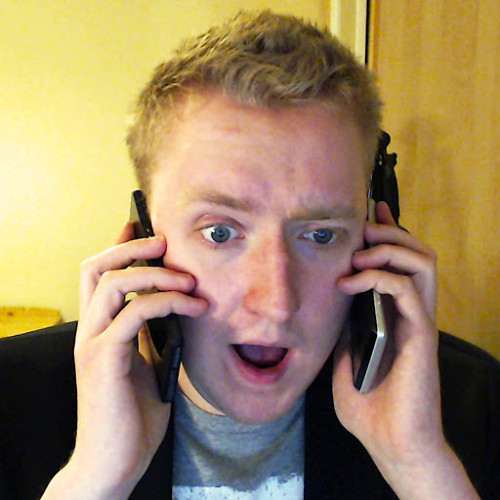 Alex was with Android Central for over a decade, producing written and video content for the site, and served as global Executive Editor from 2016 to 2022.