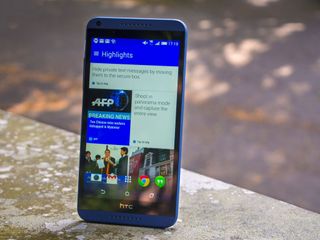 HTC's mid-range flagship packs a gigantic screen into a more affordable handset
If HTC is to stage a financial recovery, it'll need more than just a compelling high-end smartphone. So as the company seeks to navigate back into the black for more than a quarter at a time, it's pursuing two major growth markets with increasing vigor — the mid-range space in general, and China in particular. And the first handset to arrive under this new mid-range strategy is the Desire 816, the new head of the HTC Desire family.
It's a massive 5.5-inch phone that looks a little like a cross between an HTC One and an iPhone 5c, and it's a device aimed squarely at China, where it went on sale shortly after its Mobile World Congress debut. Even the name invokes the number eight's status as the luckiest number in Chinese culture — an eight, followed by eight doubled. It's no accident that this phone is very specifically branded as Desire eight-sixteen, not eight-one-six.
But clearly HTC thinks there's an appetite for a big-screened handset at a lower price point outside of Asia, as the Desire 816 will shortly be arriving on European shores, complete with support for local LTE networks. So how does it shape up? And how much of the premium user experience of the HTC One is intact in this self-styled "mid-range flagship?" Join us after the break to find out.
About this review
A few notes before we begin:
We're publishing this review after a week of using an unlocked European LTE HTC Desire 816 (A5_UL) on LTE and HSPA in the UK.
The phone comes in a variety of color options, but we've been using the dark blue model.
Our review unit was running software version 1.23.401.1.
HTC Desire 816 video walkthrough
Hardware and build quality
The Desire 816 takes HTC's established design language in a new direction. With its front-facing speakers and prominent HTC branding, it draws on the look of the manufacturer's flagship "One" line, yet the in-hand feel is unlike any HTC device we've previously used. That's mainly due to its materials — the handset is plastic through and through, but it's one of the better examples of how to make a polycarbonate smartphone. The back is furnished in glossy plastic, while the front and sides make up a second piece of matte plastic — and as such, the main contact points are on the softer, more premium-feeling material.
The extremely shiny back panel presents a few issues, however. On the dark blue model we're using it's a magnet for grease and fingerprints, although we'd imagine the lighter colors would be less affected by this. And after just a week the device's back has managed to collect an assortment of hairline scratches. We can only imagine the back panel's going to get a little beaten up over the course of a standard two-year contract. The matte plastic frame, however, has fared much better for us — and actually has us wishing for an HTC First-like wraparound design in this texture. The glossy plastic looks great when brand new, but with regular use it'll become a haven for grease and smudges.
The gulf in in-hand feel compared to HTC's more expensive metal products is substantial, but not unexpected. Let's remember this is a mid-range phone that'll sell for around half the price of a top-of-the-line handset. That bill of materials appears to have gone on the larger screen rather than the casing; by contrast, the smaller, metal-bodied HTC One Mini 2 seems to swing that equation in the other direction.
What the Desire 816 lacks in space-age materials it makes up for in ergonomics and ease of use, and HTC's done a lot to make this gigantic phone relatively easy to palm. The soft sides are comfortable to grip, and the glossy back helps to prevent slippage, to the point where we actually feel a little more secure one-handing the 816 than its smaller, slipperier cousin, the One M8.
The placement of the Desire 816's buttons is rather peculiar, though. Both the power button and volume rocker are located on the top part of the left edge, making them challenging for right-handed users to hit with one hand, and fairly tricky for lefties too. The button designs themselves add a touch of class, however, with colored tops and chamfered edges.
Internals and performance
The business end of the device dominated by its front-facing speaker and sizeable display. And like other HTC devices, the "BoomSound" audio system doesn't disappoint, delivering louder, bassier sound then you'll enjoy from any traditional rear-facing setup. It doesn't quite match what we're hearing out the front of the HTC One M8 in the low-end — perhaps due to the acoustic properties of the M8's metal unibody as much as the speakers themselves — but it's far from disappointing. I played Monument Valley in its entirety on the Desire 816, and the phone did a fantastic job of bringing that game's deep, ambient tones to life.
And the display isn't too shabby either. Granted, spreading 1280 by 720 pixels across 5.5 inches of glass means things aren't quite as crisp as we've become accustomed to, but the Desire 816 delivers flawless viewing angles, great daylight visibility and colors that are vivid without looking over-saturated. You'll notice the lower pixel density in web pages with smaller text, or if you're inclined to really squint at the display. But considering the class of device we're dealing with here, we have no problems with the screen HTC's offering.
The same goes for the 816's internals. It's running a quad-core Snapdragon 400 processor, which consists of four ARM Cortex A7 cores at 1.6GHz, paired with an Adreno 305 GPU. In fact, it's surprising how close this phone comes to higher-end competitors in responsiveness, app load times and general UI smoothness. Whatever magic HTC's using to give the One M8 such awesome touch responsiveness has translated well to this mid-range device.
What's more, there's 1.5GB of RAM, a figure comfortably above the 1GB bare minimum we'd expect from a modern Android phone, which is nice to see. And we didn't notice any instances of apps being dumped out of memory more often than expected.
The device's main hardware deficiency is its internal storage — an anaemic 8GB of internal flash that's almost half-full by the time you've updated the built-in apps from Google Play. HTC Sense 6 supports moving some apps to the SD card, and of course music and photos can be offloaded there too. But if you're using the 816 for any length of time, things are going to start seeming mighty cramped.
Connectivity-wise, you'll get 802.11n Wifi capabilities, but only on 2.4GHz, as well as Bluetooth 4.0. On our European model there's support for 42Mbps HSPA+ on 850, 900 and 2100 MHz, as well as 4G LTE on 800, 900, 1800 and 2600MHz, which covers all the major bands currently used in the UK. That's besides the ability to make calls — which, yes, the 816 supports despite its hefty size.
Overall, the Desire 816's hardware is a change of pace compared to the aluminum-clad offerings we're used to dealing with from HTC. But it manages to stay true to the spirit of HTC's higher-end offerings with common design traits, even though the overall look and feel is substantially different. Our main hardware gripes? That 8GB of storage will fill up before you know it. And the glossy, fingerprinty, scratch-prone back panel is another source of frustration, particularly on the darker model we're using.
Software and UI
Our European Desire 816 shipped with HTC Sense 6, the latest version of HTC's UI, based on Android 4.4.2 KitKat. There's also a Chinese model that shipped with Sense 5, and is now being updated to the newer version. Broadly speaking, it's the same software experience you'll get on an HTC One M8, save for a few of the more premium features of that phone.
As we've said before, Sense 6 is a stylish, modern UI, and one of the few that doesn't completely bulldoze through Google's Android design guidelines. Flat icons and panels, light fonts and an absence of visual clutter make the latest version of Sense one of the most enjoyable Android "skins" to use. And the new theming options add a splash of color to HTC's own apps without going overboard.
The home screen experience, as ever, is based around HTC BlinkFeed, the company's home screen reader, which incorporates news and social updates in a scrolling list. In its latest iteration BlinkFeed has evolved with support for more services and apps, including Google+, Instagram and restaurant recommendations through Foursquare. Unfortunately BlinkFeed doesn't offer any greater information density on the 816's larger display, but it's still one of our favorite HTC features. That said, it's possible to disable it entirely if it's not your cup of tea.
Although all the M8's camera capabilities aren't included, the Desire 816 can boast the fully-featured Sense gallery app, complete with automatic video highlights. As we'll discuss later in this review, the rear camera isn't amazing across the board, but it's a solid shooter that actually outperforms HTC's flagship in some daylight scenes. As there's no Duo Camera, you'll miss out on 3D effects in your highlight reels, however the Zoe placeholder app is included, so when that photo sharing service goes live you'll be able to join the fun.
With most of Sense 6 intact and functioning much the same as it does on the M8, it's probably easier to look at what you don't get on the Desire 816. Sense TV is out, on account of the phone's lack of IR blaster. So too is the Zoe shooting mode — which records a burst of up to 20 shots and video simultaneously — due to the use of a standard 13-megapixel camera. You also don't get Motion Launch, the array of gesture controls for turning the phone on without pressing the power key. And that's kind of a shame for a phone of this size, particularly considering how tough it is to reach the power key most of the time.
Once again it's worth underscoring just how fast and responsive Sense 6 is on the Desire 816. That's partly due to the march of technological process making all smartphones speedier. But not every mid-range Android phone is as quick as the 816, and HTC deserves credit for the surprisingly narrow performance gap between its mid-range and flagship products. Sense 6 doesn't feel like it was awkwardly shoehorned onto less powerful hardware — instead, the experience is very, very close to the HTC One M8 in terms of fluidity.
Battery life
With a 2,600mAh fixed battery, the Desire 816 doesn't quite manage the multi-day longevity we've seen from higher-end phones with big screens, but it's enough to get you through a single day of mixed use with relative ease. Hopping between HSPA, LTE and Wifi all week, and with usage patterns consisting of light web browsing, social and app use and music streaming, we never ran out of juice before the end of the day. What's more, the phone seemed to manage light gaming duties without any significant battery drain — as mentioned previously, the Desire 816 was our go-to phone for playing Monument Valley. A testament, perhaps, to the efficiency of the Cortex A7-based Snapdragon 400 at its heart.
As with most devices of this size, the display seemed to be the biggest battery-guzzling component, however this is difficult to verify, as HTC's battery usage stats don't display screen-on time.
Like other Sense 6 phones, the Desire 816 offers a range of energy-saving options for those times you might find yourself low on power. There's a regular power-saving mode that'll cut back on display brightness, CPU speed and background data, just as we've seen on other devices. And the 816 also inherits the M8's Extreme power saving mode, which cuts back all but the most basic functionality to eke as much life as possible from a your battery. You'll get access to phone and messages, as well as HTC's mail, calendar and calculator apps in this reduced-power mode.
Camera
The HTC Desire 816 includes a 13-megapixel BSI rear camera — the same module used in the upcoming One Mini 2 — and a 5-megapixel front-facing camera, same as the One M8 and One Mini 2. So if you're into the whole selfie thing, HTC provides a better camera than most for front-facing pics, along with 1080p video recording for both its cameras. The rear shooter is a more traditional smartphone camera than we've seen from HTC's premium lineup over the past year. Whereas the One series has mainly delivered 4-megapixel Ultrapixel cameras, here we have a sensor with more than three times as many pixels.
The megapixel count only tells part of the story, however. Sure, the Desire 816 captures more detail than the M8 in daylight, but low-light performance doesn't match that of HTC's flagship, with photos captured indoors or at night being noticeably noisier and less clear than that phone, likely due to its smaller pixel size. At the same time, capture speeds are reduced compared to the M8, probably due to the slower CPU and larger image size.
Image 1 of 11
It's not quite a slam-dunk for the Desire 816 in daylight, either. While the phone's relatively high megapixel count means it's pretty good at capturing plenty of detail in bright conditions, these images exhibit a fair amount of noise when viewed up-close. What's more, the 816 seems to have inherited the M8's tendency to overexpose outdoor scenes, leading to washed-out skies in some images unless you nudge the EV (exposure value) down a little. In very bright conditions we also noticed photos would become pale and desaturated, though this is easily fixed by spending a couple of minutes in Photoshop or Snapseed.
Exposure (and perhaps dynamic range) is a weakness of the Desire 816 when shooting video, too. The rear camera captures footage with accurate colors and a reasonable amount of detail, and no noticeable artefacts or aberrations. But relatively narrow dynamic range seems to result in blacks being crushed, and a loss of detail in both bright and dark areas.
HTC Desire 816: The bottom line
The Desire 816 sells for around €360 in Europe, suggesting a UK price point a little under £300. At that level, HTC's most significant competitor might be LG — the Korean manufacturer's G2, which sports a faster processor, more storage, a better camera and a higher-resolution (though admittedly smaller) display, sells for just €349 or £285. As is often the case, we have a brand new mid-range phone running into heavy competition from year-old flagships.
What you won't get with the G2, however, is the "BoomSound" front speaker setup, or HTC software tricks like BlinkFeed and Zoe highlight videos.
Ultimately, the Desire 816 is a phone for people who want a really big screen at a lower price point, and in that respect it's easier to see how it might get a warmer reception in China than the West. That said, the phone doesn't leave us with a whole lot to complain about. Our main gripes include the limited internal storage — something you'll have to work around with an SD card — and that glossy back panel, which is a haven for smudges and scratches. And the camera, though decent, is unspectacular. Nevertheless, HTC's software additions make the Desire 816 a speedy, enjoyable phone to use, and it's definitely worth a look if you're after a gianormous phone on a less extravagant budget. But you might also want to keep an eye on the huddle of 2013 flagships now lurking around the 816's price point.
Image 1 of 20
Get the Android Central Newsletter
Instant access to breaking news, the hottest reviews, great deals and helpful tips.
Alex was with Android Central for over a decade, producing written and video content for the site, and served as global Executive Editor from 2016 to 2022.