'HTC Bliss' software screenshots emerge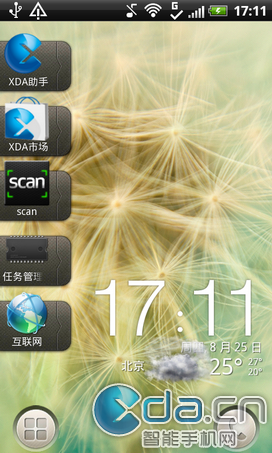 We've seen a couple of rumors surfacing over the past month or so surrounding the HTC Bliss, an upcoming Android smartphone said to be geared towards women. Now the first purported screenshots of the phone's software have emerged on Chinese site xda.cn, showing what seems to be a UI based on Sense 3.0, but with a few tweaks here and there. These include new widgets, a slightly different app drawer and a redesigned dock along the bottom of the home screen.
Many sites, including the source, are identifying this as HTC Sense 3.5, however there's no evidence provided to support this. Our money is on HTC continuing to use the tried and true Sense layout in most future phones. If anything, we'd say the Bliss software is more likely a fork (offshoot) of Sense 3.0, similar to what we've seen on the T-Mobile's MyTouch 4G Slide. Let us know what you think, though -- there are more shots over at the source link to help you make up your mind.
Source: xda.cn (opens in new tab)
Alex was with Android Central for over a decade, producing written and video content for the site, and served as global Executive Editor from 2016 to 2022.
Sure is, Stuff-Review also calling this a fake or at least 'Bliss' specific:
http://www.stuff-review.com/2011-08/htc-sense-3-5-gets-previewed-on-the-...
I agree don't think HTC would degrade Sense to this level. Next...

Isn't the phone aimed towards women?
So I think they changed the UI on this for a cleaner/simple easy women friendly UI.

Isn't that a sexist viewpoint?

No, most women aren't techies. It's just a fact, same as most women aren't construction workers, or sewage technicians, etc. I don't know why, they just aren't. Pure statistics.

Your unspoken assumption is that any current andorod interface is just too much for women to master, because you have to be a techie to tap an icon or something. Your viewpoint is so juvenile I won't bother asking how your wife feels about it, but you have more or less told us you think your mom can't tap an icon. We art not talking about rooting the device, or re-compiling the software or even driving over it in an M1 Abrams. We are talking about tapping icons and using wallpaper.

I think your hormones are getting in the way of making a logical post. Read, comprehend, and then respond. The previous post alluded to a statistical trend, you are the only one making "unspoken assumptions".

Why are you so defensive, icedike?

Someone best get to porting proper Sense ROMs to that thing in a f*****g hurry >_>

I don't like it, it looks like a lighter version of sense 3.0 for phones with processors that can't hand the full version of sense 3.0

This better be fake because thats ugly as heck. Thumbs down.

This is more like Sense 2.5 than 3.5. Sense 3.0 is way better than this.

Sense 3.0 should have been the last iteration of the present UI.
They should have made this similar to Expresso that was used in the MyTouch line.

Me being a woman. I am "techy" To me this seems like a waist. I won't buy!
Android Central Newsletter
Thank you for signing up to Android Central. You will receive a verification email shortly.
There was a problem. Please refresh the page and try again.