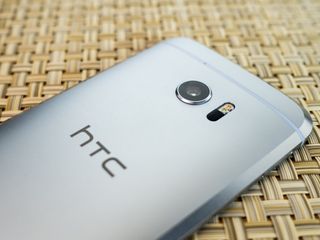 The HTC 10 is now official. Snapdragon 820 processor, 4GB of RAM and plenty of other stuff inside to get spec junkies interested. Not to mention a new camera and HiFi audio. In 2016, a phone needs to do more than look pretty — and HTC seems to understand and have found a great balance of form and function with the 10. There's a lot to like here.
Swipe to scroll horizontally
Category
Features
Operating System
Android 6.0.1
CPU
Qualcomm Snapdragon 820
64-bit Kryo quad-core
RAM
4GB
Display
5.2-inch QHD Super LCD 5
Rear Camera
12MP Ultrapixel + OIS, f/1.8 lens
Front Camera
5MP Ultrapixel + OIS
Storage
32GB + SD
Qualcomm QuickCharge
3.0
Battery
3,000mAh
SIM
nanoSIM
Audio
HTC BoomSound Hi-Fi Edition
Connectivity
USB-C 3.1 gen. 1
IR Blaster
No
NFC
Yes
Dimensions
145.9x71.9x3.0-9.0mm
Weight
161g
Android Central Newsletter
Get instant access to breaking news, the hottest reviews, great deals and helpful tips
Senior Editor — Google Ecosystem
Jerry is an amateur woodworker and struggling shade tree mechanic. There's nothing he can't take apart, but many things he can't reassemble. You'll find him writing and speaking his loud opinion on Android Central and occasionally on Twitter.
The other part of the specs don't surprise me all that much. Basically your standard-fare Android flagship. 2 parts stood out to me, though. One is the camera. The rear unit looks like it's the same sensor from the Nexus 6P (Sony IMX377, 12MP, 1.55-micron pixels) with OIS and an f/1.8 aperture. Perhaps the most interesting bit is the front. It also has OIS. And the USB-C port. "3.1 Gen 1". Maybe this phone's gonna pack in superfast data transfer speeds? getbretweir, I think I found your new work phone!

What else could they have done? Git the latest Exynos chip off Samsung? Posted from my Nokia 3310

You know the answer to that question. Posted from my Nexus 6/Nexus 7 2013/Surface Pro 3

I'm not saying they should. I'm saying the processor and package don't really surprise me since that has basically been the case for EVERY Android flagship since 2013. It usually packs a Snapdragon processor. I'm not being snarky or anything. But I've come to learn that you shouldn't get your expectations too high.

Make it dust and water proof. Instead of QHD, launch it with 1080p and even a bigger battery. Base storage 64 GB(or if they are hell bent on 32 GB then at least price it minimum 100$ cheaper than S7). You want more. Posted via the Android Central App on my Zuk Z1. Loving it.

Do you take your phone with you in the shower and go swimming with it, that ip68 rating has muffled the audio on the S7, as many reviewers have stated and given it a below average rating, the internal audio DAC in the HTC 10 will smoke the S7 as well the external speakers. Posted via the Android Central App

Yeah the Gen 1 thing stood out to me too. And as far as OIS the Nexus 6P did pretty well without it. I wonder how much of a difference having it on this will make Posted with my awesome Gold S6 Edge+

I think it's going to work mainly for video, though low-light shots would benefit from the increased stability and wider f/1.8 aperture. Overall, I think HTC got the hardware recipe for the camera right in that sweet spot. Let's hope the software is up to snuff.

Yep, in video it will shine Posted via the Android Central App

I think one of the deciding features of this phone that will help determine if this phone succeeds or becomes another M9 failure is the camera. Just like the Nexus line before, I hope HTC can finally put out a camera worth a damn. Posted with my awesome Gold S6 Edge+

The hardware looks great so far. The M9's problem was that it had a not-so-great sensor paired up with pretty iffy software. They got the hardware part right. Hope they sorted out the software.

You forgot hi-fi audio and great external speakers. If the hi-fi DAC is what they say it is, this will be my next phone. Also a great Camara, nice LCD screen that can be viewed in direct sunlight "sorry but AMOLED still stinks in direct sunlight". Posted via the Android Central App

Great 2016 Flagship specs. Interesting move with the removal of bloat. Sounds attractive, to people who understand it. But don't believe you can compete nowadays with a single flagship phone with one version that's not AT LEAST 5.5 inches. Samsung nailed it when they released both at the same time (choice). HTC waiting 2 months or whatever to release a Max version or whatever isn't smart for a company that's already struggling.. Posted via the Android Central App

Glad 4 GB of RAM seems to be the standard now

Wish it have water resistance. Posted via the Android Central App from Samsung Galaxy S7 Edge

Why, do you go swimming with your phone or take it in the shower, or pour champagne on it. That ip68 rating has muffled the audio on the S7 as many reviewers gave it a below average rating. 99 percent of people never had issues with their phones not being ip68 rated, the iPhone has sold real well without it as have many other phones. Posted via the Android Central App

It does Posted via my 5.9inch Nexus 6

Hope this becomes a Nexus Posted via Techmology

I second that, rumor has it that HTC will manufacture the next Nexus. Posted via the Android Central App

How is the fingerprint scanner?

This phone looks great. Would be a great phones to get now. No compromises. Posted via the Android Central App

Who wants a gently used gold Nexus 6P? I love the phone but HTC just forced me to throw money at them. ....I'm serious! Contact me if you want the 6P. Posted via the Android Central App

You can sell it on swappa, that's where I buy and sell all my phones. Posted via the Android Central App

good but i dont think many people will choose this over an s7

I don't think so, this HTC 10 is so much better in so many ways than the S7 Lagwhiz and all glass fingerprint magnet, and crappy external speaker and crap internal DAC . Posted via the Android Central App

Keep telling yourself that if it makes you feel better at night. You Samsung haters are pathetic. Posted via the Android Central App

I feel sorry for you that you feel that way Patt. What Cybertech posted, the HTC 10 is so much better than the S7 in so many ways was fact not hate. For further expansion of the 'so many ways' I've listed 26 advantages the HTC 10 has over the S7. I'm sure there are more. For greater detail one can review them in AC's article by Alex Dobie linked below. Unlocked
Rapid updates
No carrier bloat
Minimal redundant apps
Metal unibody cut & polished
Ergonomic
Super LCD 5 true color display
Not fingerprint magnet
Fastest performance
Adoptive storage
OIS on back & front
f/1.8 & 1.55-micron pixels
dual-tone LED flash
laser autofocus
USB-C
QC 3.0 'smart' charger included
PowerBotics
Boost+
2 amplifiers (1V) - 2 speakers
24-bit high-definition audio
upscaling /DAC
Personal Audio Profile
3 microphones - rec stereo
Sense-lte/Google Material UX
Theming with Freestyle mode
Free 'any reason' warranty.
------
http://m.androidcentral.com/htc-10

The all metal body and much better update policy will attract people over the S7. Obviously not everyone but I think a lot will appreciate those differences. Also now that both cameras are very good you don't have to compromise like in years past.

Meh. How underwhelming. This phone has nothing that makes it stand out from the competition. The S7 has IP68 rating and wireless charging. The G5 has modules. The HTC 10 has nothing interesting.

Audio and really light software plus update policy. That's what the HTC 10 has over the other 2 to me.

LOL sorry htc fans audio doesnt even cut it. LG has better audio with DAC module. HTC has been known for ****** camera's also, HTC has always been behind LG and Samsung it always has the same **** design every year disappointing

And I was talking about the phones out of the box. Not what you have to spend extra to add to a phone...... And sorry to burst your bubble, but unless you live in a country that isn't the US, Canada, South Korea and Puerto Rico, you can't buy the external DAC + headphone amp. You have to import one and it also won't work with phones sold in the US (especially carrier variants. Not sure about the unlocked ones). What's perhaps the final nail in the coffin is that the G5's external DAC also works as a standalone DAC with any USB-C device. Which means that you can just buy one and plug it into the HTC 10's USB-C port. You don't need a G5 for the DAC to work. The modular design is destined for failure from the beginning.

Time to take off the dark shades. Posted via the Android Central App

Why remove the IR blaster though? To my knowledge, only the G5 has one now, and that phone seems to be a disaster. Posted via the Android Central App

These 3,000mAh batteries are starting to get a little meh. These companies really need to start stepping their game up when it comes to the batteries. They keep stuffing these more powerful components into these devices but don't add any more juice to power them. Posted via the Android Central App

It's gonna be a while until we see really large 4000+mAh batteries in 5.0-5.2 inchers becoming the norm, unfortunately. The least HTC could do at this point is optimize the heck out of the software, especially since the hardware design is finalized.

That's very true. The problem is that everyone wants to make these super thin phones, which in turn doesn't allow for larger batteries. I think a step up to 3,500 should be the norm. Posted via the Android Central App

Battery life is NOT an issue with the HTC 10. "HTC 10's hardware tuning also extends to battery longevity, where the manufacturer says its "PowerBotics" tweaks — combining hardware and software to boost overall efficiency — can help eke up to two days of use from the fixed 3,000mAh battery. Cringeworthy name aside, PowerBotics' quoted 30 percent improvement in efficiency is a big deal, should it turn out to be accurate." —AC Also, QuickCharge 3.0 through its USB Type-C port, with the promise of up to a 50 percent charge in 30 minutes.

Is the battery removable? I'm guessing not.
Why does the same Sony sensor have a different appature in both Samsung and HTC phones? Posted via the Android Central App

I really want 64GB of internal storage, and it's unfortunate OEMs aren't including the IR blaster anymore (especially those who also make TVs).

Good specs and try cameras look marvelous. Hopefully it's HTC year regarding camera #TeamFrosty Nexus 6P

Excuse me guys, I'm late for party. Is it using UFS 2.0 or eMMC 5.0/5.1? Posted via the Android Central App from Samsung Galaxy S7 Edge
Android Central Newsletter
Get instant access to breaking news, the hottest reviews, great deals and helpful tips
Thank you for signing up to Android Central. You will receive a verification email shortly.
There was a problem. Please refresh the page and try again.