HP to become Google Apps reseller, bundle management tools on its devices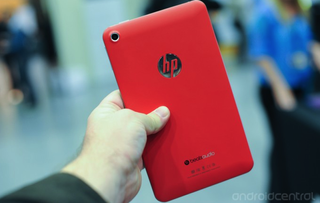 Google makes another move into the enterprise services market
HP and Google have struck a deal to have the PC maker become the latest Google Apps reseller, bundling enterprise management tools along with Google's App suite on its devices. According to a report today by AllThingsD, HP will include new tools on its PC's, printers and other IT devices -- holding together the whole system with hooks into Google Apps, Google's platform for businesses to run email, documents, file sharing and more with one service. It's an interesting move considering HP's historical alignment with Microsoft on the enterprise front, and one that could drive serious traffic over to Google.
Considering HP's recent dips into partnering with Google to not only release Android but also Chrome OS hardware, with more to come, this could be a sign of something bigger between the two companies. While it doesn't like to talk about it too often, Google has continued to make changes and push Google Apps as a great platform for (especially small) businesses to use as an affordable enterprise suite.
Source: AllThingsD
Android Central Newsletter
Get instant access to breaking news, the hottest reviews, great deals and helpful tips
Andrew was an Executive Editor, U.S. at Android Central between 2012 and 2020.
Ok, click-throughs are cool and all, but if you're going to put the whole post on the main page, could you uncheck the "continue reading link" option or whatever is needed? Thanks.

I have no idea what this means :\

Simple, now HP will be selling you Google's subscription to their business web applications and keep a cut(I'm assuming). I had no idea this was necessary, I also doubt ppl will fall into this rather than buy it from straight from Google. To me it seems more like HP allowing Google to advertise in HP computers. Simple as that.
I understand your confusion as at first I couldn't understand what apps was the article talking about. Being that this is ANDROID Central, I thought of ANDROID Apps bundled and available for purchase in that HP tablet from the picture.

Still sucks that they abandoned webOS.

I'll never forgive HP for that.

...but they at least opened it before they did. That's gotta count for something.

I used to be a loyal hp customer (because of their calculators, way back when), but stopped buying **anything** hp after the webOS fiasco.

This is a smart move by both company. HP can now gain market share on small business which hasn't been that great for them recently. Google gain over all exposure to small business community. I only hope Google takes WebOS multi-tasking from HP Posted via Android Central App

iOS 7 already innovated that

That's not really an innovation Posted via Android Central App

Congratulations. That was the joke.

very nice, this is definitely a great thing for Google,.

Watch out Microsoft. This is all getting rather interesting..

This is a great move by Google and HP, Microsoft lost a lot of ground by bungling Windows 8. Also, Google Apps is not only for "small businesses", the City Govt of Los Angeles uses Google Apps. There are major Universities that use Google Apps. My company has over 30,000 employees, we use Google Apps.

Many larger companies are starting to use Google Apps as a cost effective IT solution, Microsoft should start to worry. I believe this HP partnership could be a positive move for both companies and agree that Android would benefit from some of the best features of web os. Posted via Android Central App

I have used both Outlook / Office and Google apps. While Microsoft's offering is more comprehensive and robust, I can definitely the Exchange Server licensing fees getting to be a cost cutting method for companies.

MS is and has been worried, about 7yrs ago they identified Google as their biggest threat and they where right. This is a big step in the right direction for both companies hopefully it works for the small business owners as well. These sites have often muddled the technology. Somehow the bloggers here seem to think we care about the parents company that owns the product so they relay any news about them here. You see this on all the sister sites. Honestly I don't care either way.
Android Central Newsletter
Get instant access to breaking news, the hottest reviews, great deals and helpful tips
Thank you for signing up to Android Central. You will receive a verification email shortly.
There was a problem. Please refresh the page and try again.