How to use multi window mode on the Galaxy Note 8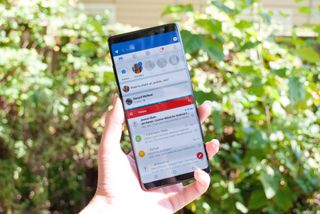 The Samsung Galaxy Note 8 delivers the tallest screen yet in this line of phones. This, of course, means that using multi-window mode is more awesome than ever before. We've got the details on how to use multiple windows with your Note 8 so that you never miss an email or a message!
How to open multi window mode
Multi-window mode lets you have two apps open and available for use at the same time. There isn't any need to set anything up, you just need to know how to launch multi window mode in order to get started.
Open the first app you want to use.
Press and hold the return button.
Tap the multi window icon.
Tap to select a recent app to open in multi window mode.
How to close multi window mode
While multi window mode can be handy in a lot of cases, you may want to close it when you don't need to keep an eye on multiple apps. Thankfully this is easy, and in just a few taps you'll be good to go!
Tap the seam between the two open apps.
Tap the X to close one of the apps and leave multi-window mode.
How to rotate window placement
If you want to switch which app in multi window mode is at the top of your screen, all you need to do is rotate the open apps. This literally just takes a few taps and you'll be good to go!
Tap the seam between the two open apps.
Tap the rotate icon to rotate which app is on the top and which is on the bottom of your screen.
Questions?
Do you still have questions about using multi-window mode with the Note 8? Have you used this feature? Let us know about in the comments below!
Get the Android Central Newsletter
Instant access to breaking news, the hottest reviews, great deals and helpful tips.
Jen is a staff writer who spends her time researching the products you didn't know you needed. She's also a fantasy novelist and has a serious Civ VI addiction. You can follow her on Twitter.