How to use the DJI Osmo Pocket with Micro-USB smartphones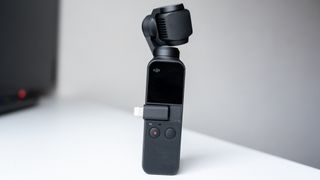 Officially, DJI says that the new Osmo Pocket doesn't support smartphones with a Micro-USB connector, but what it says on the box isn't the whole story. We're here to show you how to hook up an Android phone without USB-C.
Products used in this guide
How to use a phone with micro USB with the DJI Osmo Pocket
It's important to note that this isn't guaranteed to work with every device. Using the adapter we've mentioned here and a good quality Micro-USB cable we've had success, but officially DJI says it isn't supported.
Make sure you have downloaded the DJI Mimo app from the Google Play Store.
Hold the power button down to turn on the Osmo Pocket.
Connect the USB-C to USB adapter to the charging port on the base of the Osmo Pocket.
Connect the micro USB cable to USB-C to USB adapter.
Connect the other end of the micro USB cable to your phone.
Tap the camera icon in the top left corner of the DJI Mimo app to begin.
You should now see the camera interface, all the available settings, features and most of all, what the DJI Osmo Pocket is seeing.
Our top equipment picks
If you're looking to make the Osmo Pocket work with a micro USB smartphone, this is the equipment we recommend.
Magic adapter
Apple USB-C to USB adapter
Actually a great adapter for Android
Connecting this as a go-between from the USB-C port on the base of the Osmo Pocket, you can use it with your Micro-USB toting smartphone.
There are plenty of USB-C adapters out there but not all of them might work. This one might say Apple on the box but it works perfectly for this purpose with an Android phone and a good quality Micro-USB cable.
The camera
So much power in the palm of your hand
This has been a game-changing product for mobile photographers and videographers. You can get a 4K60 camera and 3-axis gimbal in your pocket.
Additional Equipment
In most cases, the Micro-USB cable that came with your phone should be good enough, but if not, this is a great replacement.
Anker Powerline+ micro USB cable ($11 at Amazon)
A top quality braided cable from a well known and respected brand.
Be an expert in 5 minutes
Get the latest news from Android Central, your trusted companion in the world of Android