How to use the Digital Wellbeing features on your Samsung Galaxy phone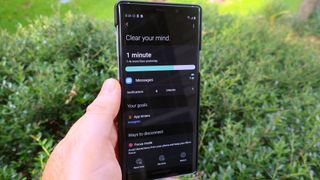 (Image credit: Jeramy Johnson / Android Central)
Our smartphones practically run our lives these days, and in many (if not most) cases, they're extremely helpful tools — second brains even. However, there are times when you need to step back, put the phone down, and focus on the task at hand, whatever it may be. I certainly know what a difficult task that can be, but thankfully Samsung has baked in some useful tools in the form of its Digital Wellbeing feature to help people like me put down the phone and grab life with both hands. I'll show you where to find these tools on your Samsung Galaxy phone, and how you can use them to regain a little sanity and peace from your device.
Where to find the Digital Wellbeing features on your Samsung Galaxy phone
Open the Settings app.
Scroll down to Digital Wellbeing and parental controls.
Tap on Digital Wellbeing.
Here you can see a sort of dashboard with a quick view of how much time you've spent on your device that day. It includes how many notifications may have interrupted you, as well as how many times you've unlocked your phone (I took this screenshot at the beginning of the day, but you can still get an idea of what it looks like here).
You can also look at and set timers for specific apps, enable a focus mode to get more work done, and even a wind-down mode to have your phone help you get ready for bed at the end of the day. Now let's take a look at those specific features.
How to use Digital Wellbeing on your Samsung Galaxy phone App timers
From the Digital Wellbeing landing page, tap on App timers.
Scroll through your apps and tap on one to set a timer.
Choose between the pre-set timer options, or create your own custom timer.
Tap Done.
In this instance, I've put an app timer on Instagram since I spend way too much time in that app each day. Here, if I go over one hour and ten minutes, I won't be able to use the app anymore (unless I go back into the settings to disable this feature). But the idea is to give you that extra nudge to back out of the app, put the phone down, and do something more productive with your time.
How to use Digital Wellbeing on your Samsung Galaxy phone Focus mode
From the Digital Wellbeing landing page, tap on focus mode.
When the Focus mode screen comes up, tap the blue Start button at the bottom of the screen.
Come up with a name for your focus mode.
Tap Save.
Tap the blue Start button.
Select which apps you want to be able to access while in your focus mode.
Tap the blue Start button.
When you are ready to exit focus mode, tap on the End focus mode.
Note that you can start and stop focus mode from the quick settings menu when you swipe down from the top of the screen.
How to use Digital Wellbeing on your Samsung Galaxy phone Wind Down
From the Digital Wellbeing landing page, tap on Wind Down.
Toggle the Set a schedule button to enable the feature.
Tap on the Set a schedule button to adjust your wind-down schedule.
Samsung also provides a quick shortcut to Google's Family Link in the Digital Wellbeing section under the section called 'Check on your kids.'. Click on the parental controls link, and you'll be taken to Google's well thought out set of app and device management tools.
Our top equipment picks
If it's time for you to get a new Samsung Galaxy phone, the team at Android Central loves the Galaxy S20 Plus.
The sweet spot
(opens in new tab)
Not too big, not too small
The Samsung Galaxy S20 Plus is the premier Android flagship of 2020. With a 120Hz display, amazing cameras, and a great battery, this device is sure to hit every tick on your checklist.
Jeramy is proud to help *Keep Austin Weird* and loves hiking in the hill country of central Texas with a breakfast taco in each hand. When he's not writing about smart home gadgets and wearables, he's defending his relationship with his smart voice assistants to his family. You can follow him on Twitter at @jeramyutgw.
Android Central Newsletter
Thank you for signing up to Android Central. You will receive a verification email shortly.
There was a problem. Please refresh the page and try again.