How to use App Pair on the Galaxy Note 8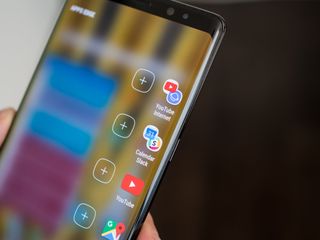 Samsung didn't change a whole lot about the software experience in the Galaxy Note 8 compared to the Galaxy S8+, but it did add a couple of useful tricks. One of them is "App Pair," a feature that lets you open directly into a multi window session with two apps of your choosing, saving you multiple taps to launch a pairing that you access regularly.
Here's how to get it done and upgrade your multi window productivity in an instant.
In order to use App Pair, you'll have to enable your Edge Screen if you're not already. You can edit the panels of your Edge Screen independently of using App Pair — so long as you have the Apps Edge panel enabled, you're good.
Swipe in from the edge of your screen to reveal the Apps Edge.
Tap on an empty Apps Edge space (denoted by a + sign).
Tap create app pair in the top-right corner.
Use the "switch" button to choose which app goes on the top and bottom when you launch the pair.
Note: Not all apps are available in multi window mode.
You can add, remove or rearrange any selection of single apps and App Pairs in the Apps Edge at any time — it only takes a minute. With your App Pairs set up, you may end up using multi window even more!
The only hope we have for App Pair is that it makes its way back to the Galaxy S8 and S8+ in a future software update, because this feature isn't only beneficial on the Note 8's 6.3-inch screen. It saves you taps and time on a phone of any size!
Android Central Newsletter
Get instant access to breaking news, the hottest reviews, great deals and helpful tips
Andrew was an Executive Editor, U.S. at Android Central between 2012 and 2020.
You know what would be great? If they brought back the ability to link to action. That was a cool Note feature and they took it away.

I never used the link to action in my other notes. Can you explain what that did?

Link to action allows you transfer the contents of any note to the calender, alarm, web browser, maps, email, dialer, contacts bla bla... in order to carry out actions there.

Yes, it was an awesome features. I could quickly jot a name and number, or maybe even an address in screen off mode. Then, later, bring up the note, link to action and voila, name and number in my contacts ready to be saved. Or address in the Google maps are ready to navigate. Why they removed this wonderful feature is beyond me.

If I am correct in my understanding, the Note8 has Samsung Notes pre-installed not S Note as previous Notes had. S Note had this functionality, Samsung Notes does not. I believe you can install S Note from the Galaxy App store (this youtube video https://www.youtube.com/watch?v=M6cL7Suq1xc&t=876s indicates you can or maybe sideload for apkmirror). This may well bring back the Action Notes functionality you describe but I do not have a Note8 to test. If anyone gives this a try and it works, I would appreciate a quick reply letting me know. Good luck.

any way to make an app pair from the secure folder apps?

There are several apps in the play store that let you do this exact same thing and work very well. I'm not sure why it's being celebrated as some amazing Samsung breakthrough feature.

Bc Android users are confused... They complain about a phone not having "features" if it's not baked into the UI but complain something is forced on them if it is and they can't uninstall it lol there are apps to do almost everything but it's not "convenient" to have to download what you want

If Google does it, it's a feature. If an OEM adds it, it's bloatware.

One of the nice features on the note8 you most definitely can't do that on i-trash devices

It may not be available on Apple devices, but I'm sure if there were discussions about it, they probably would dismiss it as a useless fad, just to invent it a few years later.

wasn't this present in prior Notes? I could swear this was in the Note 3 or 4 and then it was removed in an OS update. I would love if they added this to the S8/S8+. I am using one of the apps that does this from the Play Store and it is not exactly stable and requires the accessibility service.

What are some of the app-pair you all are using? Some examples would be appreciated.
Android Central Newsletter
Get instant access to breaking news, the hottest reviews, great deals and helpful tips
Thank you for signing up to Android Central. You will receive a verification email shortly.
There was a problem. Please refresh the page and try again.