How to update Kodi on your Amazon Fire TV Stick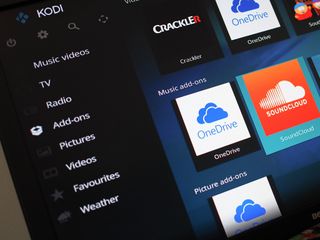 Because Kodi isn't available to download through the Amazon Appstore, getting the latest version requires a little more effort on your part than it would on anything with access to the Google Play Store. Fortunately, if you've installed it once, you're probably familiar enough to update it.
Whether on a Fire TV Stick or the larger Fire TV (opens in new tab), this guide applies to both.
See at Amazon (opens in new tab)
Advertisement
There are a few different ways you can go about this, but we're going to use the same method as installing Kodi for the first time on the Fire TV Stick. If you need a refresher on that, you'll find the full details linked below.
How to install Kodi on the Amazon Fire TV Stick
The method to get the latest version is exactly the same. You'll need to make sure ADB Debugging and Unknown Sources are enabled in Settings if you deactivated both after your initial Kodi install.
Open up Downloader on your Fire TV Stick and enter this URL to pull down the latest version:
http://mirrors.kodi.tv/releases/android/arm/kodi-17.0-Krypton-armeabi-v7a.apk
Once downloaded you'll be prompted to install or cancel, naturally you want to select Install. After it's all finished, the next time you open up Kodi you should be looking at the new Kodi 17 Krypton stock interface.
As Kodi 17 is new there may well be compatibility issues with some of your add-ons. If you're concerned about breaking any important functionality, then there's nothing stopping you holding off for a while and keeping tabs on updates to make sure this won't happen.
It's as simple as that. Go forth and enjoy yourselves some Krypton!
Android Central Newsletter
Get instant access to breaking news, the hottest reviews, great deals and helpful tips
Don't bother, Kodi is a buggy mess, plenty of illegal streaming apps for Android if that is what you are looking for. Plex and Netflix apps run rings around it.

Kodi isn't a buggy mess. It's rock solid stable for me. The cruddy plugins for pirated illegal content are, however, buggy messes.

https://github.com/sphinx02/AppStarter/wiki/Install-AppStarter-and-Kodi-(only-FireTV-needed) Boom! My fav way to stay up to date with kodi :-D

It's getting so easy to find good sources, I don't know why people pay others for the convenience.

I have never had any bug issues with Kodi...it works amazing on my firestick. So much hockey to watch I don't have enough time in the day.

Just updated both my sticks to Krypton this week. Everything went pretty well, no issues with add-ons yet that I can see. Not sure why the OP mentions it's a "buggy mess", I haven't had any problems other than my internet is too slow and some HD movies buffer and stutter. Just means I need to up the speed a bit, no biggie. One thing I am curious about is if the "lite" versions of builds is better for the Firestick than the regular version. I am using Fire TV Guru lite version on one stick and the regular version on the other, so far I haven't seen much difference. Anyone have any advice to offer on that?

Go search YouTube for ways to stop the buffering BS. I did it and I have zero buffer issues any longer.

Piracy plugins are a buggy mess.

My Nexus Player updated itself to Krypton, very convenient. Also, anyone know how to install Amazon Video on the Nexus Player?

Possible to update without having to install add-ons again?

Please elaborate - I've always been reluctant to upgrade as the benefits do not outweigh the effort to get Kodi back to where I have it prior to upgrading.

I updated Kodi and kept the same build and have had no problems so far. I'm not sure how much more I can elaborate, sorry. Good luck to you.
Android Central Newsletter
Get instant access to breaking news, the hottest reviews, great deals and helpful tips
Thank you for signing up to Android Central. You will receive a verification email shortly.
There was a problem. Please refresh the page and try again.