How to try ChromeOS on a virtual machine before you buy a Chromebook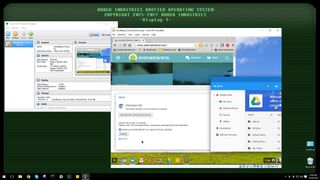 I like to tell people that they should try a Chromebook. I think it's simply the best platform for a laptop for most home-users, and the price-point is perfect. But saying something is easy — it's the believing part that is a little harder. Taking a gamble by spending $200 or more based on what other people think can be difficult. I feel you because I'm a bit of a tightwad myself and while I'm not from Missouri I usually need to see something for myself before I make a decision.
If that sounds like you, too, this is something you'll need to try.
The picture above is Chrome OS (technically Chromium) running on top of Windows 10, and it was as easy as downloading two free files and opening them. Using VirtualBox — software that creates a virtual machine on Windows, Mac or Linux — and a build of Chromium from the folks at NeverWare you really can see what using a Chromebook is like. You'll need a computer with an x86 processor (if you don't know what this is, then you have one) and enough RAM to run your normal operating system while reserving 2GB for the Chromium virtual machine. You'll also need an internet connection to download the files and to connect your virtual Chromebook with your Google Account.
NeverWare is part of CloudReady. They are a cloud software company who happens to provide builds of Chromium — the open source software that is used to build Chrome OS. Think of Chromium as AOSP for Android. The code is what Google maintains and uses to build their software. NeverWare also builds the software and includes hardware support that your virtual machine will need. All you need to do is download the pre-built file right here. Find the file labeled for VirtualBox and save it to your desktop.
Download: Chromium VM from CloudReady
NeverWare provides the operating system for our virtual machine, but we need the software to create them. That's where VirtualBox comes in. The software is free, and the installation is simple. Download the correct version for your system and install it like you would any other program. Linux users — they have packages for Debian, SUSE, Fedora and Ubuntu prebuilt to save you some trouble. If you use Gentoo or Slackware, you should compile from source anyway because you are one with your machine.
Download: VirtualBox from Oracle
Once you have VirtualBox installed, run it once. read and agree to the terms and let the VM manager open. Then close the program completely. Next, go back to your desktop and double-click on the file you downloaded from NeverWare (it has a .ova file extension). Give it a few seconds, and you'll see the screen above. All you need to do is click the button that says "Import" at the bottom. It will install itself into VirtualBox — this takes about a minute and you'll see the progress bar. When that's done, highlight the new machine you just imported in your list and click the green arrow at the top that says "Start."
Things will take a bit to load the first time, but when it's done you'll see exactly what you would see if you powered up a Chromebook for the first time. It runs the same apps from the Chrome Store and syncs with your Google account. You'll get the full Chrome experience so you can decide if you want to buy a Chromebook.
Senior Editor — Google Ecosystem
Jerry is an amateur woodworker and struggling shade tree mechanic. There's nothing he can't take apart, but many things he can't reassemble. You'll find him writing and speaking his loud opinion on Android Central and occasionally on Twitter.
Is it possible to install natively on a MacBook pro? This will save me from selling my Mac and buying a Chromebook. Also will be beware build get play store?

It should be possible via bootcamp or just a second partition on MAC. I'm sure there's guides some where.

NeverWare can be installed on most Macbooks, though it would be worth booting from a USB or checking forums to make sure your specific model is supported. As far as I'm aware, Google has not stated if the Play Store will be coming to Chromium. However, in my opinion, it seems unlikely. That said, the worst-case scenario is that you install NeverWare for free, don't get Android app support, and have to buy a Chromebook anyway.

Native and dual boot installs are available as well. Not sure about a Macbook install, but a machine built for windows works well from what I've heard. Dual-boot is tricky, because UEFI.

Do you know if neverware will get playstore?

It will not. Chromium doesn't (and won't) support it.

If you run Parallels Desktop in OS-X it has an option to install Chrome OS built right in. Just select Chrome OS, install, done! Voila! Don't need to go through through this more complex process. But then, if you don't have Parallels Desktop, nor want to buy it, then the alternative is this more complex process described in the article here.

This is what I did. It works great. But this isn't s native install. It's a non free virtual machine. Posted via the Android Central App

The version provided by Parallels is hopelessly outdated and they don't seem to be interested in updating it.

I just feel like they need to update the hardware a bit more. Other than the pixel which is too expensive, they need a 4 or $500 option that looks good, made from metal, with a great screen, keyboard, and thin. Basically a MacBook running chrome without the price. Posted via the Android Central App

http://www.wired.com/2016/04/hp-chromebook-13/

You mean the Acer Chromebook 14? It's only $300. The only thing it's lacking is a touchscreen, which you can't get on a MacBook at any price.

Can you check out Google Play store/android app functionality through this VB setup? I have a passing desire for a chromebook, but I would like to see how well it works (in actual usage) with a couple of Android apps first.

No. The Play store and Android functionality is limited to specific hardware.

THANK YOU KINDLY Posted from my cracked Nexus 6/Nexus 7 2013/Surface Pro 3

Would I be able to use VMWARE fusion on my mac to do this? I'd like to try... Posted via the Android Central App

Yes. Use the same link in the post for the VirtualBox version. That page has both.

What are the biggest differences between Chrome OS and Chromium? I remember trying Chromium out years ago and realizing it looked nothing like what I saw on Chromebooks.

Until you log in with your google account it's really just the chromium browser and a gray background. You'll also have to install Adobe Flash and Widevine DRM separately (these VM builds do that at first boot) because Chromium doesn't include them. Once you sign in, there's very little user-facing difference.

Good to know, gonna try this out this weekend. Thanks!

Hi!
The link on CloudReady is dead:
Error (429)
This account's links are generating too much traffic and have been temporarily disabled!
Alternative link?
Thanks

I"m getting the same thing

Use this link... https://mega.nz/#!5FZXEYya!uEZFeCdTyZORMh0XkgTuoMIFgN6b_CxWighk5ZfxaGA Got this from comments on the CloudReady Image Download page....above link titled "Download: Chromium VM from CloudReady"...page 2 of comments

Thanks for the link! Got it.

is there a way to let this run in proper full screen?

I installed Chromixium as the only system on a few machines and as dual boot on some Windows machines. It has been supported by Google, at least for me. Never tried NeverWare, and wouldn't if Google services aren't part of it. Just my opinion. With Chromixium, you also get some basic Linux programs installed as a bonus. Quite simply done.

I am getting the below error when trying to run it. VT-x/AMD-V hardware acceleration is not available on your system. Your 64-bit guest will fail to detect a 64-bit CPU and will not be able to boot.

With no option in BIOS to enable. Such is life when you decide to buy off the rack. Posted via the Android Central App
Android Central Newsletter
Get the best of Android Central in in your inbox, every day!
Thank you for signing up to Android Central. You will receive a verification email shortly.
There was a problem. Please refresh the page and try again.