How to take better photos with your Android phone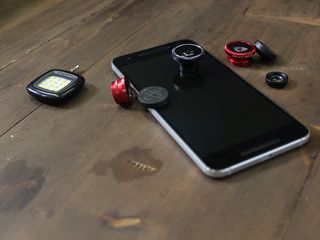 Many Android phones come with a high-quality camera designed to capture your subject's tiniest details and features, and while they're not technically on the same level as a DSLR camera, you can still take the perfect picture with just your phone if you know how to use it. Even if you're a beginner, you can quickly learn how to capture amazing photos with your Android phone (and if you actually are a beginner, be sure to check out our top 10 Android photography tips for beginners!)
Here are some helpful tricks to help you take better photos with your Android device!
Explore your camera settings
Get acquainted with your phone and all the camera settings before you start shooting, and you'll feel a lot more comfortable capturing your shots!
While shooting from your phone's stock camera is great for 99.9% of pictures — especially if you've got a recent Samsung, LG or HTC phone — playing around with the various modes and settings can really allow you to experiment and get creative.
Make sure your lens is clean
While this may seem like an obvious one, cleaning your phone lens can be a lot harder to remember than cleaning your DSLR lens. After all, there's no lens cap protecting your Android phone's camera from dirt and scratches like professional cameras have.
Carrying around a small lens cleaning cloth, or even having small micro fiber lens cleaning patches stitched to the inside of your purse or your jacket are simple ways to remind you to clean your phone lens and screen, so you're always ready to take the clearest shots with your phone.
Or just use your shirt.
Don't forget to clean your front lens, too! We break down how important cleaning your lenses can be in our top 8 tips to make you an Android photography expert.
Forget the flash: use external lighting
When it's dark outside, it's a knee-jerk reaction to turn on the flash to light up your photos, but it's not always the best for picture quality. In fact, we'll go one further: Don't bother using your flash. Nearly ever.
Always try to find a natural light source when you're shooting your photos. If you're at a restaurant and want to snap a picture of your meal, try to get a seat by a window, so you can capture all the meal's details with the perfect lighting. If you're looking to take a selfie, try posing in front of a big window. This won't only make your face and features light up – even on a cloudy day – but it will darken the background and make you the center of attention.
If it's absolutely impossible to capture your picture without natural lighting (and sometimes that's the case), try your best to find another external light source, like a lamp or even a candle. While it may seem silly, almost any other lighting will look better than the flash, especially since you then have more control of what you choose to light and highlight in your photographs.
Crop, don't zoom
Just like your Android phone's flash, zoom is another readily available option for phoneographers that should be avoided like the photographic plague.
Zoom can lower the quality of your pictures, and you might actually be cutting out something you didn't notice in the photo that you may find amazing when you glance at the picture during editing.
It's hard to remember when you're shooting, but your Android device is not the same as a DSLR camera: you can't just zoom in on something and have the quality stay virtually the same. A lot of professional photographers avoid the zoom altogether and prefer to crop strategically in the editing process afterwards, so they don't miss out on anything they captured in the picture.
If you really need to get in close with your subject, pick yourself up and physically move closer to it rather than using your zoom. This is the best way to get creative control over your photo subject without using zoom to mess up the picture's overall quality.
Burst first, ask questions later
Bursting may seem like a lazy way to take pictures, but it's probably the most efficient way to capture your perfect shot!
Whether it be selfies, landscapes, or a masterpiece of a meal, using burst is a great way to take a bunch of photos without stress: just hold down the shutter button and your phone will take rapid-fire shots that you can browse through later to find the perfect one.
While a bunch of the pictures you take with burst will be terrible and totally unusable, there are bound to be a few gems hiding in there. Take the time to go through your burst shots and pick out the best ones, and always remember to delete the bad burst photos so they don't take up space on your phone.
Find a favorite photography editing app
After you're done shooting, you're going to want to up your photo game by editing your pictures with your favorite editing app.
There are plenty of photo editing apps to choose from out there, and all of them do their own unique things like overlay certain filters, allow you to edit brightness and contrast, and even add text or stickers to your photos.
Photo editing apps are also a great tool to have if you're not confident with the photos you've taken. You can even salvage some photographs through a little bit of editing and tweaking if you're worried about quality.
Follow your favorite photographers on social media
Sometimes taking the best pictures with your Android phone doesn't start with your camera app; it starts with a quick visit to social media to get motivated from Android phone photographers who are already taking beautiful pictures!
Following some of your favorite photographers on social media is an amazing way to get ideas, see what kind of art other people are creating, and get motivated to go out and start shooting. Some may even respond in the comments if you ask them how they shot a certain subject in a certain style or how they managed to edit a specific photograph to look a certain way.
Creep around the discover page on Instagram and see what other Android phone photographers have shot. Start by mimicking a style you're fond of, and it will eventually evolve into your own.
Some photographers on social media even share their own tips and tricks for shooting, so be sure to check out a bunch of different profiles for inspiration.
Your turn
Are there any tips and tricks for shooting amazing photos with your Android phone that we may have missed? Let us know in the comments below.
Sign up for Black Friday email alerts!
Get the hottest deals available in your inbox plus news, reviews, opinion, analysis and more from the Android Central team.