How to rearrange the Samsung Gear S3's app drawer and widgets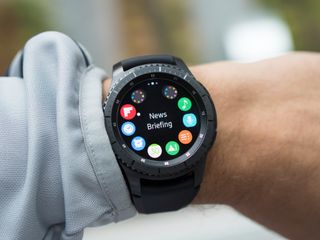 With so many apps, services and utilities available on Samsung's Gear S3 smartwatches, it's easy to get carried away while setting things up and all of a sudden be in a stressful situation. Dozens of apps across multiple pages of the app drawer sit beneath a dozen pages of widgets to the right of your watch face — but thankfully you can clean up this situation to make it easier to get just what you want.
While you can't altogether hide or delete most of the pre-installed apps on the Gear S3, you can rearrange them in a way that puts what you want front and center, leaving the rest to the background so it isn't in the way. Here's how to get it done.
Configuring widgets
Widgets on the Gear S3 are the glanceable bits of information that are available to the right of your watch face. You can think of them as full-screen app experiences that are always available to you, without having to explicitly launch an app. By default Samsung loads up the Gear S3 with a bunch of widgets, and you can even install more on your own. Either way, you can have as many or as few as you see fit — adding as much functionality or simplicity as you desire.
This is how you configure widgets on your Gear S3:
Rotate the bezel clockwise to view a widget on screen.
Rotate the bezel to select widgets to interact with.
Press the - button to remove a widget.
Press and hold a widget, dragging it left or right to rearrange its position in the list.
To add more widgets, rotate the bezel clockwise to the very end of the list and tap Add widget.
Select the widget you want, then press and hold the widget to rearrange its position in the list.
Rearranging the app drawer
For all of the apps on your Gear S3 that aren't worthy of their own dedicated widget, you can open up the app drawer by pressing the home button while on the watch face. Just like your phone, the app drawer holds every app that's installed on the watch, and by default is placed in a haphazard order. Samsung defines the app drawer on its own terms, and any additional apps that you download are put at the very end of the list — which could mean scrolling through three or four pages before you get to it.
But it doesn't have to be that way for long — here's how you can rearrange your apps:
Go to your watch face and press the home button to enter the app drawer.
Press and hold on the center of the screen to enter "Edit mode".
Rotate the bezel to the page you want to rearrange.
To move an app between pages, drag the app to the multi-colored circular page indicator at the 1 or 11 o'clock position.
If an app can be uninstalled, it will have a red - on the corner of the icon; tap it to delete and confirm with the check mark.
When you're finished editing, press the back button to exit Edit mode.
Once you spend a few minutes getting both the widgets and app drawer on your Gear S3 set just how you like them, you'll find it much easier to access the information you need when you need it. Skip over the distraction of unused apps and widgets, and take control of your smartwatch!
Android Central Newsletter
Get instant access to breaking news, the hottest reviews, great deals and helpful tips
Andrew was an Executive Editor, U.S. at Android Central between 2012 and 2020.
I find it easier doing app arrangements via the Apps (Manage, Reorder, Uninstall) menu item on the Samsung Gear app on my phone...

Check out the Launch manager app it gives you a UI, similar to the apple watch. It works very very well and puts all apps on the same page is animated very well, overall its the only way I select apps anymore... It cost a little more than a dollar, but is 100% worth it. IMHO it should of came with it as an option. I couldn't suggest it more...

Why would you want the Apple watch style? Even Apple watch users don't want that mess

Two weeks in and this watch still amazes me came from the s2 . The larger face for me, is prefect

I found one disappointing thing - despite it supposedly being 316L stainless-steel, I find that the casing still scuffs/scratches too easily. I already have some faint marks on my rotating bezel. I have never once impacted a hard surface. I did however knock the watch against drywall a couple of times. It's not a deal-breaker by any means, but not as durable as I had hoped. Perhaps I am skewed in my expectations from my classic watches that hold up much better, and even my Apple Watch since I have the black stainless steel variant that has some kind of near-diamond like hard coating.

I wouldn't worry to much I've got $1200 dumb watches with scratches on the crown from ware .I think what your seeing is paint rubbing off

Sorry to hear your having so much trouble with damage on your watch but I have many watches and they all get scratched up. So it's not just the Samsung Gear S3 Frontier I wish it had more apps but other than that I love my Gear S3 watch cause it a standalone watch which means I don't have to carry a second phone I always have my second phone on my arm.

I have an S2 and S3. Both standalone models. I scratched my S2 on the concrete water fountain in the park horsing around with some friends while playing ball. I won't lie... I used a black, then brown sharpie permanent marker on it. It's like it was never there at all. LoL #GhettoSmart #FirstWorldProblems.

Also... Please always back up your watch settings before and after any time you make drastic changes. It helps.
Android Central Newsletter
Get instant access to breaking news, the hottest reviews, great deals and helpful tips
Thank you for signing up to Android Central. You will receive a verification email shortly.
There was a problem. Please refresh the page and try again.