How to make your wired headphones wireless and Bluetooth-capable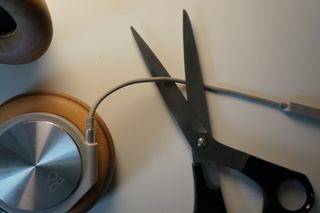 (Image credit: Android Central)
The 3.5mm headphone jack is no longer a standard when you buy a new phone, and if you aren't quite ready to pick up something like the excellent Sony WH-1000XM4 Bluetooth headphones — you probably want to know how to make wired headphones wireless and Bluetooth capable. Since nearly every smartphone these days has ditched the tried and true 3.5mm port, it can be difficult letting go of your top-of-the-line wired over-ear headphones. Though some of the best wireless headphones out are pretty great, when you have something you love, it's hard to let go of it — that goes for wired headphones too.
There are several options to convert your precious wired cans into Bluetooth beauties that'll work with your new phone and any other Bluetooth-enabled device!
Note: You may not get exactly the same quality when changing from a wired sound to a Bluetooth connection. Because of how Bluetooth works, you'll likely see a significant cut in the way your headphones sound — an inevitable trade-off in the name of convenience.
What are Bluetooth Receivers, and where can you use them?
Bluetooth receivers have been around for quite a while and have lots of helpful uses outside of helping to make a wired set of headphones wireless. They come in many shapes and sizes but offer the same basic function — accept a Bluetooth signal and pass it along to a broadcast mechanism.
The most common thing is to connect your smartphone to the Bluetooth receiver and play some music. I've been using these handy devices for the better part of a decade. Before Chromecast Audio became a thing, I used one to make my garage stereo a bit more modern. Then, before I had a vehicle with a head unit with Bluetooth built-in, I plugged a receiver into the AUX port to get wireless into my car.
Hagibis Bluetooth 5.0 Transmitter Receiver
Featuring a unique and stylish design with multiple compatibility options for whichever brand of headphones you prefer, this option from Hagibis is an outstanding choice for adding Bluetooth functionality to your wired headphones. However, that said, it only works with higher-end over-ear headphones with a removable AUX cable.
The design of this adapter allows it to bend just below the 3.5mm plug. This ability means that you can shape the adapter once you plug it into your headphones to better follow your ear cups' curves. Making it much less obtrusive and look better too.
For such a small package, Hagibis packs tons of functionality into it. There's Bluetooth 5.0 for excellent connection stability with your phone, support for AptX HD and AptX for low-latency connectivity, and a gold plated jack plug for superior audio fidelity. It has a battery life of up to 5 hours, and you can recharge via Micro-USB. Featuring RX Mode, connect your headphones to two sources so that you won't miss a thing.
Flexability is key
(opens in new tab)
Hagibis Bluetooth 5.0 Transmitter Receiver

This compact device offers excellent connectivity and latency response due to the inclusion of Bluetooth 5.0, along with AptX HD and AptX. Plus, because the end is flexible, you can mold it along your headphones for a clean look.
APEKX Clip Bluetooth 4.1 Audio Adapter
The APEKX Bluetooth 4.1 adapter works with any pair of headphones or earbuds with a 3.5mm cable. Simply plug your headphones into the 3.5mm jack, pair your phone or another Bluetooth-enabled device to the APEKX, and you're good to go. The APEKX features a built-in microphone with noise-canceling capabilities, multipoint technology to allow for simultaneous connections to multiple devices, and big buttons for controlling playback, volume, and accepting calls. There's a small clip on the back for attaching to your shirt; otherwise, the APEKX will fit quite nicely in your pocket.
Yes, this option still leaves you with a length of wire to contend with, but given how it will work with any pair of headphones with a 3.5mm plug, it offers 7 hours of playback and easy-to-use controls. It's an excellent option for untethering your wired headphones from your phone at a very reasonable $14.
Clip it and forget it
(opens in new tab)
APEKX Clip Bluetooth 4.1 Audio Adapter

Go wireless from your phone and still maintain full playback controls with the APEKX Clip Bluetooth adapter. You'll be able to take phone calls and listen to your audio with ease for up to 7 hours before needing to recharge the adapter.
Mpow Steamboat Mini Bluetooth 4.0 Music Receiver
The Mpow Steamboat Mini is a fantastically versatile Bluetooth adapter for giving any wired headphones the power of Bluetooth 4.0. It comes with a double-sided 3.5mm adapter which is perfect for the AUX jack in your car stereo or headphones with a removable AUX cable — as long as you don't mind the awkward look of a box hanging off the end of one side of your headphones. It looks like your headphones have their own Bluetooth headset.
Don't like that look? Remove the adapter, and you've got a 3.5mm jack on a Bluetooth receiver that'll work with pretty much any standard pair of headphones or earbuds. You'll be able to connect your Mpow up to two devices at the same time, with a range of up to 30 feet in open spaces. The built-in battery provides up to 10 hours of play and talks time, with 120 hours of standby time. When it's time to recharge, simply plug in a Micro-USB cable, and you're fully charged in 90 minutes.
Making this accessory all the better is the price; Available for about $17, you really can't go wrong with trying out the Mpow Bluetooth Adapter.
Such versatility
(opens in new tab)
Mpow Steamboat Mini Bluetooth 4.0 Music Receiver

From its long-lasting battery to the wide range of devices it works with, the MPow Steamboat is an excellent addition to not only your wired headphones but also other Bluetooth deficient devices.
How to modernize your headphones wired connection
Okay, so this adapter isn't exactly a wireless option, but if you're looking for the easiest and simplest way to convert your old wired headphones into a pair that can function with your new phone, picking up a USB-C to 3.5mm adapter provides the best pass-through with little to no reduction in sound quality.
While you could get a basic adapter from Amazon, USB-C can be a bit tricky. If you pick up a poorly made one, it could do more damage than good. The best adapter for you is going to be based on your phone since all the major phone manufacturers make one — some even come in the box with the phone.
The one you know
(opens in new tab)
Google USB-C to 3.5mm Adapter

You'll maintain excellent sound quality and expand the number of devices you can use your favorite wired headphones with by picking up this USB-C to 3.55mm adapter from Google.
In God's name WHY. a true audiophile wouldn't want to listen to downgraded audio.

I hear you my brother, let them know...

An audiophile would not want to downgrade, and honestly, although I own the Mpow streambot (it's actual name), I have never, never, never thought of plugging headphones into it. I'm really kind of baffled since you would be adding complexity and downgrading the audio. There are situations where it does not matter that much, like watching a movie or YouTube, and you don't want the wires in the way. But the rest of the time I'm one of those guys who uses the 3.5 cable with BT headphones because it sounds better. Now in the car, yes. I use the built in Bluetooth because it gives me full control of the phone, and there's not much difference in audio quality in that environment.

Disagree.... tremendous difference in sound using 3.5 vs. Bluetooth especially on a great sound system unless of course your car suffers from severe road noise.

That depends entirely on the DAC after the Bluetooth decoder. Bluetooth can be lossless, but if you are using something cheap, the DAC is going to be pretty poor. My head unit is a Kenwood and the internal DAC after the BT decoder is pretty good. The Mpow Streambot, on the other hand, gets used in a 1970 Volkswagen, so yeah, a little bit of road and engine noise there, lol.

Reduction in sound quality a trade off for convenience? Madness. To rectify the sacrilege of omitting 3.5mm jacks for no good reason, I went out and bought me an LG V20. Yes I have other devices. New more up to date devices, but nothing (except the V30) come close to the audio quality of the 32bit DAC in the V20. The camera is also damn good too. You all can take your wireless solutions and shove it.

I actually bought the V30 for the jack and that wonderful ESS Sabre quad dac. Well looks like we know better.

Bought the V30 too for the badass hifi DACs, amp and headphone jack. The idiotic bluetooth headphones that they're trying to push will never be a match (convenience included: I can't grasp how one could consider that keeping an extra device with appalling battery life always charged is in any way convenient).
Damn them. I will simply stop buying expensive flagships by the time the jacks are gone from all of them.

You may have missed it, but the V20 does not have the best audio quality. Neither does the V30. They get loud and can drive headphones that aren't really made for smartphone use, but don't let the marketing talk you into them being the best quality. The V20/V30 also fall a bit short in the dynamic range and noise department compared to some of the USB C adapters out there, and I don't want to even think of comparing any smartphone to the output of a $99 Dragonfly Black. Now, if you really truly want to get the closest you can to standing there in the recording studio, hearing the music the way the musicians and producers heard it, there's nothing you can plug into a 3.5mm jack that can pull that off. I've been in the commercial studios mixing on million dollar consoles, working side by side with recording legends, and the only thing that has gotten close to ACTUAL studio sound in my 20+ years experience is USonic.

I'm only choosing a phone that has a 3.5, hopefully the manufacturer will keep making them, I just laugh at the people in the office with flat ear buds or lost one ear bud
Android Central Newsletter
Get the best of Android Central in in your inbox, every day!
Thank you for signing up to Android Central. You will receive a verification email shortly.
There was a problem. Please refresh the page and try again.