How loud does the Amazon Echo Show 5 get?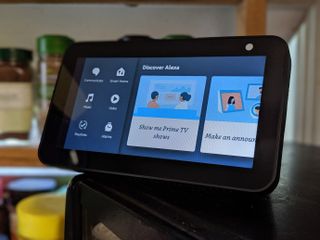 (Image credit: Android Central)
Best answer: Critics have described the Amazon Echo Show 5's audio as "clear" and "booming" even at half volume. It provides a higher quality audio experience than the previous Echo generation.
Just how loud is the Echo Show 5?
Amazon's newest Alexa display improves on the audio quality of previous models without breaking the bank. It costs less and is more compact than the Echo Show (2nd Gen), but offers the same if not increased capabilities. We've already done a complete review of the Amazon Echo Show 5, with a detailed breakdown of features and updates over previous models. Plus, it utilizes different options:
Alerts
Alarms
Chatting
Streaming music
Podcasts or videos
With simple voice commands to tell Alexa to lower or increase the volume, change stations, or play your favorite hits.The Echo Show 5 is capable of filling most average-sized rooms with high-quality audio. Its rear-facing 4 Watt Dolby speaker features improvements in sound quality overall, producing warm yet clear audio, and fixing previous problems such as tinny distortion and unbalanced sound levels found in previous models.
While the precise kHz and decibel levels for the Echo Show 5 have not yet been released, we will be sure to update you as they are revealed.
How can I make the Echo Show 5 even louder?
It's possible to add additional speakers to the Amazon Echo Show 5 via 3.5 mm stereo hard-wire connection or Bluetooth. This can increase volume in a single space or a direct feed to Bluetooth enabled headphones. It can also spread the sound and responsive area to other rooms or areas within the Bluetooth network or hard-wire range, with no quality or volume loss. Of course, we've tested Bluetooth speakers for the Echo Dot, and many will work just as well with the new Echo Show 5. The device can also be paired with other Echo devices to create a responsive multi-room soundscape experience.
If you want more volume without buying more speakers, you can place the Echo Show 5's rear-facing speaker with its back directly facing a wall or a corner. The sound will amplify coming from the 1.65" full-range built-in speaker dramatically, without interfering with quality, signal, or responsiveness to spoken commands.
Another option for increasing volume without a second speaker is an adjustable stand. Lifting the bottom of the rear speaker off the surface helps utilize the entire speaker without muffling or distortion.
Our pick
Put on a show
Amazon's latest at-home smart device is compact while keeping you connected. Use voice controls to make video and audio calls, send messages, make appointments, check the news, weather, and sports, listen to popular music or podcasts, or just stream your favorite shows and movies, with a customizable clock face and interface.
Sound off
Turn it up
Long-range connection, long-lasting battery life, and with rich, high-quality audio from such a small package; long live the current king of portable Bluetooth stereos.
Stand up
Echo Show 5 Adjustable Stand
Above it all
Take full advantage of the front-facing microphone and rear-facing speakers with an adjustable stand, and never suffer from surface-muffle again.
Get the Android Central Newsletter
Instant access to breaking news, the hottest reviews, great deals and helpful tips.
Mikaela is a writer with Android Central who makes her home on the distant East Coast of Canada. When not geeking out about the latest in smart-environment tech or endlessly experimenting with any gadget that happens to fall into her lap, she can be found producing videos and podcasting about news and pop culture, available on over a dozen streaming and downloadable services.