How Google can fill the Android enthusiast void left by OnePlus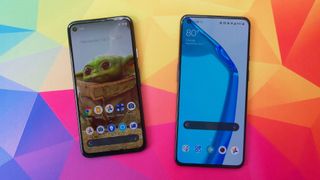 (Image credit: Jeramy Johnson / Android Central)
It's coming any day now. Google's first foray into creating its own chipset for its own device, is on the way with the Pixel 6 and Pixel 6 Pro. And while a lot is riding on these devices from a market share standpoint, there's also a lot riding on them for Android enthusiasts.
LG is gone, HTC is hanging on by a literal thread, and Motorola is just different now. But if you jump back five years, the story was very different. Then, Samsung was still largely leading the charge, but it had much more competition from other phone makers. Meanwhile, Google was just working on its first Google Pixel release, and the OnePlus 3T was making big waves.
That's because after seeing the success of the OnePlus One, and subsequent OnePlus 2, the OnePlus 3T offered something quite a bit different. OnePlus' "Never Settle" moniker still held strong thanks to the introduction of Dash Charge while still offering one of the best values that could be found.
But OnePlus also offered something that almost none of the other smartphone makers would. And that's a phone primed for tinkering, and beloved by loads of Android enthusiasts. Of course, you wouldn't get the best camera system, but the combination of sleek hardware with arguably the best software skin in OxygenOS helped push the company to the next level.
This trend continued for the next few years, until it was apparent that OnePlus had its eyes set on bigger fish. Mainly Samsung. To the company's credit, OnePlus is still out here and competing with Samsung, despite everything that has taken place over just the last few months. But because of decisions made in those months, the door is open for Google to usurp OnePlus's enthusiast following.
A world once dominated by OnePlus...
One reason why OnePlus was touted as an enthusiast phone was simple; CyanogenMod. If you were even somewhat interested in rooting back in the day, you heard about CyanogenMod. And with the OnePlus One, this is the software experience you were able to enjoy. The company took many of those customization tweaks and software features and rolled them into OxygenOS, which was introduced with the OnePlus 2, lasting until the upcoming OxygenOS 12 release.
Google attempted to make sure to "take care" of its enthusiast users with the whole "Google Play Edition" series of phones. This provided flagship specs with stock Android, but what made it interesting was that you could get different phones from different manufacturers while still using stock software. The list included the likes of the Samsung Galaxy S4, Moto G, and my favorite, the HTC One M7.
And it was great because a few of the companies that participated in the Google Play Edition program were real sticklers when it came to unlocking the boot loader, let alone rooting and ROM'ing. That's another area where the OnePlus series of phones has excelled, as it's just become the default option for many who want to root, ROM, and tinker with Android.
But the GPE program was dissolved and just disappeared back in 2015, leaving us to compromise with Google's hardware to enjoy the stock Android experience. Rooting and installing custom ROMs could remedy that, but even then, the options for the best rooting phones are slim-pickings. So, users were left with either using Google's Pixel lineup or a OnePlus phone, as there really aren't many other options.
Unfortunately, OnePlus went from "Never Settles" into seemingly settling with every release. Take the most recent OnePlus 9 series, for example. It was discovered that OnePlus was intentionally limiting applications from taking full advantage of the Snapdragon 888.
OnePlus wasn't exactly manipulating benchmarks as we've seen from certain companies in the past. However, it did not let users know what was going on behind the scenes on your device. And that doesn't even take into account the fact that OnePlus has been positioning itself more as a competitor to the best Samsung phones. Instead, it feels as though the whole concept of "Never Settle" has been relegated to the Nord series of devices.
While this is fine for many, the problem is that the best OnePlus Nord phones aren't even available in all of the most popular regions. The latest OnePlus Nord 2 is limited to specific regions, just like the original Nord, so we really aren't getting that "flagship" experience on a budget here in the States.
It's time for Google to fill the Android enthusiast void
So, where does the Pixel 6 fall into all of this? On the one hand, Google is gearing up to swing for the fences and go the Apple and Samsung route with its self-made chip, Google Tensor. The Pixel 6 will represent the first Google-branded smartphone not to be powered by a Qualcomm chipset. And while we aren't expecting a punch-for-punch Snapdragon 888+ competitor, the Tensor chip is rumored to get close enough that you won't notice much of a difference.
And that's just one facet. Another is that Google is bucking its trend of conservative and muted phone designs in favor of something much more robotic and exciting. Then, there's the whole aspect of Android 12 and everything that will bring with it thanks to Material You and its system-wide dynamic theming engine.
One of the big reasons to use Android over something like iOS comes down to customization, turning a phone that you purchased into your phone. Unfortunately, to really unlock that power now requires going through the process of rooting and rom'ing just to get everything tweaked the way you want it. Now, with the Material You theming engine, a lot of the hard work is being done for you.
Simply apply a wallpaper that tickles your fancy, and just start using your phone. The interface changes color to match the wallpaper, along with many of the best Android apps out there. This will need to be adopted by more developers, but that will come in due time. Google still hasn't finished updating all of its own apps, but the ones updated so far look stunning. Having your phone using a matching theme across the interface creates an experience that you can't find elsewhere.
But at its core, it's essentially a flagship smartphone running stock Android. Plus, if the rumors about the Pixel 6's powerful specs come to fruition, Google is "righting" the ship after a lackluster couple of years in the smartphone market.
All of these are things we were hoping to see from the Pixel 5 — the upgraded camera system, the (up to) 120Hz refresh rate, the faster wireless charging, better battery life — but just didn't are coming with the Pixel 6. Now we know why 2020 was a weird year, as we saw the Pixel 4a released, then the Pixel 5 and the Pixel 4a 5G, all within a couple of months of one another. Google was working on something much, much bigger for 2021.
After OnePlus essentially outgrew itself and was forced into relying on Oppo and ColorOS for OxygenOS 12, it's just not the same company anymore. Google's Android 12 and the openness of Android in general is where the enthusiasts are likely to flock. Even if you don't want to swing for the fences with the Pixel 6, which is already confirmed as coming in on the pricier side, it allows Google to also focus on its value tier phones like the Pixel 5a.
Then there's the whole debate about software updates and how long Google should provide major OS updates, not just security patches. Samsung has already extended its policy to three years of Android updates for many of its devices. But that still pales in comparison to Apple supporting six-year-old phones like the iPhone 6s from 2015 with iOS 15.
If Google plays its cards right and announces sweeping changes to how long it will support its devices, this could be a huge game-changer. As it stands, rumors point to Google making some type of announcement along with the Pixel 6. We could end up with five years of major OS updates moving forward, which is even more than what Samsung offers.
Between its A-series of phones and the flagship-tier Pixel 6, paired with the recent downtrend in reliability and the lost trust for OnePlus, Google is ready to take the reins. Now, we just need to await the arrival of what is likely to end up as the best Android phone of the year. And it can't get here soon enough.
Get the Android Central Newsletter
Instant access to breaking news, the hottest reviews, great deals and helpful tips.
Senior Editor - Chromebooks, tablets, and wearables
Andrew Myrick is a Senior Editor at Android Central. He enjoys everything to do with technology, including tablets, smartphones, and everything in between. Perhaps his favorite past-time is collecting different headphones, even if they all end up in the same drawer.
I'm ready for the Pixel 6 Pro!

Customization is just another word for bloatware.

That cool story is facts, bruh... And idiots who think otherwise are as much of a problem as the vendors who continue to shove this down the throats of consumers. Customizations rarely bring anything positive for the consumer and almost universally result in lack of software support from the vendors. Say what you will about Apple, but they at least have updated software, and no silly customizations.

I bet your house looks great with no bloat like wallpaper, carpet, curtains, pictures and plants... Just streamlined efficiency. A desk, a chair and a hotplate is all you need, right?

Well, he probably lives in his mommy's basement, so he's not accustomed to being free to customise his surroundings to his liking. That's the only logical explanation.

Only a moron thinks that being able to customise your phone is actually "bloatware".
Such a person is normally also one that thinks it's perfectly fine to get a phone filled to the brim with Google's garbage apps and services.

I was and still is an HTC fanboy and the HTC One M7 was simple the best designed phone then it was so much ahead of it's time then.

I only had one HTC smart phone, well what we call smartphones now and that was the Wildfire, it was awful even in those days of slow smartphones, in fact it put me off smartphones for a while and I went back to a feature phone.
No doubt HTC are better now., I did not think they were still around.

"One of the big reasons to use Android over something like iOS comes down to customization, turning a phone that you purchased into your phone." Didn't he read Jerry's article at the weekend? It isn't our phone, it never was and never will be!

A couple of months ago I bought the OnePlus Nord (256GB, 12GB RAM) for 370 Euros. It's the best phone I've ever owned.

This is the type of absolutely deluded article that shows how unbelievably detached from reality tech bloggers are. "But the GPE program was dissolved and just disappeared back in 2015, leaving us to compromise with Google's hardware to enjoy the stock Android experience." It was A FLOP. That's why it was dissolved. And EVERY. SINGLE. PHONE. ever released with stock Android has been a flop. Go ask HMD Global how they're doing. I'll spare you the trouble: not good.
Their sales are terrible after a very promising start and there's one reason for that: normal consumers DON'T LIKE stock Android. Heck, even tech geeks don't all like it. Many of us abhor stock Android and won't touch it with a 10 foot pole.
So to think that having a stock Android flagship on the market is anything anyone wants is just delusional. Then there's the "Google's Android 12 and the openness of Android in general is where the enthusiasts are likely to flock." You CLEARLY haven't been paying attention. Google is AGAINST customisation of Android. They HATE that people tinker with it. They've been doing their utmost to thwart every single customisation option on Android. Be it actively blocking rootless theming with Substratum, to changing how they partition the phones to making root harder, to outright hiring the people in charge of rooting solutions to effectively shut them down, like they did with Magisk. Google's PATHETIC "theme engine" is another example.
It does NOT provide you any freedom to customise anything. You get to pick the wallpaper and that's it. The garbage pseudo-themes it offers are all designed and chosen by Google, based on the colours Google likes and what Google thinks is good design (even though it isn't).
Google is so out of touch and unwilling to let Android users customise their phones that they've been hardcoding the themes in their apps so that EVEN with root, you can no longer customise them. So please, wake up, smell the coffee and stop drinking Mountain View.
Google hates customisation and user freedom. If they could, they'd lock Android up as much as iOS.
They're not going to change that. Even less with failed hardware like their iPixels which no one wants or buys either.

The nexus range done ok, I had the Nexus 4 for nearly 4 years, a good phone for it's time, You be surprised how many want a stock Android or as close as they can get. I have an Oppo a72 now, it has Color OS, it is ok and compared to some it is pretty light, but I would still love a stock Android phone.
I don't understand what sort of customisation people want, you can move the icons, change the colours, stick a picture on the screen, It is not as if you are going to spend hours looking at it, ok well some do seem to spend hours looking at their phone, but do you really notice what colour the screen is?
The two things I do when I get a new phone is one, go back to the old drawer system, so the apps I don't used is tucked away and get rid of the awful gestures that google and others are trying to get use to use and go back to the navigation bar and stick the apps on I require unless they are moved from the other phone. If you think google is against customisation, then I wonder if you have ever used an Iphone?

Exactly, you hit it dead on. I've been saying the same thing for years on Twitter, Google Plus when it was up, Reddit, etc. LOL These Android tech sites glory in the GPE phones, but never want to admit they were actually duds. General population or mass consumers didn't buy into it at all, it was a niche little crowd. So many even in the tech crowd have admitted Stock Android was the most boring version of Android to date. That's why they always used Nova Launcher as soon as they got the phone to make it look like something else. Many people don't know this but Google is more and more closing up Android right before people's eyes. Google considered closing up side loading and is controlling open source very strictly. Ars Techica goes into good detail.
The theme engine, is a facade or bone Google is throwing the enthusiasts. But in reality, it isn't customizable like many think. All in all, Android 12 IMO, is the worst design/color palette Google has used. I do not like the direction Google is headed under Sundar Pachai and Rick Osterloh.

What a laugh: "The latest OnePlus Nord 2 is limited to specific regions, just like the original Nord, so we really aren't getting that "flagship" experience on a budget here in the States" If there is anything that Pixels excel at it is NOT Being for sale in most of the world. It is THE reasons the pixels are failures

I'm loyal to Motorola, I get dissed - but guess who updates OS and Security Patches faster than OnePlus? Motorola! I don't know if you can call it OnePlus anymore, maybe they should be called OneOppo - because that's basically what it's going to be by next year .... no Oxygen OS, just Color OS and all that Bloatware! Yeah I'm happy with my Motorola MY UX, thank you!

Google is interested in competing with Apple and Samsung. It's not interested in being an enthusiast brand.

Plenty of truth in this article. OnePlus did lose trust with their underhand manipulation of compute resource on the OnePlus 9 series. Wouldn't buy their next phone unless it's confirmed as un-hobbled.
I couldn't care less though about modding a phone these days - No gain really. Today's launchers are all decent enough. The last time I owned an Android phone I spent a while configuring it to exactly what I wanted then left it that way. Wasn't really something I revisited. Owning an iPhone now I wouldn't say I miss the customising widgets etc on the Home Screen etc as I probably just accept the limitations of iOS. (I really do miss Android's notification bar though) As for pixel 6 … I'm intrigued and will compare it to the S22 before deciding between between them or another iPhone.

Great article and I agree. It makes a lot of sense for Google to be the premier Android enthusiast hardware brand. While I don't expect to be blown away by synthetic benchmark scores, I do hope that Tensor provides some magic in terms of usable features that are meaningful in everyday life.

I really hope Google does something about their camera app it's too plain needs more features, especially the video recording part. Hopefully, the rumor I hear is true with blurring effects for video recording like Apple cinematic feature.