Decade in review: The HTC One M7 started trends it couldn't finish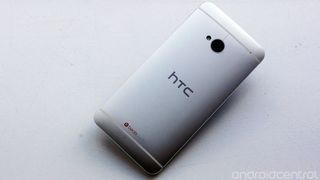 (Image credit: Android Central)
The HTC of today is a long way removed from the company that launched the year's best flagship phone back in 2013. In those days, HTC was at the peak of its popularity, with serious industry clout and money to spend following strong performances in 2010 and 2011. In the Android world, the pendulum would seem to swing from HTC to rival Samsung from year to year.
HTC's disparate 2012 smartphone lineup, consisting of the One X, One S, One X+ and EVO 4G LTE, had failed to set the world alight. And so as a new year dawned, HTC prepared for the launch of the "M7" -- simply the M7, as it was known in rumors at the time. Indeed, in a video clip since lost to time, at the company's Chinese New Year party, CEO Peter Chou screamed "HTC One!" and "M7!" to a crowd of cheering employees. HTC was on top of the world, and Chou and his assembled disciples in Taipei knew it. This was the peak of HTC's golden age; it was about to launch what would be widely regarded as its best phone ever.
The One and only
Why you can trust Android Central Our expert reviewers spend hours testing and comparing products and services so you can choose the best for you. Find out more about how we test.
The HTC One, as it was branded, recycled the branding of the previous year, but the phone itself couldn't have been more different. It featured the first aluminum unibody in an Android flagship, alongside the best screen, fastest performance and striking, unmistakable design tenets from chief designer, Scott Croyle.
Front and center: BoomSound. A bombastic new brand that took advantage of HTC's recent Beats acquisition to emphasize front-facing audio fidelity. Sandwiched between it was an LCD display that ran rings around the OLEDs of the day. And on the inside, the new Snapdragon 600 processor combined with touchscreen tech licensed from Apple gave HTC an undeniable performance edge.
Looking back, the HTC One was one of the few phones that I've been genuinely excited to unbox over the years. In 2013, this felt like something different and special, with cold metal on the outside and pure performance within. And when it roared to life for the first time with a BoomSound-enhanced jingle, I was taken aback at the power of its speakers. The entire package spoke to smartphones' new status as powerful media consumption devices, in addition to the communication credentials they'd already developed.
Ahead of its time
When I saw the Samsung Galaxy S4 for the first time a few weeks later, it was obvious HTC had won. The reason why? Design. While both Samsung and HTC, the two Android giants of the time, plowed ahead with high technology, only HTC was able to focus the power of it through the lens of excellent hardware and software design. The efforts of Samsung, a far bigger company by comparison, looked sloppy and childish.
The M7 was also one of those phones that saw HTC debuting groundbreaking technologies which, with hindsight, seem far ahead of their time. The Ultrapixel camera took fairly low-res 4MP photos, but with unmatched low-light fidelity for 2013. The relative pixel sizes of the M7's camera broadly line up with what we're seeing from late 2019 and early 2020 cameras, though with far weaker processing.
HTC's Sense 5 software also brought in BlinkFeed — controversial to begin with, but now a clear predecessor to the Google Feed, as well as iOS's Today View. Phone nerds loved to complain about BlinkFeed's persistent presence, but its combination of news, social and app updates was fairly groundbreaking.
So too was HTC Zoe. Thanks to its unique sensor and computational horsepower, the M7 was able to shoot a bunch of frames both before and after the main photo in any capture, letting you scroll back through time to restore missed moments. HTC's Gallery would also gift you video highlights, a feature that eventually made it to Google Photos and the iPhone. See, ahead of its time.
Peak HTC
The 2013 HTC One introduced so many innovative features that HTC ultimately failed to capitalize on. Beats was sold off at a loss the following year. HTC Zoe languished and eventually died. BoomSound was sacrificed in the name of ever-smaller screen borders. And the UI that actually managed to surpass stock Android in terms of smoothness, responsiveness and aesthetics became stale as an increasingly cash-strapped HTC was reluctant to pour money into its software experience.
You can debate whether HTC truly peaked with the M7 in 2013, or the successor, the M8, in 2014. Either way, somewhere in the interim between those two years HTC peaked, and from there the inevitable decline began. A brain drain began with the departure of Scott Croyle, followed by a cavalcade of executives and eventually Peter Chou himself. The M9, HTC 10 and U11 saw steady declines in sales as the company's smartphone division swirled in the drain.
As such, the One M7 stands as an example of just how brilliantly HTC's star shone at its zenith, as well as the start of a cautionary tale on the perils of the smartphone business, and the fickle nature of the consumer base.
But for a time, HTC was at the top of the Android heap.
Android Central Newsletter
Get instant access to breaking news, the hottest reviews, great deals and helpful tips
Alex was with Android Central for over a decade, producing written and video content for the site, and served as global Executive Editor from 2016 to 2022.
It was a great phone . Samsung didn't catch up design-wise in the eyes of i the public until the Galaxy S6. Even now I still prefer the metallic unibody design to today's dominant glass sandwich one

Still my favorite phone that I've ever owned, and the phone that I keep around as a media player to use when I'm exercising. I miss the HTC of those days, when they were willing to take risks and go head to head with Samsung. It sad that they'll almost certainly never be able to do that again.

HTC certainly could go head to head against Samsung, but the media would never recognize that.
Looked at objectively, the Galaxy S9 compared poorly to HTC's contemporary offering. The HTC was faster, had better charging (QC 2.0 vs QC 4, 4+, and USB PD), far better headphone audio, speakers that were three times more powerful, better camera, and a capacitive touch sensitive frame. Yet the media made the S9 a top pick because... Samsung?

Everything was great apart from the purple camera issues. Can still spot photos from that era taken with an HTC One M7

Yep but not all developed the issue. I got a replacement phone that never developed the issue. I still have it. It was also corrected with the m8. Unfortunately htc didn't keep with the times and their cameras were surpassed.

Yep, I remember looking at it, then bought the Galaxy S3, what a mistake, that phone turned me off of Samsung for quite some time. Then I bought the HTC One M8, was one of the best phones I ever owned.

That's exactly what I did. Lol. Haven't night a Samsung product since.

This was the first Android phone that made me a bit envious as a former Apple Fanboy. An Android phone with build quality on par with Apple. And better sound quality and better looking display at that!

The M4 was cool, the M7 was iconic, and the M8 took it further. And HTC leveraged that metal body for thermal purposes. Although repair techs hated the internal design, having the CPU and abundant thermal tape in direct contact with the metal body gave them the ability to lose heat at an amazing rate, something that Apple still does not do well. Zoe, by the way, was licensed by Apple and became Live Photos, and HTC killed the feature on phones that already had it, mine included. The purple tint was due to lens coatings, and I removed the coating on mine to improve camera quality. I still have my M8 as a backup device, and just replaced the battery a few months ago. Failure to capitalize on features is an HTC hallmark, unfortunately. Who makes a phone and builds in extra features, and doesn't even tell people about it? HTC. Underselling themselves never ends well. Sadly, their last two flagships were better than the M7 and M8 in every way. I say sadly because media outlets actively and aggressively told people not to buy them (Except for Phil), and now here we are, bemoaning that nobody bought them. I'm not so sure about metal standing up over time though. It feels wonderful in the hand, but after a year or two of hard use...
M8: 32 dents, nicks, and scratches.
U11: Micro abrasions on the lower back edge from grit on a plastic car holder, and two significant gouges on the bottom front from nurses (it's a long story).
U12 Plus: You could put it back in it's box and pass it off for brand new. And yes, it was dropped from chest high, onto granite, with no damage.

That's why I keep a TPU case on my phones. I like to keep the scratches off. It's just easier. And you can still see the glorious phone design through it.

I've had a few TPU cases... did you ever find one that didn't turn yellow?

Crappy camera (no, the ultrapixel tech wasn't amazing, despite the theoretical promises) cost them dearly; had the M-series phones had the camera of, say, the Nokia Lumias of the period, HTC would still be a top brand...

They got their camera game together with HTC 10. The U11 camera was better than the iPhone 8 and the U12 Plus was better than the XS Max with more detail than the iPhone 11 Pro Max and Note 10 +.
So, maybe camera is not the issue... Perhaps it's popular reviewers outright telling people not to buy them? Just a thought...

The HTC 10 was probably better than the iPhone 8's camera, but that didn't matter. The iPhone 8 competed largely with other iPhones still being sold. Most iOS users are too invested to drop their ecosystem and move to Android, and a lot of Apps that are niche or industry-specific are not available on Android, anyways (those that are, are worse than the iOS version). I know this from experience, because once I went iPhone and invested in apps that I used for work and sports, I was stuck there for years because Android either doesn't have replacements or the replacements (even Android versions of the same app) are terrible. The iPhone 8 cameras were more than good enough, and the performance has REALLY held up over years since its release, and it's probably going to get another 2 years or updates from Apple. Comparing to Apple is completely missing the point in an attempt to appeal to fanboy tendencies on this site. Most iOS users are not even considering an Android phone, because it's too expensive to switch on top of the cost of a new phone (when you could otherwise just keep your iPhone another year). Also, the resale value of iPhones made them a superior investment than any HTC phone. HTC was already a Second-Rate Android OEM by the time the M7 launched. IMO, the device line that HTC really needed to get right was the One X, but they screwed that over by putting tiny batteries and not going to 2GB RAM. That's when Samsung leapfrogged them. The Galaxy S2 and S3 were too good for them to compete against - even if people had complaints about the materials used. HTC messed up by putting mediocre batteries and doo doo cameras in their phones. I had an M8. The camera in that thing was worthless. It overexposed easily in anything but mixed to low lighting, and you had to work too hard to get decent photos out of it. The only redeeming factor was the 5MP FFC that was pretty decent in low light - something that competitors were already moving towards (including Apple). I ended up going back to the iPhone and using the M8 as nothing but a media player. I did think HTC's software was more aesthetically pleasing to look at than Samsung's TouchWiz, but by then they had gotten just as bloated as all the competitors (Content Stores, etc.) - except it had worse compatibility with things like Audio/Video Formats/CODECs than Samsung's phones. The Screens were worse than Samsung's AMOLED panels, which were already starting to move to QHD Resolution (Note 4, etc.). I did, however, like that it was AirPlay compatible. I had an Apple Router, back then, so that worked out very well :-P

n8ter#AC - "Comparing to Apple is completely missing the point in an attempt to appeal to fanboy tendencies on this site."
Not sure where you got the impression from, as that was not my intention. I was merely making a valid comparison to iPhones which many people claim to set the standard. However, reality checks say otherwise. I'm not sure about the HTC 10, but the U11 was definitely head and shoulders above the iPhone 8. A professional photographer with an 8 Plus and I did our own shootouts (we hang out talking shop quite a bit), and it got the the point where he gave up trying. Probably the funniest thing was him trying to get a photo of a spiderweb on a kid's playhouse, without manual focus. He took about ten shots and they all failed, while the U11 nailed it on the first shot. Interestingly, he did switch to Android two months ago, and it was specifically because of the U11 and U12 Plus cameras. The lesson he learned is that iPhones don't "own" smartphone photography, and he went with the Note 10+ which was a good choice for him. He'll never give up his Canon and the thousands of dollars in lenses for a smartphone, of course, but a smartphone can be a useful tool. On the flipside, I introduced an actress to iPhone because it fit her better, even went on a lunch date to show her how to use it, and she's hooked now. Smartphone cameras also make good backups in situations where I can't use my real camera. I was on a trip just for photo ops recently, and my Nikon battery ran out in the middle of a rural area, just as I was about to photograph a one room schoolhouse. So, I grabbed a phone and the only loss was a historical marker that was behind a fence and out of reach for lowly 2x optical zoom, lol. Last year I was supposed to do an all day photoshoot for a girl, and pouring rain forced me to leave my real camera in the car. My two primary smartphone cameras are the iPhone 11 and the U12 Plus. The U12 is more flexible thanks to a full pro mode, and captures more detail like mentioned before, but the iPhone has a night mode that does not take as much setup effort as a time exposure on the HTC. I also kinda prefer the iPhone night mode over the Pixel because it does not destroy the night ambience.

This is probably one of the best examples of the difference between Apple and Android. I have been on both ecosystems, but because I use Mac computers, I have felt locked to Apple. It's not just the third party apps that are better, but Apple's built-in apps working across platforms is so superior to what android OEM's can do. IMHO, the only company that seems to be trying to match that is Samsung. The Note3 was probably the one phone that nearly locked me into samsung's eco, because the samsung clould moved my information to the Note4 flawlessly. But with the lack of a PC equivalent where I could easily access my data, I felt like I was locked to the phone. Trying to use third party apps like evernote just wasn't seamless and it always seemed apps were breaking and Samsung was at the whim of Google to resolve OS issues (something Apple doesn't have.... and Blackberry before them). I think that right there is the biggest problem with Android devices.... the OEM's are so reliant on Google! Ironically, I also think this is one of the biggest blunders of Microsoft to somehow not capitalize on basically owning the desktop market and yet not being able to produce a phone that people would actually like that would work seamless across platforms. For all the flaws people say that Apple has, once you are invested in their system, it's really hard to get out. They are a far cry from the "it just works" days, but it still works way better than anything Google is doing right now. If microsoft manages to figure out this conundrum with their upcoming android phone offering, that can actually be a game changer..... especially if someone comes out with a watch that is equivalent to the AW (here's looking at you GARMIN!)

Hey, I still have my Note 3! Just charged it last night as a matter of fact. Transfering to a new phone was always something I hated on Android in years past, but it's improved in the last couple years. My last move from the U11 to the U12 was flawless, and even transfered my theme and custom home screen layouts.

Never understood the lovefest with HTC. I always saw them as an ODM that never really found their way as an OEM.

I loved my M7 and I still have it somewhere. I would trade these stupid small bessle phones for front firing stereo speakers for sure.

The speakers were good or bad depending on what type of music you listened to. If all you listened to was Pop, Rock, and Metal... then the HTC Speakers were amazing. If you listened to Classical Music a lot, then HTC's speakers were worthless as they seemed specifically tuned for classical music. And Boom Sound just added tons of bass. How good speakers sound depends heavily on the person listening to them, the type of music they're listening to, and the listening environment. Generally, if I'm in a place where I can use my phone's speakers to play music or watch a video, I typically can just get on a Laptop or Desktop to do it there... with far better audio equipment (and a better screen). Out and about, I almost always have earbuds, and wouldn't insult the people around me by playing that **** out loud in a public area.

I loved my M7. It was hand over fist better than my wife's Samsung bought new at the same time. It was beautiful, fast, had an awesome music player and great screen. The only exception was the camera. We took all our important pictures with my wife's Samsung. I eventually replaced it with my favorite phone of all time, the HTC 10. It did everything the M7 did only better, and had a great camera to boot. I still have it for a music player that I actually prefer to the vaunted LG ThinQ 8. I would still be using it as my main daily driver if it weren't for the battery. I just prefer the metal body and feel there is a dimishing returns on the disappearing bezels. I don't like accidentally touching the screen when holding the phone.

Definitely a great phone...I feel it was HTC last great thing

The M9 skipped the beat, but the HTC 10, 11, and 12 were progressively better. Interestingly, I have my old M8 and U12 Plus on my desk while I write this ;)

I used the HTC10 for over 3yrs. For myself, it was one of the best they ever produced!

I miss HTC I thought the phones where always pretty good they always got reviewed poorly by most websites even though they where better than most the competition. I always wonder how much longer they will be going for now.

The HTC One (M7) was a FANTASTIC phone with a few flaws that made me get rid of it. It is the phone that got me to switch from Sprint over to T-Mobile (Sprint didn't have LTE turned on in my part of NC yet, then) The One (We didn't call it the M7 at the time) was great.
Sadly, my phone succumbed to the pink tint in pictures bug. Other than that, I loved the phone. Boomsound wsa great (even though I used my included Beats earbuds to listen to music most of the time) The funny thing was that T-mobile did their upgrade from Edge (2G) to LTE on a set of frequencies that the M7 or M8 didn't include, so I had to go away from the HTC family to LG since they had the bands needed to work in reframed areas.
This phone was everything Samsung was NOT. It was sleek, the UI was amazing, and for the time, it was fast and smooth. It felt so good in the hand, and the screen size was kind of perfect.

A truly great phone. The purple tint on some of the cameras was a big problem, but HTC was big enough back then to properly support it. I got the issue 7 months in, called support and within 3 days had a new device at my door and never had the issue again. Head over to the old M7 forums for a nice blast from the past, and arguments about the UltraPixel sensor. Good times. Had HTC WinMo devices before I got the Hero in '09 but really fell in love with Android and HTC with the OG Evo in 2010. I loved the M8 as well (skipped the 9) as the 10. The U11 was great and the U12 was just spectacular. The 12 just died on me earlier this year and I couldn't get it fixed. That was so disappointing because it performed flawlessly and it looked absolutely spectacular. It's sad that HTC couldn't maintain any semblance of decent product support. I have the Pixel 3XL now and it's a great device, with a phenomenal camera. But I still like a lot of things HTC did better than stock Android. Even Edge Sense on the 11 & 12 was great and more than just a gimmick for me. But on my Pixel it's just completely neutered. Still have an M7, M8 (Sprint Harmon Kardon edition), M10 and am impressed whenever I pick them up. I have a custom red/blue U11 I still use every day as a second device (water damage to one of each, So I pulled them apart and made one Captain America version on my own).
Android Central Newsletter
Get instant access to breaking news, the hottest reviews, great deals and helpful tips
Thank you for signing up to Android Central. You will receive a verification email shortly.
There was a problem. Please refresh the page and try again.