OxygenOS 'merging' with ColorOS isn't as simple as you might think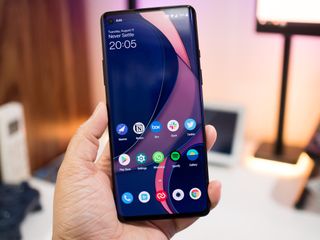 (Image credit: Harish Jonnalagadda / Android Central)
Back in the earliest days of OnePlus, the company didn't even have its own Android software skin. The OnePlus One shipped with Cyanogen OS, based on the popular custom firmware of the early 2010s. At the time, it was an appropriate pairing for a brand actively courting Android enthusiasts. But after an acrimonious split from Cyanogen a year later, the company unveiled OxygenOS on the OnePlus 2, its own software creation. It was dubbed "light, yet powerful," without any "unnecessary gimmicks."
Over the years, OnePlus's clean Android software, augmented with features inspired by its community, has become a fan favorite. Even following the recent design overhaul of OxygenS 11 — a polarizing change, for some — OnePlus's software is generally considered to be slick, performant, and pleasant to use.
This is why there's concern among fans around the recent announcement that OnePlus's OxygenOS will share a "common platform" with parent company Oppo's ColorOS. It's the latest stage in OnePlus's "deeper integration" with Oppo, which reorganizes the former as a straight-up sub-brand of the latter.
Now, the ColorOS of 2021 is far from the poorly designed, bloated nightmare we saw on Oppo phones from five years ago. But it is nevertheless pretty different from OxygenOS, with its own set of priorities.
The nightmare scenario for some OnePlus fans is future OxygenOS phones launching on ColorOS in the West, as they now do in mainland China. However, CEO Pete Lau has stated pretty directly that that's not happening and that OxygenOS will persist on global OnePlus devices.
The other fear is of an "OxygenOS in name only" — firmware branded as OxygenOS, but which turns out to just be ColorOS wearing the software equivalent of top hat and a fake mustache. That's certainly a possibility, but in my view, it's far more likely OnePlus will do everything it can to retain the look and feel of OxygenOS, which is closely tied to the brand's design language. The only question is how much ColorOS influence can be seen in the final product.
For its part, OnePlus says, "This is a change that you will likely not even notice since it's happening behind the scenes." And its statement on the future of OxygenOS reaffirms its commitment to the software. In doing so, OnePlus is getting its message out ahead of possible news stories emerging from software sleuths finding bits of ColorOS in the upcoming OxygenOS 12 release.
To decode what future OxygenOS versions might look like, it's worth examining OnePlus's reasons for wanting to build from the same software foundations as Oppo. It's not like OxygenOS has failed and needs replacing. Indeed, the company often trots out figures around software satisfaction among its users, which have OnePlus ranking second only to Apple.
Between the lines of both the OxygenOS statement (opens in new tab) and Oppo sub-brand announcement, can be found an admission that recent OnePlus updates have been both too slow to appear and less stable than they should be. OxygenOS 11 took more than six months longer to arrive on the OnePlus Nord than the flagship 8 series; it then had to be pulled shortly after launch due to critical bugs. The same issues and delays applied to the OnePlus 7 series, which at the time of OxygenOS 11's launch was barely a year old and still one of the best Android phones.
None of the above is good, and OnePlus's software woes over the past year have undermined its efforts to grow into a fully-fledged big-boy phone brand, with more than just a couple of phones released each year. The obvious solution, especially in light of OnePlus's new status as an Oppo sub-brand, is to bring in some of the software resources of the parent company.
And the results, if OnePlus's new software schedule is to be believed, are promising, with flagships like the OnePlus 9 Pro due to receive three years of OS updates and four years of security patches.
We're hearing varying things about just how much ColorOS influence there'll be in the next version of OxygenOS once it's finalized. But any design changes that are present will likely be a side effect of the new engineering setup instead of their primary purpose. Instead, this latest move focuses on extending software support and making sure that software is stable at launch.
So if you're worried about the OxygenOS features you've come to love in your OnePlus 7, 8, or 9 going away, maybe don't lose too much sleep just yet.
Android Central Newsletter
Get the best of Android Central in in your inbox, every day!
Alex was with Android Central for over a decade, producing written and video content for the site, and served as global Executive Editor from 2016 to 2022.
OnePlus are liars, Oxygen OS is going to eventually be replaced by Color OS, it's only matter of time, before OnePlus is eventually swollowed up by Oppo. Looks like I'll be staying with a Pixel for my Android experience.

Save your "sky is falling" FOR, If and WHEN, it even happens. That's the problem these days... So many "mouth off" with negative propaganda as if they "even have a CLUE!"

It will happen, it always does when another company or OEM in this case merge with each other with the dominant OEM swollowing the smaller one, in this case Oppo will obsorb OnePlus and Oxygen OS will turn into Color OS, that's the reality.

OnePlus and Oppo have always been linked. While I agree that eventually they could well end up basically combining, but the difference is that OnePlus doesn't target the same market as Oppo, so there's room for their UX to stay separated. If you're on a 2 year replacement cycle, and currently in the market, you really don't have to worry right now about OnePlus becoming Oppo.

Do you really need to comment the same dribble on every post?

I used to hop phones all the times (I've had Samsung, LG, HTC, OnePlus, and a few others I'm probably forgetting). OnePlus I stuck with since the 5T. Wife got the 6 and the 8 Pro while I got the 6T and 8 Pro. That has since stopped. I moved now onto PIxel 5 (and likely the 6 Pro when it comes out). OnePlus has lost their ways. I have no problem paying for a phone but OnePlus was a good bang for your buck. Now it priced itself as flagship and isn't a flagship. All good thigns come to an end.

6 pro looks super good ngl
Android Central Newsletter
Thank you for signing up to Android Central. You will receive a verification email shortly.
There was a problem. Please refresh the page and try again.