How to get rid of the ads on an Amazon Fire HD tablet with 'special offers'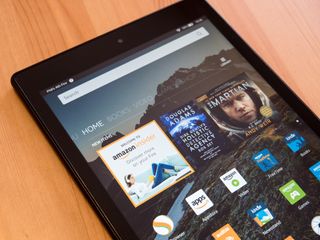 So you bought yourself a shiny new Amazon Fire HD tablet. And because you're the frugal sort, you bought one at the lowest price you could — the kind with "special offers." Ads, in other words. Ads on the lock screen and in the notification pull-down.
And you've decided you chose poorly. So is there any way to get those ads off an Amazon Fire tablet after you've bought it?
There sure is.
You're going to be doing this from a web browser, either on the tablet itself or on a computer. You'll just be diving into your Amazon account settings is all. Here's how to do it.
First, hit up this link (opens in new tab) to go to "Manage your Content and Devices" in your Amazon account. (I'll leave it to you to figure out how to log in, because you're an adult.)
Once you're in there you'll see a messy page with three tabs — "Your Content," "Your Devices," and "Settings." Click on "Your Devices."
This next part gets a little tricky, because the page could look a couple different ways.
If you just see a list of devices — without pictures of the devices — do this: Find the device you want to kill the special offer ads from. In my case, my Fire HD 10 is "Phil's 4th Fire." Now hit the three dots to the left of that name. That'll pop open more information on that device.
The other view will show you thumbnails of all your devices, so all you have to do is choose the proper one. Click or tap on it.
Now look for the line that says "Special Offers/Offers and Ads." If you're "subscribed," that means you're seeing the lock-screen ads. If it says "unsubscribed," you're already good and don't see those ads.
To change things one way or the other, hit the "Edit" button on that line. If you unsubscribe to the ads, Amazon will charge your account $15 as a one-time fee. (That's the same amount you'd pay you bought the tablet without the ads in the first place.)
So good on Amazon for not charging a little extra to remove the ads later. My advice? Buy the cheap one and see how much the ads bother you. Because you can always get rid of them later.
Get the Android Central Newsletter
Instant access to breaking news, the hottest reviews, great deals and helpful tips.
Does the same go for the Amazon edition phones?

Any idea if this will work to get the ads off of the Amazon Prime Moto X4 at the same cost?

Yes my Moto G4 is there, but ads gave it a $50 discount so it's $50 to unsubscribe. Also, the Moto G5 I bought for my wife is not there for some reason.

Cool - if it were the same $15 to get rid of the ads, that would have made the Amazon Prime X4 a steal.

You can do it for free. Really. Just use Amazon chat support and say that you are seeing ads in the lockscreen of your Fire HD. They don't even ask questions, they just disable it immediately without charging you anything. Another tip: if you bought it on a different country (mine doesn't have it for sale, got on Prime day in the US), use the support chat in the Amazon store of the country you bought it, only they can disable it. And don't worry, they also don't care.

Thanks I bought mine last year will that make any difference?

Yeah they word these really crappily when you buy them. They call it "special offers" (at least they used to, without mentioning ads, like they do in the screenshot) which makes it sounds like you're getting something extra, but it really just means ads. Was disappointed whey they sold the Fire Tablet that was on Black Friday 2015, it was very misleading.

To "brandogg": Special Offers are Ads. It's the same "promotional language" that stores use. Amazon - being a store - uses similar language. It only costs $15 to disable them, and the tablets they sell are better than tablets that are $50-100+ above the Kindle Price ranges, in many cases. Deal with the Special Offers, or pay to remove them. Also, you can remove them during the order process, so I'm not sure how anyone could be "disappointed" they received a Fire Tablet with Special Offers, when the buyer is informed that they are there. Unless, of course, this person deluded themselves into believing a miracle would take place between ordering and receiving the device...

As noted above, Amazon support can be very easily persuaded to remove them for free. That's how I got rid of mine on both my Fire tablets. Why pay if you don't have to?

Do 'special offers' ads start immediately on newly activated Fire tablets? I bought a 'preowned' Fire HD 8 direct from Amazon last week. Been using it with wifi on for 2-3 days and haven't seen any special offers yet. I'm almost afraid of going into the settings shown above for fear of somehow waking the beast and activating them. It has done some of those "On Deck" video downloads overnight but I turned that off.