How to fix Garmin watch battery problems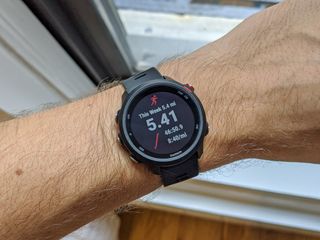 (Image credit: Andrew Martonik / Android Central)
If you struggle with Garmin smartwatch battery problems, you're not alone. While Garmin is known to offer some of the best wearable battery life in the industry, it's not uncommon for the issues to develop over time. These wearables are some of the best Android smartwatches you can buy, so it makes sense that you want the battery to last for as long as possible!
How to extend your Garmin watch battery life
Fortunately, there are various solutions available that may help you fix Garmin watch battery problems. Considering just how many different Garmin watches there are on the market, you'll want to keep in mind that the steps will vary slightly depending on what model you have. Some of the most popular models include the Garmin Forerunner 245 Music, the Garmin Forerunner 745, the Venu Sq, and more.
There are some standard battery-saving methods you can try that have proven to be useful across the Garmin smartwatch lineup. Some examples include changing backlight settings, limiting the notifications you receive on your watch, changing the Pulse Ox tracking mode, and so on. We've gathered some step-by-step tips to walk you through these methods.
If you have a music-enabled watch, there are some additional methods you can try to help manage your Garmin watch battery problems. When the Wi-Fi connection is active for syncing playlists to your watch, more power is consumed. It's recommended that you keep your smartwatch as close as possible to your Wi-Fi router or hotspot, which should transfer the data more reliably and more quickly. You'll still enjoy the benefit of downloading your music while using less battery life.
After you stop listening to music, your watch typically maintains the connection to your Bluetooth headphones for another 30 minutes or so. If you want to conserve as much battery power as possible, you should turn off your headphones or manually disconnect them from your watch.
How to change the backlight settings
Access the Settings menu on your watch
Select System > Display/Backlight.
Select Not During Activity or Timeout during activity to extend battery life.
Select Gesture and turn off the always-on setting or change it to only during activity.
Select Timeout to reduce the length of time before the backlight turns off.
Select Brightness to lower the brightness level of the backlight.
How to manage notifications
iPhone users can access their iOS notifications settings to limit the items shown on their device.
Android users can access the Garmin Connect app and select Settings > Notifications to limit the items shown on their device.
How to change the pulse oximeter tracking mode
Access the Settings menu on your watch.
Select Wrist Heart Rate > Pulse Ox > Tracking Mode.
Change it to During Sleep or Off to extend battery life.
How to turn off Bluetooth
Launch the Controls menu.
Tap the Bluetooth icon to toggle on/off.
At the end of the day, there are many methods you can use to prolong your Garmin watch battery life. While some of these options aren't always ideal because it disables key features, it will keep your smartwatch alive for longer. If you're not actively using features such as heart-rate monitoring, Wi-Fi, Bluetooth, you can temporarily disable them so they don't further drain your battery. Remember that battery life varies from one model to the next.
Run your heart out
(opens in new tab)
Garmin Forerunner 245 Music
Nothing can stop you
If running happens to be your passion, the Garmin Forerunner 245 Music is a perfect match for your needs. You'll enjoy advanced metrics that help you train for runs and track your progress. Not to mention that it also comes with music storage. The battery can last for up to a week in smartwatch mode.
The latest and greatest
(opens in new tab)
A new-and-improved model
If you're looking to invest in an advanced fitness smartwatch that is designed to help you develop detailed workout programs so you can stay in shape while improving your performance, you'll want to check out the Forerunner 745. This powerhouse promises up to 7 days of battery life.
A perfect lifestyle watch
(opens in new tab)
All of the basics
If you don't want to spend a fortune and you'd be happy with a lifestyle smartwatch that comes with the basic features most people need, you'll love the Venu Sq. It offers GPS, activity/sleep tracking, heart-rate monitoring, and more. You can expect the battery to last for 6 days.
Courtney Lynch is a freelance writer at Android Central. She's obsessed with all things health, fitness, and music. At any given time, she can be found checking out the latest and greatest gadgets while simultaneously petting her dog and sipping iced coffee.
Android Central Newsletter
Thank you for signing up to Android Central. You will receive a verification email shortly.
There was a problem. Please refresh the page and try again.