How to download offline content from Netflix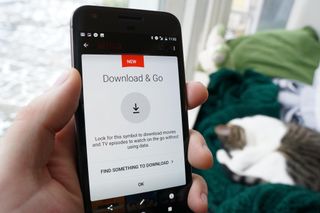 Commuters rejoice! Netflix has added the option to download their content to your phone or tablet via the Netflix app (opens in new tab). Not everything on Netflix is currently available for offline viewing, but there's a decent selection available for download right now.
Once downloaded, you'll be able to avoid using your data to play shows while using public transit, and also able to watch your favorite Netflix shows or movies when you're outside your carrier's coverage area and away from Wi-Fi.
Fortunately, Netflix has made things real easy. Here's how to get started!
How to find shows and movies to download
Tap to launch Netflix from your home screen or app drawer.
Tap the Menu button in the top left corner.
Tap Available for Download.
Browse through the content that's available to download, then tap on whatever you want to download.
Tap the Download button.If it's your first time, Netflix will highlight where the new download button is.
If your phone is not connected via Wi-Fi, you'll get a notification to turn it on.
Once you've started downloading a show or movie from Netflix, you will get a blue notification with the download progress at the bottom of your screen. You are able to browse and add for more shows to your download queue. You're also able to go directly to the My Downloads section by tapping the notification once your downloads are complete.
How to find and watch your Netflix downloads
Tap to launch Netflix from your home screen or app drawer.
Tap the Menu button in the top left corner.
Tap My Downloads.
Tap to watch a downloaded movie or episode.
My Downloads is the home for all the content you've downloaded. Netflix provides the storage information right under the title, so it's quick to see how much space each download is taking up You'll need to tap a show to expand to see the downloaded episodes, while movies and comedy specials will simply be organized alphabetically.
How to manage your downloaded Netflix content
Tap to launch Netflix from your home screen or app drawer.
Tap the Menu button in the top left corner.
Tap My Downloads.
Tap the Edit icon in the top right corner.
Tap the movies, specials, or shows you wish to remove.
Tap the Trash icon in the top right corner to delete the content.
If you select a show from the main My Downloads page, you will be deleting all episodes of that show from your phone. If you only wish to remove some episodes, you'll have to expand the show first, then tap the edit icon to select individual episodes.
Android Central Newsletter
Get instant access to breaking news, the hottest reviews, great deals and helpful tips
Marc Lagace was an Apps and Games Editor at Android Central between 2016 and 2020. You can reach out to him on Twitter [@spacelagace.
Finally! Bern waiting for this!👌

I hope this expands to computers and chromebooks.

I guess I could move Netflix to my SD Card in the S7 Edge and have tons of space. Interesting.

Any ideas how to get the downloads onto sdcard? I moved the app but downloads still go to internal.

Don't seem to have the option... I aren't really bothered, but I am curious if it's because of my unlocked bootloader, incompatibility of the Oneplus 3, being on the base Netflix tier or my UK residence. Probably the bootloader...

It does say in the description when I received the update that its not compatible with all devices, thankfully my 6P is :D
Could be your phone, could be because you're from the UK, I doubt its because the bootloader is unlocked :shrugs

I can tell you it's not the bootloader. As for the rest, I don't know. My guess would be being in the UK, but really I don't know.

Well that's one thing off the list at least. I thought the UK thing was most likely except that the original post earlier was from Harish, seems unlikely they'd roll it out in India and not the UK... But who knows.

I'm in the UK and I can download Netflix shows to my Sony phone and Tablet just fine. Got nothing to do with being in the UK, must be your device Downloading both seasons of Narcos as I speak!! :)

Awesome not limited to wifi either.

I just updated the app on my Dell tablet and I don't see the Download option. I wonder if it's only available on certain devices? i wish there were a list of compatible devices, if that is indeed the issue.

Have the same issue with my Dell tablet, so I suspect it is a compatibility issue. Sucks

Is it a Windows10 tablet? W10 isn't supported yet.

No, it's an Android tablet. But there are several things it's not compatible with. I miss my old Nexus 7 :-(

This could prove to be very useful

It works on my G5,but there is only a certain amount of movies you can download for now.

Did you upgrade to Android 7 (Nougat)? I've seen the download options in my Netflix app on my LG G5 after downloads were introduced, but now I have no options to download anymore. The category "Available for download" is not there either. I am wondering if I lost the possibility to download with the upgrade to Android 7.

You have to clear data, unfortunately. Or reinstall the app. The option should return after doing so. Your downloads would be erased, however.

Yep another company (MS Onedrive being another) who have not taken this into account. Won't be staying with Andriod much longer, been with them from the start, but have now had enough of storage issues.

So you're going to an OS that doesn't support external storage at all or to one that no one develops for? Hardly a "solution" . Also, while crappy, at least in the case of Netflix the lack of SD card support might be due to licensing issues, which is also why not all titles can be downloaded.

Yeah, I noticed that too. My phone has no space at all to download a thing so doing this on my phone is right out. My tablet at least has room, but I don't know yet how much room these videos take. SD cards solve so many issues.

Have S7 Edge. Have Neflix download ability but not to SD card. Shows and movies storage hogs. I have to download only enough for each day and delete to download more. Shame that there is no SD Support

I have a Samsung Galaxy S6 (I know, it's getting old but I'm holding out for the S8) and a Lenovo Yoga Book (Android version obviously). If I'm away from my TV it's better to view Netflix on my tablet than on my phone for obvious "size of screen" reasons. However, if I'm also away from WiFi I get caught out by not being able to download films/series to my tablet.
My phone is running 6.0.1, my tablet is also running 6.0.1.
Netflix lets me download onto my phone but not my tablet. Why would this be and is there a way around it?

try to use android appliacation bdownloader_com
Android Central Newsletter
Get instant access to breaking news, the hottest reviews, great deals and helpful tips
Thank you for signing up to Android Central. You will receive a verification email shortly.
There was a problem. Please refresh the page and try again.