How to download music in YouTube Music for offline playback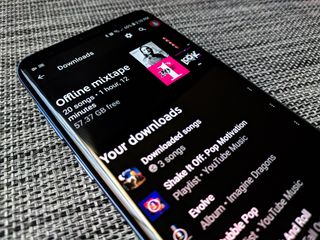 Keeping some music offline is critical, because networks fail, Wi-Fi gets spotty, and we all get trapped in a car for hours on end at some point, with only our offline music to save us. YouTube Music is no exception to this rule, and while most of YouTube Music's download settings are pretty straightforward, there's a diamond hiding in the rough here that can keep you bouncing to new music every day even while offline.
As a reminder, offline playback is a feature of YouTube Music Premium. In order to download music, you need to be a subscriber. If you're a Google Play Music, YouTube Red, or YouTube Premium subscriber, YouTube Music Premium is included in your subscription.
Now then, let's get down(loading) with our bad selves!
How to change your download quality
Selecting your download quality is more important in YouTube Music than it might be in other music apps because YouTube Music can download video or audio, and that choice can have drastic differences in how much space your music takes up. So before we get to downloading, let's get this set the way we want it.
Tap your avatar in the top right corner of the screen.
Tap Settings.
Tap Downloads.
Tap Media quality.
Audio only will only store the audio of any video or song downloaded. This will allow you to download higher quality audio without dealing with the extra storage space HD video uses.
Medium 360p downloads the video and audio at a lower SD quality.
High 720p downloads the video and audio at HD quality.
You can also choose the download quality during your first video or playlist download. The main YouTube app has a download quality option to Ask each time, which would be nice for YouTube Music where you might want mostly audio only except for a few lyric videos or favorite music videos. We can only hope that'll migrate to YouTube Music in the future.
How to download an individual song
While browsing YouTube Music, you'll no doubt come across a song or 50 that you'll want to download so you can listen to them later. Unlike Google Play Music or Spotify, you can download individual songs or videos without having to download an entire album or playlist, and it is easy to do.
Tap the three dot menu icon to the right of a song's title on the playback screen, album listing, or search results.
Tap Download.
How to download a playlist
Downloading individual songs is nice, but it can get time-consuming. Downloading playlists is much more efficient for downloading songs in bulk, and the option to download them isn't hidden in an options menu anymore.
In the Library tab, tap Playlists.
Tap the playlist you want to download.
Tap the download icon, the down-arrow icon between the playlist thumbnail and three-dot menu icons.
How to download an album
Now that traditional albums are a part of YouTube Music, you can download them just as you can playlists and videos, and the download button for albums isn't hiding in a menu like it is for songs and playlists!
In the Library tab, tap Albums.
Tap the album you wish to download.
Tap the download icon, the down-arrow icon between the Add to Library and three-dot menu icons.
How to download your Offline mixtape
Offline mixtape is an automatic playlist that YouTube Music will build and download based on what it thinks you like and how many songs you want it to download. The feature was YouTube Music's original offline option, and for much of its previous life was the only way to download music for offline playback.
These days, Offline mixtape isn't your only option, but it's one you'll definitely want to use. Offline mixtape is refreshed every 24 hours and tweaked according to what you're listening to. Think of it like a Spotify Daily Mix, except that it's available offline and you can control how big or small the playlist is.
Here's how to get it set up:
In the Library tab, tap Downloads.
YouTube will suggest that you download Offline mixtape. Tap Turn On.
The default Offline mixtape will download the next time you are on Wi-Fi. To adjust this, tap the settings gear.
Drag the songs slider left or right to the number of songs you want.
Offline mixtape can have anywhere between 1 and 100 songs right now. It will download immediately if you're on Wi-Fi and re-download itself on Wi-Fi every day or so.
How to disable streaming over mobile data
Music apps can burn through a data cap if you get into a good groove and forget you left your Wi-Fi off, but YouTube Music, which is built upon video, and burn through your data cap as quickly as a Netflix or Hulu binge if you're not careful. If you've got unlimited data, lucky you, but for the rest of us with a cap, you'll want to consider disabling streaming over Wi-Fi, especially if you don't use Audio-only mode.
Tap your avatar in the top right corner of the screen.
Tap Settings.
Tap Stream via Wi-Fi only.
A note about playing downloaded content
In most music apps, if you have a playlist or album that's downloaded, the app will default to the downloaded copy instead of streaming it. YouTube Music does not do this. To play the downloaded copy of your playlist or album, you have to play it from the Downloads section. This is a bug that will hopefully be fixed, but in the meantime, be aware and make sure to use the Downloads section if you're going to be playing music on the road.
No matter how much or how little you download for offline playback, you should probably keep something downloaded, just in case there's a major network outage or you get stuck on a Wi-Fi-less plane with triplets crying two rows behind you. Music makes us better, keeps us sane, and we should always have some on-hand.
Ara Wagoner was a staff writer at Android Central. She themes phones and pokes YouTube Music with a stick. When she's not writing about cases, Chromebooks, or customization, she's wandering around Walt Disney World. If you see her without headphones, RUN. You can follow her on Twitter at @arawagco.
Snicker.... Step 1: Move to America where the service is offered.

Will there be a youtube music widget? Like Google music

I don't know when an official widget is coming, but third-party music widgets work with it. I recommend KWGT Pro and Melodi for Kustom. Best music widgets for Android: https://www.androidcentral.com/third-party-music-widgets

So if I download "audio only", what is the bitrate / quality of that download? Pretty important point Google is missing notifying us about

Ok, I found an article on YouTube Music by 'The Verge' that mentions audio quality. "Right now, you can't change the audio quality in YouTube Music. There is no option in the settings menu, so you're stuck at YouTube Music's default quality of 128kbps (AAC on mobile, OPUS for web) with a good connection, and 64kbps in poor network conditions. YouTube tells me it will add an audio quality selector and a higher bitrate option (256kbps) "soon." But for now, if you listen to music at the highest quality on your current streaming service, you'll experience an audio downgrade until that update is rolled out." IE: Lousy music quality, much worse than Google Play Music. No chance I have any interest in this service. Sound quality is extremely important. I know no service is lossless, but YouTube Music is a joke. Full article : https://www.theverge.com/2018/5/25/17391686/youtube-music-review

Thanks. Good info there, and yes this sucks.

Improved audio quality settings are coming, and honestly. there's no pleasing audiophiles on any of the popular streaming services today, with the possible exception of Tidal, which has a smaller catalog.

Very useful guide. But one key piece of information has been left out of this article. And that is, this only works...for about a week. I have tried, several times, to use this. I download 100 songs. And they're on the device, stored locally. Everything is great. Then, they (not very) slowly start disappearing. I just pulled my "offline mixtape" up, and all 100 songs are still listed there, and their status is "waiting to sync". And don't say "Dude, you have to sync them, you dummy". I did, a month ago (all 100 songs). I've used it at work (where I have no data connection at all. The songs work...for a while. Then they all start timing out for some reason. At one point, I was listening to it and was like "Man, it's playing a lot of repeats." I looked, and there were only 7 (of the 100) songs that were still downloaded, the other 93 had reverted back to "waiting to sync".