How to copy music to your Android phone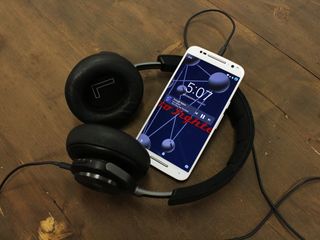 Most phones now have storage capacities that lend themselves nicely to holding all of your favorite tunes. If your phone has a microSD card slot, even better! You can usually transfer your music right onto the card.
Here's how to copy your music onto your Android phone using either Windows or Mac!
How to copy music from your Mac onto your Android phone using Android File Transfer
Once you've downloaded Android File Transfer, just plug your phone into your Mac via USB.
Launch Android File Transfer from the Finder or your Dock.
Open a Finder window and open the folder in which your music is contained.
Click either Phone or SD Card, depending on where you'd like to transfer your music to. If your phone doesn't have a microSD slot, then you won't have to SD Card option.
Drag and drop individual music files or entire folders onto Android File Transfer.
That's all there is to it, but be careful: If you try to transfer too many files at once, Android File Transfer will likely just crap out and stop party-way through. Keep your transfers to batches under 1GB.
How to transfer music from your computer to your Android phone wirelessly using AirDroid
If you prefer to go the cableless route (which is probably a good idea if your alternative is Android File Transfer) then AirDroid is where it's at. It works for both Mac and PC, so just download it (opens in new tab) and set it up!
Launch AirDroid from your home screen or from the app drawer.
Tap Sign in or Sign up.
Enter your email address and a password.
Tap Sign in.
Tap Enable if you'd like to see the app notifications on your computer in real time. Otherwise, tap Later.
On your Mac, go to http://web.airdroid.com. Alternativey, you can download the desktop client

(opens in new tab)

.
Enter your email address and password and click Sign in.
If prompted, click the device you'd like to transfer music to and click OK. You should then receive a notification on your phone that AirDroid is connected.
Click the Music button on the bottom left of the AirDroid options. A window will appear.
Click Upload.
Click to open a Finder window.
Drag and drop music files or folders as you please.
You can drop as many files as you like; you just can't select whether your music is stored on your phone or SD card. It'll automatically be stored on your phone, though if your phone has the function, you'll be able to move your music onto your SD card.
How to transfer music from your Windows PC to your Android phone
PCs make life quite a bit easier in that they recognize your Android phone as a USB device and so long as your phone is in the right USB mode, copying music is as simple as connecting, dragging, dropping, done.
Plug your phone into your PC via USB.
On your phone, tap the USB notification.
Tap the circle next to Transfer files (MTP). The File Explorer will automatically launch.
Launch another File Explorer window from your taskbar.
Find the music files you would like to copy to your phone.
Drag the music files to your phone and to either the internal storage or the SD card, if you have one and release them.
Your turn!
How do you copy music files to your Android phone or tablet? Let us know in the comments below!
Android Central Newsletter
Get instant access to breaking news, the hottest reviews, great deals and helpful tips
Mick is a writer and duty editor for Android Central. When he's not on the job, he can usually be found vacuuming up pet hair or trying to convince his wife that he needs more guitars.
Give the guys a break. I think they should be having a couple of days rest before Pixel madness!

The article was posted at 7:00 EST. Damn, can the day even start before you start whining?

No kidding , since he is probably not at work yet.

EST? You should join the rest of us on EDT.

keep in mind that there may be a lot of people switching over from a phone that had a very specific program that had to be used to load their music... lets not assume since we know everything about our phones that somebody out there wasn't trying to figure this out.

I personnaly use Xender, AirDroid is limited to a certain amount of transferred data. And for huge amount of data (movies etc) the best way is the wired cable !

For music files, I've set up a playlist in MusicBee that syncs whenever my device is connected (via USB cable). I know there's a way to do it wirelessly but I'm to lazy to set it up.

I've been looking for something better than MediaMonkey. MusicBee looks promising, I'll have to give it a try.

I'm using Musicbee as well. It's the closest thing I've found to the "it just works"-ness of iTunes.

Just upload it to Google Play Music?

That's one way, but it sounds like crap compared to lets say Poweramp

Google Play Music needs volume leveling.

Your right, I'm a subscriber myself but the app is definitely inferior sound wise. Also volume doesn't get as loud as other music players, at least on my Nexus 6.

Use MP3Gain and voila! Your music volume leveled for any music player.

Exactly. I don't even buy music there anymore. I go through Amazon music. Everything else I put on onedrive and groove syncs it all

Re-downloading it from Google Play Music on your device is a hassle. I wish they had a download all button like Spotify. Using Play Music also means you have to deal with their asinine device limit.

Pin a new playlist to your phone, then use the web interface (or GPMDP) on a computer to add songs to your playlist. The files will update automatically. But then, If I were to download all... I'd have to have a couple TB of free storage on my phone.

Thank for the tip! I just learned this on my Samsung Intercept!

Personal favorite is iSyncr paired with RocketPlayer, it works to sync your iTunes playlists/music (I know, I know, but I'm betting we all had iPod's before Android's) between your phone and PC over wifi.

iSyncr works pretty smooth for me and RocketPlayer is not an only option. I use Poweramp and iSyncr gets my play counts from it.

As I was a Apple fanboy before. When I made the switch to Android I just used Google play. As I still run a couple iPods. I helps me keep my music on them and upload to Google then I pick and choose playlists to download for "I don't have my iPod" moments Works well even with songs I bought in iTunes and rip from CDs

The only problem with this article is that it doesn't tell you how to transfer album artwork. That is a more complicated process. It involves finding the artwork and renaming it and adding to the music folder of the artist. I had to do a search on this and found it on crackberry.

Use an ID3 tagger to include the album art in with the MP3 file. Then you won't need to worry about file hierarchy. Most digital downloads come with the album artwork lately.

MusicBee has a built-in tool to search and update ID3 tags to your music, including album artwork.

Well, if you still have a phone with a micro-SD card (I don't ), you can pop the card out of your phone and put it in your PC, then copy that way. Probably even faster transfer than USB. But these days I don't keep much music on my phone, I mostly use Google Play Music.

I think Google Play Music is probably the easiest way too, except it doesn't use volume leveling. I've normalized all my music files but when they play after being uploaded, one is loud, the next one is lower, etc. I'm assuming it's matching my songs with what they have in their database instead of actually uploading most of mine. That's fine, but they need some kind of normalizing built in.

I copy via USB. Removing the SD card and putting into PC is a hassle.

I plug my 6P into my laptop running Fedora Linux. Then I copy the Album folder to the music folder on phone. Drag and drop. No intermediate software needed.

Basic article, but I'll allow it. Better than the connecting Bluetooth, Jesus.

I'm sure their relieved to hear you're allowing the article

Indeed And its they're smart guy

A have a question...how to (effectively) transfer music from iTunes on my PC computer, including all play list on it, to my android phone? Doubletwist is not an option because I already tried and doesn't work very well. So what's the best option available?.

Check out iSyncr from JRT. It's the best way.

1. Access my PC server over wireless with ES File Explorer
2. Select audio files saved there and click "Copy to"
3. Drink beer

Since I have unlimited data with Sprint I find no need to copy a portion of my music collection to my phone and instead just stream whatever I'm in the mood for. I used to stream my collection through Google Music but wasn't happy with the drop in quality. I now have my music stored on a QNAP NAS and use QNAP's Qfile app to stream without any drop in quality.

I also use iSyncr, it really is the best option if you use iTunes.

+1 to iSyncr. Works. Easy to use and set up.

Android File transfer use to work on my son's Moto G3, but ever since the Marshmallow update it no longer functions. Tried Airdroid as well with no luck. I'm getting an sd card for my Moto X but feel I may hit the same wall with it despite turning on developer mode, usb mass storage, MTP etc. Has anyone tried doubletwist? Former iPhone user with my entire library in iTunes on a Mac Mini.

Well now I feel basic, this article and comments helped me. lol Any suggestions for playlists that are easy to rearrange and edit?

My GN7 is the first Android phone I've owned (coming from Windows Phones for the last 8 yrs). So needless to say, I was pretty frustrated to learn I couldn't copy over playlists the same way I used to. I was spoiled apparently. Being able to plug my phone into my PC, open up Windows Media Player, drag over my playlists to the sync tab and click "sync" and done! Now I have to copy over the music and re-create my playlists again manually. Not fun when a playlist is over 140 songs.

Es files Explorer, wirelessly

I store all my music in OneDrive and copy the mp3s with the OneDrive App on my phone.

I store a copy of all my music on an OTG drive. If I switch phones I simply just plug it in.

Love the ease of use. Try this on iPhone! It's a nightmare...

i dont know if it's my windows laptop, but connecting to my nexus 6 via usb never really worked.
so i kind of improvised...anything that needs to go on my phone goes into cloud folders (box, dropbox, google drive, etc.)
and i use the ES File Explorer on my app to move the files/music around onto my phone (i have the cloud folder apps on my phone, but the interface of ES...i'm more familiar with that for now.

Microsoft Groove and Amazon Music. No cables

Solid Explorer connected to my media server over wifi. Not so much drag & drop as copy & paste, but it's the best solution I've come across for my particular need.

Mike Tanasychuk, you should resurrect the Android University logo for articles like this.

Don't make this a project. Simply download and install doubleTwist on your devices and computer and you can wirelessly transfer music between them all. Is also the best way to transfer music from iTunes to Android.

Does anyone know how to get the music to play? I been pushing this arrow and nothing
Android Central Newsletter
Get instant access to breaking news, the hottest reviews, great deals and helpful tips
Thank you for signing up to Android Central. You will receive a verification email shortly.
There was a problem. Please refresh the page and try again.