How to bring your iTunes music library onto the Samsung Galaxy S6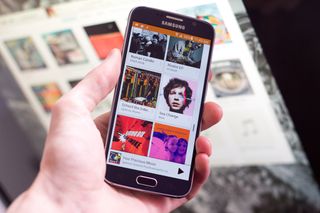 Chances are you have a carefully curated music collection with iTunes, but struggle with the idea of moving it all onto your Samsung Galaxy S6. We're going to outline the options available so it can be as painless as possible. If you want to do it manually, you can plug in your S6 over USB, but usually working with a cloud service or a third-party Wifi sync application can be more useful in the long run.
READ NOW: How to move your iTunes music to the Galaxy S6
Drag and drop
You can work with your music library outside of iTunes through Finder or My Computer. You just have to know where to look.
Click the menu button in the top-left of the iTunes window.
Click Preferences, then the Advanced tab at the top.
The top of the window will indicate where your iTunes music is stored.
Open Finder or My Computer from the desktop. Navigate to the file path we found in the iTunes setting.
Plug your Samsung Galaxy S6 into your computer with a USB cable and navigate to it in a new Finder or My Computer window. You may need to swipe down from the top of the screen of the S6 and tap USB options in the notification tray to turn on Media Transfer Protocol (MTP).
Navigate to the Samsung Galaxy S6 Music folder on your computer. Arrange your iTunes library window and your S6 music window side-by-side so both are visible.
Click, move and release folders and individual tracks from the iTunes library window into the Galaxy S6 Music folder. If you're on a Mac, you may need to install Android File Transfer for this to work.
For a first-time import, this is straightforward, and potentially all you need if your music library doesn't change too often. If you're particularly active in acquiring tunes, you may need something that keeps both devices synced and up-to-date.
Google Play Music
Android's official music app has a web client that shunts your music collection up into cloud storage so it can trickle down to your Samsung Galaxy S6. You can store around 50,000 songs in Play Music, which should be enough for most collections.
Visit Google Play Music on the web

(opens in new tab)

.
Click the gear icon in the top-right, and click Settings.
Scroll down to Music From This Computer, and click the Add Your Music button below.
iTunes will be shown as a source option on the next screen. Check the box below to make sure cloud-stored music stays in sync with your growing collection, then click the Add My Music button below.
Leave your browser open to allow your music to upload. Progress can be seen in the bottom-left corner of the Play Music window.
Open the Google Play Music app on your Galaxy S6. Once finished uploading, songs in the cloud will show up in the app.
In the Play Music app, tap the menu in the top-left, then Settings. Scroll down and check Automatically cache so your music collection will download once your S6 is connected to a Wifi network and plugged into a power source. Alternatively, you can download or stream individual tracks and albums.
Play Music remains a highly attractive solution, though there are similar premium music locker services available that have a similar set-up. Here are a few options.
Wifi
If you're not comfortable sending all of your files up to Google and would rather keep everything local, you can wirelessly sync your S6's music library with your computer over the same network using something like doubleTwist AirSync.
Buy AirSync from the Play Store

(opens in new tab)

and install the doubleTwist music player

(opens in new tab)

.
Open doubleTwist on your S6, tap the menu icon in the top-left, then Settings at the bottom.
Tap the AirSync menu, and make sure Enable AirSync is toggled on and that your phone is connected to the same Wifi network as your computer.
Open AirSync on your computer. It should detect your S6 and offer a configuration button to click.
Check the AirSync passcode shown on your Galaxy S6 in the doubleTwist settings menu and enter it on the configuration window on your computer.
Once paired, click the Music tab at the top of AirSync on your computer, click the Sync music box, and the Sync now button at the bottom. Automatic syncing can be enabled from the Device tab.
By and large these kinds of apps require a desktop client and one on the phone. The one area where this method has a particular advantage is that these apps will often sync up playlists as well.
That's it!
Before long you'll have your full music library fully imported to your shiny new Samsung Galaxy S6. Given the options, what's the most convenient way for you to get your tunes loaded up?
Simon has been covering mobile since before the first iPhone came out. After producing news articles, podcasts, review videos, and everything in between, he's now helping industry partners get the word about their latest products. Get in touch with him at simon@futurenet.com.
AC should create a new app/website and call it Samsung Central. Posted via My htc One M8

They should also make a comment section dedicated to stupid ones like yours. Posted via the Android Central App

I get what he is saying. I own nothing but Samsung.. But as good as the tutorial was, on moving iTunes into an s6. There was no reason it should have been titled how to move iTunes into s6. Should have just said how to move iTunes into your new Android phone/tablet.. As the tutorial will work for any android phone. Posted via the Android Central App

We have to realize that AC is a business. People are getting GS6 phones quite a lot right now, and when they go to Google, they type in GS6 not android phone. Easy way to get more people to read this site. Posted via the Android Central App

Yep that's been my beef the last week or so as well. Most of the how-to's they have been posting are applicable to most if not all Android devices and not just the Amazing super duper delicious Samsung Galaxy S6. This post from just 4 months ago, not only tells people how to sync iTunes to Android, it is actually more thorough: http://www.androidcentral.com/how-get-your-itunes-music-your-android AC is shilling for page clicks from those who don't know that a Samsung Galaxy is actually an android device. Which I wouldn't blame them if they had simply had an introductory paragraph and then linked to the original article. But they didn't. I will be glad when the newness of the S6 wears off.

There's a very good reason for the title: it's what people search for. As much as we'd like everyday, non-enthusiast phone owners to know that there's an underlying commonality between their S6 and every other Android handset out there, there's a significant proportion of owners who won't know when they're Googling for how to get music on their phone. Whether they learn (or even care) that this is stuff we'd covered before more generally is secondary to readers finding what they need. By that logic, we'd be doing one of these stories for every phone model, but the S6 is the exception rather than the rule. This phone is obscenely popular compared to the other flagships, and we want to make sure our coverage of it is fully-tailored.

By this logic. Ac should just put every known phone model into the tutorial and repost. So that get the maximum number of Web hits/money.. Posted via the Android Central App I have seen one galaxy edge in the wild so far.. We all know Samsung is the second biggest phone maker in the US. But I'm not seeing these phones in the wild just yet.. I bet the s5 and note4 are flying off the shelf. Might want to retitle and repost for the s5 or note. I got 4 family and friends to buy the s5 just two weeks ago. When the price of the s5 was a buck at best buy.. Lol

I don't think samsung cares if you buy a 5 are a 6 they want to sell both . Trust me there selling a lot of gs6 . To be far when I'm out in public I see way more iPhone 4 and 5 then iPhone 6 . You do realize that the gs6 has only been out for 3 weeks right . And there target audience is mainly the gs3 and gs4 people Posted via the Android Central App

I appreciate your condor, Simon. What you didn't say is that you assume the regular visitors to this site will quickly realize that this article applies to all Android phones, and that this sort of discussion shouldn't be necessary because the universal applicability of the techniques discussed are fairly obvious to moderately informed readers. People complain about 'clickbait,' while their complaints are nothing more than trolling. Why can't we all just accept the title and love one another, and Android Central?

Is called click bait. The s6 is the hot item now. Put it in the headline and attract more clicks.

Then it would match your asshole comment.

Ha ha ha ha ha ha ha Posted via the Android Central App

Agree. This site has gone downhill since they accepted $$ from Samsung...or listened to their SEO guy saying "Hey put S6 on every article for maximum Google search clicks" Posted via the Android Central App

A) This isn't a paid article. If it was, it would say so. B) Love it or hate it, SEO is a part of what we do. That said, two or three stories out of over 20 in a day is a far cry from "S6 on every article", especially considering its popularity.

In a 4hr period 6 of the 10 post today had s6 in title. And 3 of those really had nothing to do with the s6. Best kyb? How to transfer iTunes? And best launcher? I absutly love samsung and the s6 will be my wife's next phone after she wears her s5 out. Posted via the Android Central App using a Note 4

I'm not sure where you're getting those numbers. We've had four posts all day with S6 in the headline (1, 2, 3, 4). Admittedly, three of those were over the span of an hour, which is a little more packed than usual. That's out of 24 posts today so far.

Love it or hate it, it seems I'm not alone in my view. Whatever the reason, it doesn't really matter in a way. SEO or the like - it still results in a portion of your "customers" losing interest. I'm just giving my feedback - in my industry that's the most valuable thing to us, and if we don't listen to customers it reflects in our P&L. Maybe not so much here. But hey it's your site, you know best, so ignore me. Posted via the Android Central App

Hey to be far the amount of galaxy s6 article are more . Because like it are not there the 800 pound gorilla in the android world . So more people naturally will be drawn to articles written about samsung galaxy phones and there article get way more responses then any other phone . Besides what other Android device is there really to talk about I mean the HTC m9 is all but forgotten already. The g4 in my eyes is really the same phone I'm just saying don't hate the player hate the game Posted via the Android Central App

To all you people complaining about Android Central and the flood of Samsung S6 articles. Have any of you considered that just maybe Android Central is trolling you guys? Anybody with a brain knows that just mentioning Samsung in an article will stir some heated (sometimes ugly) conversation. I seriously think Android Central is exploiting people (I can't say I blame them either) who are dumb enough to engage in "Samsung sucks" type arguments. If this is true I want to thank Android Central for conducting a "draw Mohammad"-like operation in order to draw out the lunatics. Good job A.C. Posted via the Android Central App

I use Isyncr and rocket player Posted via Android Central App on 1+1

+1000 Totally seamless integration of the two. I make a change to anything in iTunes, it syncs up with my phone the next time I connect it to my pc. (I could use the wifi, but I've been using this program this way for so long, and haven't bothered learning the nuances of it.)

Agreed! I have been using iSyncr since I have had an android phone and it is by far the best app that integrates with iTunes. The developers are super responsive in helping you as well if you have any issues.

You are correct. When I first started, I had all kinds of issues; they were great to deal with!

Wifi feature is really nice, you don't have to be near your computer at all. Just touch wifi and pick the playlist you want to sync Posted via Android Central App on 1+1

Thanks. I'll give that a look this weekend.

I agree!! Been using that combination for awhile. Works great! I like that it even syncs last played information.

Buy music from Amazon. Problem solved. Posted via BlackBerry Classic

galaxys6central again ;//

Google Play Music ftw!
I had all my music stored locally on a Macbook Pro that took a sh*t, but thanks to Play Music I was able to download my entire library from the cloud onto my other computer. Posted via the Android Central App

Samsung must have been laying on the "ad" money pretty thick.

Nope. If this was a paid article, we'd say so.

You do get money when someone Googles and ends up on your website right? If so and I was worried about my buisness repost this article as many times as your can. And just plug in another high end, high selling phone into the title. The tutorial is really good.. Posted via the Android Central App using a Note 4

Just update it about once a week with a new phone name. Like s4,s5,note3,note4 I would start with those and so on.. Posted via the Android Central App using a Note 4

I love iSyncr and the ability to upload the library to Play Music. Yeah sure the initial upload takes forever for a big library but once you do, it's worth it. Used both for years and love then both still. Posted via the Android Central App

The article shows iTunes on a PC. Does anyone actually do that?

Does anyone actually use a pc? Lol.. I know I don't. I have one. Just for consoling routers and stuff. Other than that.. It sits under my coffee table.. Ha ha.. Posted via the Android Central App using a Note 4

I have pcs and macs. Apple had gotten so disappointing tho I rarely use them anymore.

basically it should be how to get your stuff out of itunes and into anything else. Probably google music since it has a music match feature and I'm not sure if any other services do. Because then I can use an iphone or any android phone for my music. Why stay locked into iTunes in this day and age.

Yea.. How to break away from iTunes and enjoy your music from anywhere.. Lol.. Posted via the Android Central App using a Note 4

Because there Is no other way right? Just iTunes for music. I thought iTunes was the only place to buy music? Thought either you buy from Apple or pirate it? Lol Posted via the Android Central App using a Note 4

+1 for Beck
-1 for Smashing Pumpkins

I don't know what all the fuss is about. I traded in my Samsung last year, and I'm not offended by the title.
If you step back and look at the big picture, it makes sense because the S6 is going to be the most likely device that former iPhone users would have jumped to so far this year, especially the way the M9 was burned at the stake.

Note that only iTunes music and non-DRM protected files are able to be played on Android devices. Movies and TV shows are protected by Apple's FairPlay DRM, which restricts the playback of movies and TV shows on Apple products. Which means you can't play them on your Android phone, tablet, Windows Phone, TV (unless you have an Apple TV), anything non-Apple basically. Not a problem if you own lots of stuff made by Apple, but a big one if you own non-Apple devices as well. Also, just to try to put out the raging Galaxy S6 hate fire, it works on all Androids. They're just doing this because the S6 is going to be one insanely popular device. I'm not a giant fan of Samsung, but I think most of the hate is unjustified. Posted via the Android Central App on an LG G3

I didn't see your post before I wrote mine. I was wondering if there was a way to get the only media I bought from iTunes, (4 movies) & move them with the rest of my digital music & movies on Google Play, I guess not hah ? "Rotten Apple". Posted via the Android Central App

I bought something from play music once. It wouldn't play and they almost didn't give me a re-fund. Xbox music is honestly way simpler for buying music.

I learned along time ago not to buy music or movies from Apple. The only Apple device I own is a Retina MBP & when I first bought it I purchased 4 movies from iTunes, all my other digital movies & albums are Google Play. Related to this post is there anyway to get those 4 movies off iTunes & into my Google Play library with the rest of my movies? Posted via the Android Central App

ISyncr is the best! I pick and choose the playlists and sync! Posted via the Android Central App

if the music is encrypted by drm, these tools cannot work. rather, you will need to remove drm first. the easiest way is to burn an audio CD in itunes and then rip it back as mp3 files. then you transfer the mp3 files onto your Android device for playback. or you can turn to a third party drm removal software for help. some can even get rid of drm from itunes videos. but always take note that you are only allowed to do so for personal use.

I tried the manual file system method of transferring music files, but every time I attempt to copy music files from my PC to my GS6, I get the message that the phone has stopped responding or isn't mounted. I keep the phone display active during the transfer, but that has no effect. Can anyone please troubleshoot this problem? I'm open to using iTunes to do the copy, but iTunes doesn't even recognize that my phone's connected via the USB cable. I don't understand the statement in the tutorial "You may need to swipe down from the top of the screen of the S6 and tap USB options in the notification tray to turn on Media Transfer Protocol (MTP)." I'm running Marshmallow, so perhaps the UI has made this instruction obsolete.
Android Central Newsletter
Get the best of Android Central in in your inbox, every day!
Thank you for signing up to Android Central. You will receive a verification email shortly.
There was a problem. Please refresh the page and try again.