Huawei Mate 10 Pro vs. Honor View 10: Leica rock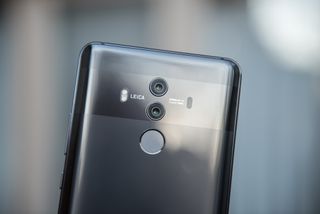 The Mate 10 Pro is Huawei's most powerful phone to date, a showcase for the Kirin 970 chipset and its powerful Neural Processing Unit. But there's a new, cheaper contender from the company's sub-brand, Honor, in the form of the View 10 — which bears many of the same features as the Mate 10 Pro, including its high-end silicon.
With so many similarities, no one could blame you for wondering why you should spend the extra money on Huawei's flagship versus Honor's. We're here to help you figure that out by taking a deeper dive into what each phone does well — and where each could stand to improve.
Specifications
The View 10 and Mate 10 Pro are very similar on paper ... but exactly how similar? Before we get into the intangibles like user experience, battery life, and overall value, it's good to quickly familiarize yourself with each phone by skimming over the spec sheets.
Swipe to scroll horizontally
Category
Honor View 10
Huawei Mate 10 Pro
Operating System
Android 8.0 Oreo
Android 8.0 Oreo
Display
5.99-inch 18:9 IPS LCD display
2160 x 1080, 403PPI pixel density
6.0-inch 18:9 AMOLED display
2160 x 1080, 402PPI pixel density
Chipset
Octa-core Hisilicon Kirin 970, four 2.4GHz Cortex A73 cores, four 1.8GHz Cortex A53 cores, 10nm
Octa-core Hisilicon Kirin 970, four 2.4GHz Cortex A73 cores, four 1.8GHz Cortex A53 cores, 10nm
GPU
Mali-G72
Mali-G72
RAM
4GB/6GB
4GB/6GB
Storage
64GB/128GB
64GB/128GB
Expandable
Yes (dedicated microSD slot)
No
Battery
3750mAh
4000mAh
Water resistance
No
IP67
Rear Camera
16MP f/1.8 + 20MP f/1.8, PDAF, 4K at 30fps
12MP f/1.6 + 20MP f/1.6, PDAF + laser autofocus, 4K at 30fps
Front Camera
13MP f/2.0, 1080p video
8MP f/2.0, 1080p video
Connectivity
WiFi ac, Bluetooth 4.2, NFC, GPS, GLONASS, USB-C
WiFi ac, Bluetooth 4.2, NFC, GPS, GLONASS, USB-C
Security
Fingerprint sensor (front)
Fingerprint sensor (back)
SIM
Dual Nano SIM
Dual Nano SIM
Dimensions
157 x 74.9 x 6.9mm
154.2 x 74.5 x 7.9mm
Weight
172g
178g
Colors
Black, Aurora Blue, Gold, Red
Diamond Black, Midnight Blue, Titanium Gray
Why you should buy the View 10
The View 10 isn't just similar to the Mate 10 Pro on paper; it's made by the same company, and it has the same EMUI 8 software interface on top of Android Oreo. Where it really starts to differ is in its design; contrary to the Mate 10 Pro, which features a gorgeous, yet fragile glass back, the Honor View 10 boasts a more durable and utilitarian aluminum casing.
It's also the only phone of the two with a 3.5mm headphone jack. Sure, the Mate 10 Pro comes with an adapter in the box, but let's be real — having to carry around a dongle everywhere just to listen to wired audio isn't nearly as convenient, and USB-C headphones are still a crapshoot.
Another key difference between the View 10 and Mate 10 Pro is the design and functionality of the fingerprint sensors. On the View 10, the sensor takes the form of a narrow strip just below the display, as opposed to the Mate 10 Pro's positioning around back. Thanks to this location, you're able to reallocate navigation controls to the fingerprint sensor on the View 10, eliminating the need for on-screen buttons and making room for more content at the bottom of the display.
Despite a lower price tag, the Honor View 10 has the same Kirin 970 chipset as the Mate 10 Pro. It's Huawei's most powerful processor, and it features the company's new NPU, which uses artificial intelligence to improve the camera software and prevent each phone from performance degradation over time — meaning you don't have to spend a fortune to get a long-lasting phone.
See at Honor (opens in new tab)
Why the Mate 10 Pro is worth the extra money
The View 10 is a fantastic phone, but for all its merit, Huawei isn't going to cannibalize itself with a phone from its subsidiary brand. The Mate 10 Pro immediately feels more premium than the VIew 10 — though again, that comes at the cost of a much more breakable glass back.
On that back, you'll notice Leica branding next to the cameras, and if that name sounds familiar it's because Leica is one of the biggest names in optics and photography. The result of this partnership is a pair of cameras that produce significantly better photos than those of the View 10.
Though both phones feature 6-inch displays, only the Mate 10 Pro utilizes AMOLED technology, which consumes less power and produces more vivid colors than the LCD panel on the View 10. Speaking of power, the Mate 10 Pro lasts significantly longer on a charge than the View 10, thanks to its larger 4000mAh battery. It takes a lot of effort to fully run down the Mate 10 Pro's battery in one day.
Unfortunately, neither phone is fully water resistant, but the Mate 10 Pro is at least IP67-certified, ensuring resistance against dust and up to one meter of water.
See at Amazon (opens in new tab)
Which would you buy?
The Mate 10 Pro is a formidable foe. Its larger battery is longer-lasting, the fingerprint sensor is more reliable, the Leica-branded cameras take better photos, and the IP67 rating helps to better protect it from the elements. Despite all of their similarities, the Mate 10 Pro is simply the better phone — that is, if you're willing to spend $800 to get one.
On the other hand, if you don't need all of the aforementioned benefits of the Mate 10 Pro, you might be better off buying the Honor View 10 at a much more reasonable $499. With a $300 price difference, the View 10 may be the better option after all. Its spec sheet nearly mirrors that of the Mate 10 Pro, and many users will enjoy some of the features that apparently don't qualify as flagship-grade anymore, including microSD expandability and a 3.5mm headphone jack.
The good news is that with phones so similar, you really can't wrong with either one. Assuming you're shopping for a new phone, the only question left to answer is ... which one are you getting?
Get the Android Central Newsletter
Instant access to breaking news, the hottest reviews, great deals and helpful tips.
Hayato was a product reviewer and video editor for Android Central.
As strong as I can be, Leica rock, nothin ever got to me. OOOOOOOH OOOOOOH OOOOOOH leica rock. Yeah

In france it's a 300 euros difference.

I pre-ordered the Mate 10 Pro. Hope I made the right decision...

Their skin is poor, but the rest of it is good. No wireless charging though, on any.

Think people think...until Huawei/ Honor clarifies what it`s future policy on software patches and upgrades is going to be why would you spend that much money on a phone not having that info? Is it not time now that Google has put in the effort with treble that we demand clarity on the policy going forward? We are on own worst enemy creating electronic waste as these products are made obsolete well before time...3 years of full support should be standard on products like these, unless we demand it I have feeling we will not get it!!! Google and Apple offer just that why should we settle for less?

When mate10 was released, I thought I read somewhere that company promised at least one OS bump. Not sure if that means bump to oreo 8.1 with emui 8.1 or 9.0/9.0
But as far as things are looking now, Mate 10 needs needs just a little bit of polishing to be done with the OS (e.g.calm down with battery optimization)

I've had 2 security patch updates since getting my M10 Pro and I'm currently on January's update which for Huawei is good going. My Note 8 was 6 months behind with Security updates before I switched. The Mate 10's will get 8.1 and 9.0 at least

Just got the View 10.
All that power plus SD card and headphone jack swung it.

I have the Mate 10 Pro, but with a bug that really bugs me out: widgets that stop refreshing.
M10pro owners have tried everything to work around this: ( https://forum.xda-developers.com/mate-10/how-to/widgets-stop-updating-t3... )
But still no solution other than rooting the phone.
With widgets fully working this would be a flawless device, especially compared to most Samsung devices, plus its speed and fluidity. But it seems that Huawei lacks fast and true customer support.

Same problem with Mate 9 after Oreo update. Really frustrating indeed, still waiting for a fix...

Have to admit this does concern me a little. I'm getting my 10 pro sometime next week and although I don't use many widgets I do have a clock weather widget at the top of my home screens that I rely on a lot as well as the Month Calender widget so that would bother me if they didn't stay updated. I currently have mine set to refresh each time I unlock the phone so hopefully it will still do that. Another thing worrying me is that some people mentioned the always on display clock also not staying updated. I keep my phone's on a dock at my bedside so I can check the time during the night etc if I wake so obviously I want the right time when I look

Many widgets work well. I use Transparent clock & weather (Machapp) and it does work. But for example BBC News and SeriesGuide don't. Meaning perhaps that it's not a total Huawei problem. I don't know. It seems that widgets with scrolling are more subject to this bug.

Weirdly that's the exact clock weather widget I use so that's a relief to know, thanks

Just pre ordered thru mass drop and save $100 and has no tax

Mate 10 (non pro) is cheaper, higher resolution screen same basic design and camera. Plus headphone jack, SD card slot no official water resistants tho.

Yeah I would probably have got the Mate 10 if it was available easily in Europe..I don't want to pay over the odds on ebay or various websites then also get stung for import tax.
Honor V10 is a great alternative if you can forgo the Leica branding and glass body.

I think at John Lewis it's only £399 and Amazon £389

These are both very good. The view is cheaper plus micro s/d expansion & the headphone jack. I don't know how good their support is?

Can you include the Pixel 2 XLin these comparisons?

What if Verizon & AT&T handled these? Personally, I think both would have sold boatloads. Here in the US we purchase many flagship's thru carrier financing and with Huawei phones being vastly improved would have sold quite well. Well the US government put the K-bosh on their deal. Who suffers of course the consumer. It's a crying shame. Is the I-spy ware warranted? I guess will never know! There were not many problems with the Nexus 6p!

« having to carry around a dongle everywhere just to listen to wired audio isn't nearly as convenient » Well you can leave the dongle always attached to the headphone wire so it actually doesn't change much...

This. I've actually grown tired of telling people exactly what you just said. It's only a problem if you make it one. The rest of us just leave the adaptor attached to headphones. More than one pair of headphones or aux cable? Buy a few more adaptors, they cost peanuts now

The Mate 10 Pro was meant to compete with iPhones and Galaxies on US carriers. Large battery, check.
Water resistance, check.
Better camera (w/ branding), check.
Limited storage options, check.

Probably cause the View 10 just got a US released date.

Took my mate 10 pro back you can't expand notifications in the notification tray!! WTF!! Regards Richard U.K

On the lockscreen you can't but on in the Notification Tray you definitely can. I do it all the time?

Probably meant the lock screen.

That does annoy me to be fair. Not overly but enough to wish they'd fix it

Won't read the article, but will guess on the conclusion : basicly is says something like this "They're both great phones.. it depends on what you like and how much you want to spend." Did I nail it?? For once, can the review just go out on a limb and say "For my money, this phone XYZ is the best choice." Car magazines and other product reviews do it every day. Why can't phone reviews???