When it comes to Wi-Fi mesh networks, more isn't always better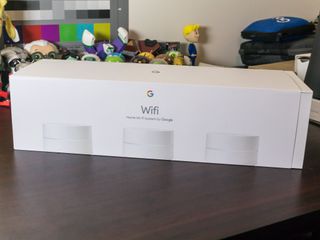 There are a lot of ways to get a radio signal from one place to another. This is as true for your home Wi-Fi setup as it is for any other radio equipment. When it comes to mesh networking, there are two distinct types of setup being offered by a growing handful of companies. Trying to sort out what's best for you and your house can be tough.
More: Do I really need a mesh network?
If you decide that a mesh network is what you need to get good Wi-Fi everywhere you need it, you have quite a few choices. They all are a little different but are designed to be placed around your house so you're always in range of a good, strong Wi-Fi signal. While the concept is the same — several small "stations" close to the places you need them — the number of stations (nodes) you need depends on how your house is laid out.
The wireless signal coming from a mesh access point is like a sphere or a bubble.
Inside this bubble, you have a strong connection to the network. This works great if you can get a network mesh node in a spot to spread that bubble around where you need it. Then you put another bubble in another spot to cover more places. It's a great way to spread the Wi-Fi around your house, but not be blasting it to the neighbor's house where it can interfere with his Wi-Fi. Anyone who lives in a crowded building with a lot of Wi-Fi networks can tell you how difficult it can be to have a good signal because all the channels we use for Wi-Fi are crowded.
More: How Wi-Fi mesh networks work
A setup like Google Wifi has a small number of network nodes. They transmit a strong signal in all directions and two or three nodes (plus the one attached to your router) will cover most houses. They are excellent products that work better than advertised and most anyone who buys into them will be happy with the results. Other products like Netgear's Orbi or Eero are similar — fewer units with each having a (relatively) large range of coverage.
An alternative way of doing things is with a product like Plume's Pod system. Plume Pods are tiny. They plug directly into an outlet and have a small signal bubble. You put a Pod everywhere you need one instead of placing one in a spot that can cover multiple rooms. The result is the same — when you're in range of a network node you have a good Wi-Fi signal.
Your house will decide for you
You want Wi-Fi where you need it. Maybe you want it in the bedroom, the living room and the kitchen. You're not concerned about blanketing the garage or storage closet or anywhere else with Wi-Fi. Plume's Pods could be great for you.
The Pods are small, use very little power and have a completely separate channel they use to talk to each other so they aren't using the bandwidth you are for watching a movie or getting online. That means you can use as many Pods as you want. I'm sure there is a limit somewhere, but it's not going to be reached in your home.
They also have a very small range. They are designed to be dropped in the room you need Wi-Fi in. Plume compares them to a light bulb — one in every room. That's a perfect analogy. It's a good thing and a bad thing.
Google Wifi's much larger range per node can be a problem if you have to place them too close together.
Ideally, your phone or TV or whatever you're connecting to Wi-Fi will pick the strongest signal it can attach to. You tell it to connect to MYNETWORK and give it a password, and it connects to MYNETWORK when it finds it. With two powerful satellite nodes in close proximity, it might not connect to the closest one.
This isn't a big deal for something stationary like your TV or a game console. You're not moving either end of the connection. But the phone in your pocket can move from one end of the house to another, and it can get confused about when it's time to grab the stronger signal because it's already connected to a strong signal. As you move around it can get better or worse, and you can end up scanning and hop from one node to another which can affect your network speed.
None of that happens with Plume's Pod system.When you leave the living room, a light bulb doesn't shine through the walls to the bedroom, and a Plume Pod is like a light bulb.
If you have a big house but it's laid out in a way where mesh satellite nodes are too close together (the Google Wifi app does a great job making sure you place them far enough apart, but it's not perfect by any means) you could see problems. You fix those problems by moving the nodes further apart, or by using more access points with a smaller range.
This can be tough in something like a tall, narrow townhouse or row house where a mesh point on each floor will get crowded, but one on the top floor and one on the lowest floor might not cover everywhere. Long, narrow homes can pose the same problem. Think about where a 40-foot bubble will fit without the centers of two of them being too close together.
Either method can give you awesome Wi-Fi throughout your home. If you're not in a situation where you would have two powerful mesh points close to each other, look to things like features and price to help you decide.
Senior Editor — Google Ecosystem
Jerry is an amateur woodworker and struggling shade tree mechanic. There's nothing he can't take apart, but many things he can't reassemble. You'll find him writing and speaking his loud opinion on Android Central and occasionally on Twitter.
Seems like a good idea, but I can't make that investment with replacing my modem/router, with just a router.

I don't have a problem with the WiFi inside my house, but rather outside! How well do these mesh network systems stand-up if I wanted get coverage in the back and front yard? Especially one that could handle winter weather (the unit would protected but still get very cold).

I'm thinking on this too. Standing in my garage, if you walk out and turn immediately left, you go up a few stone steps into my backyard with my patio on the other side of the wall of the garage. I'd like to put a Google mesh unit in the garage to protect it from weather (water never freezes in the garage even though it is not heated). I'm thinking I just need to use WiFi Analyzer and see where the signal is dropping off.

Not going to hold up outside without some additional weather proof protection. Why not just place them in windows around the house?

I've been using Ubiquiti Unifi gear for the last five years and have been quite happy overall. So much so I ended up adding the gateway and a POE switch so I could use the full power of their dashboard. They sell a dual band mesh AC unit for outside for $99 on their site.
https://store.ubnt.com/unifi/unifi-ap-ac-mesh.html

I like the Ubiquiti stuff. The Mikrotik stuff too. But what I like about Google's and other consumer mesh networks is that they are plug and play. No need to spend my time being a network administrator. And if it doesn't work, well then it doesn't work - I don't spend my time trying to figure it out when I want to be on the rink or the slopes.

See my top level comment for more details. I have the Plume pods near outside walls on all four sides of my house, some near corners. This gives me stable WiFi anywhere in my 1/4 acre yard.

Thankfully this isn't an issue in my townhouse with Google WiFi nor the 5 other neighbors I recommended it to. We utilize 3 pack of Google WiFi in 1500sq ft without any issues whatsoever.

Just finished setting up Google WiFi mesh network in our home with four nodes - basement, first floor, second and third. It. Is. Awesome. I can't tell you how impressed I am so far. Couldn't have been any simpler to set up and is giving us robust coverage throughout a 1927 home that is normally problematic for WiFi. So glad i was able to find these.

You guys can keep advertising Google products disguised as articles but there's no way I'm adding another google surveillance product to my house. I've had enough with Google, phones, thermostats, wifi routers, etc... The spying apparatus they've got must make the NSA go crazy. People are just willingly giving up all their private information to these a-holes. What was their motto? Do no evil? That crap went out the window as soon as they went public.

Did you even read the article?

There were a few mentions discussing Google Wifi, and at the end there were hyperlinks for "Google Hardware". Somewhat (but not totally) justified.

You do realize that the article was really about the Plume system, right? They were using Google Wifi to illustrate the more common mesh approach, as opposed to how Plume does it.

Although Plume gets high mention, I don't think AC actually tried it. Notice that they have pictures of a couple of other systems but nothing of the Plume pods. They could of at least gotten some of the stock photos from Plume for their product to show what it looks like. The fact that you don't have to set them on a table or behind furniture is nice. Just plug into a wall socket, maybe even behind a curtain, and forget about them. After I setup my six pods, my six year old son had a scavenger hunt trying to figure out where I hid them around the house.

Because of you....I took stock in tinfoil.....

I've been using the Plume pods for about a month now with very good results. First, I disagree with the statement that you need a pod in every room. I have a four bedroom four-level split (half flight of stairs between levels) with a re-room in the basement. The house has been extended in one area and has some really bad foundation shadows along with a cinderblock support wall inside one part of the house and brick covering over the entire house. My six pods are placed one or two on each level near the corners of the house on outside walls. Three of my pods are connected to Ethernet which then goes to a Fios router. The other three pods choose which backhall connected pod to link up with. I haven't had a situation yet where the network configured into a multi-hop architecture. A selling point of Plume is that with the lower power you can have more devices connected with reduced interference between them. The fact tha the pods spread out on different frequencies helps this as well. With WiFi Analyzer I can see pods covering the entire WiFi spectrum on both 2.4 Ghz and 5 Ghz. I haven't tried to test multiple device performance but I have done quite a few tests with a single device (Galaxy S7 edge) from different points in the house. I'm testing using iPerf running in server mode on a PC connected to the house Ethernet and a client on my phone. iPerf was running in multi-stream mode with eight streams. If I'm in a room with a pod connected to Ethernet I've gotten as high as 400 Mbps (yes, four hundred). In rooms with a remote pod I see about 120 to 180 Mbps. In parts of the house with no pod, and where I'm often connecting to a remote pod in another room, I'm still pulling 80 to 100 Mbps. Outside the house (on my 1/4 acre lot) I'll see anywhere from 10 to 50 Mbps, but still with a stable connection anywhere I go. Would Google WiFi have been able to do the same? Maybe, but I don't think I could have covered all of the foundation shadows as well as I can with Plume. Also, I haven't seen really good information regarding using Google WiFi with Ethernet backhall in bridge only mode (separate router on the same Ethernet backhall). Plume recognized the backhall right off and configured itself to use it. The app even allowed me to name each pod by getting close to each one and then entering a name. After doing that the map generated in the app showed the pods, with names, and how they were interconnected.

The more I read about Plume the more interesting it sounds. Now if only it was available outside the USA!