Here's where to buy the Nexus Player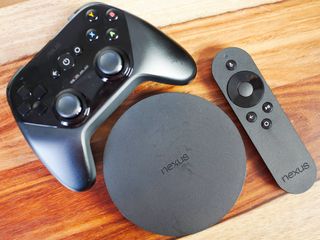 Google's first Android TV box now available from even more retailers
A couple months after its initial release, you're finally able to purchase the $99 Nexus Player from retailers other than Google. That's important for a number of reasons — perhaps the best of which is that you might well have a gift card or to for other retailers just burning a hole in your pocket.
But why buy a Nexus Player when it's nearly three times the price of a Chromecast? We can sum that up in two words: Android TV. Think a full-fledged Android system connected to your large-screen television, complete with dozens and dozens of games. And that means if you've purchased a game once on a phone or tablet, you might not have to buy it again for Android TV. (Some games may have completely new versions, though.) You'll also get great experiences for YouTube and Google Play Music, as well as a number of other multimedia apps, including Bloomberg, Pandora, Songza and more.
If you're still not sure, be sure to check out our complete Nexus Player review. (And to join in the discussion, swing by our Nexus Player forums!)
And just as the list of games and apps available for the Nexus Player continues to grow, so grows the list of retailers from which you can buy one. Here's where all you can pick up a Nexus Player:
Google Play

(opens in new tab)

(And the $39 Gamepad

(opens in new tab)

)
Tiger Direct

(opens in new tab)

(And the Gamepad

(opens in new tab)

Staples

(opens in new tab)

Frys (Not yet listed online)
Walmart (Not yet listed online)
I think I'll get one from Amazon Posted from my Droid Turbo, Kelly and Ozone

Is the Android TV also the equivalent of a Chromebox?

No, Chromebox is Chrome OS (like the Chromebooks). More of a computer experience. Android TV is a replacement for Google TV, which was supposed to be a competitor of Roku. So its more of a set top box.

In my mind it seems these two should be combined. Get the most bang for ones buck, and greatest amount of utility. We'll see what the hacker community brings us. ;-) For the time being, I'll wait on the sidelines, watching.

Eh...not sure I agree. The two devices are for completely different tasks. Android TV is a media box. Chromebox is essentially a computer. You wouldn't want to have the interface of a computer on your media box, it would be a nightmare.

Now Amazon is selling a TV streaming box that you can't watch Amazon Prime video on.

They've been doing that for some time now. http://www.amazon.com/iMito-MX2-Android-Rockchip-Bluetooth/dp/B00BUKBYN6... Here's an example.

What apps work with the Nexus Player? That's one thing with the Google Play app store. You can't filter apps by supported device (and not just Nexus Player). You don't know which apps are compatible with a particular device until you actually purchase the device or try to install the app on a demo unit in the store. In particular I'm wondering if NBA Gametime is compatible with the Nexus Player. https://www.androidcentral.com/e?link=https2F2F...

Email the developer Posted from my Droid Turbo, Kelly and Ozone

No clue, but I saw a banner ad for it on my Amazon Fire TV stick so if it isn't it should be.

The app developers is supposed to flag incompatible apps, so that the app doesn't show up in the Play Store when you search it. The Play Store on the Nexus Player is curated, so only tested, compatible apps show up. And yes, NBA Gametime is on there.

Thanks. I wish the play store would allow you to search and filter by compatibility before you buy a device so you can tell if you wan't to buy the device or not.

That's a fair point. I'd suggest using the forums here or elsewhere and finding a community that has the device(s) you're looking at. Then simply ask, "Hey, can you guys please see if XXX apps are available on the Play Store on your device? Bonus points for downloading and confirming compatibility!" That's the best that we can do in the absence of the tool you're suggesting. And as suggested before, you can always email the developer.

Excellent idea to use the forums. (Here's a handy link!) Here's the way it works: You've got Google Play on the Nexus Player, which has, I dunno, close to 100 apps on it now. (Been a little while since I've counted.) And then you can just go through apps in Google Play on the web and see what will install to it. But just because it'll install doesn't necessarily mean it'll actually work.

I'll have to wait til it gets to the UK.

I've seen them at my local Walmart. I'm still not sold on it, or Android TV in general yet. Everything it offers, I can already get with my setup of Roku/Chromecast. Though if I was tempted, I think I'd wait for the Razr Forge TV.

Not everything that Android TV offers, but yes, the combination of Roku and Chromecast is a nice setup. You won't be playing Soul Calibur, Oddworld, or emulators (NES/SNES/Sega/PS1/N64/etc.) on your setup, but then, I don't know if you're a gamer. Having options is nice, because we all have different tastes.

Yeah, I can't say I'm a gamer, but I can definitely see the appeal of it to someone who is. To that point though, even if you were a gamer, wouldn't you want to wait for the Razr Forge since its got the beefier specs, and the streaming from PC games capabilities (I'm woefully ignorant of PC gaming) all for the same price?

Depends. The NP can stream PC games, so long as your GPU meets certain requirements. The Forge can do so (and so can the NP with the $40 app) in a more flexible way, but I suspect will be subject to more latency due to the method used. That said, the specs on the Razer for on-device gaming aren't necessarily better than the NP's. NP has a more power CPU/GPU for optimized tasks (Razer's CPU is better for games that run better on ARM, GPU is still worse). The extra RAM in the Razer is nice, but few games utilize this today, so it's more of a forward thinking benefit. I mean, games on these device are are best going to be PS3/Xbox 360 quality, and those systems had 512MB of RAM (yes, I know, other variables at play). Bottom line though, due to storage and the gamepad, gamers should wait for the Forge TV over the NP today, IMO. So you're correct there. But the issue isn't as big as some make it. I have no regrets over my NP and would gladly buy a second today if the Forge weren't coming out so soon. Oh, and the NP gamepad is horrid. Serval should kill it.

Razors forge for me too! using my note4 or nexus 9

I love android but I would never get android TV Xbox had all of these apps since like you know forever. Plus I have chromecast, I'm tempted to blow 99$ But trying not too so for now no go. Posted via the Android Central App

Xbox isn't $100. Also, Xbox doesn't run XBMC (ironic) or Kodi. NP/Forge TV will also run emulators out of the box, something Xbox won't do. Not everyone wants to pay $300-$400 for a streamer when an $100 option can be more elegant.

It's not available here in the UK. Not that I'd want one, forge TV wiped any interest I had in the nexus player out completely. Wubba lubba dub dub!

I'll have both, a NP in the bedroom (currently in our living room), and the Razer bumping the NP from the living room when it arrives. For people who just want a simple streamer, the NP comes with a basic remote whereas the Razer doesn't. This will be an issue for some, but not all.

not to mention at $100 it runs better than the xbox one interface.

Right on queue Amazon drops FireTV to $84...

Honestly, there are so many other good to great options in the space that I just can't figure out spending $99 on this. I'm a Google fan, but I sincerely think they've missed the bus on this one. For $99, I'd probably get something like: http://www.amazon.com/Xsbox-S805-Android-Amlogic-Quad-core/dp/B00OPX3XQ6... and add a decent keyboard/mouse to go with for the living room, and this plus a decent mini KB/mouse combo with backlit KB for the bedroom.

Maybe you would. But you're not the target audience. That runs Android, and neither it or the apps are custom designed for the TV. They're touch based with a remote that tries to work around it. Grandma won't fiddle with that. Android TV is like a Roku or Apple TV, for the same price, but does so much more for both beginners and enthusiasts.

If you're actually fine with a keyboard in the living room than you aren't even remotely in the target demo for the Nexus Player... Just saying.

I have the Nvidia Shield Tablet and controller. It has HDMI output and a good 10 foot interface by using the Shield Hub app. The only thing I can't do with the Shield Tab is run apps made for Android TV. Is there a list of apps made for ATV yet? I bought an Asus Cube Google TV device and it was a stinker. I knew it would never get the GTV or ATV updated software. Now it's going to my local e-waste site.

"And that means if you've purchased a game once on a phone or tablet, you might not have to buy it again for Android TV. (Some games may have completely new versions, though.) " None that I've seen. So far every app that's on Android TV that I've purchased also loads on my phone. Not saying that you're wrong, just that I haven't seen this occur yet.

The Sky Force 2014 app is a completely different package. I think that might be the only one I've run across.

I want to see a feature by feature comparison of the Nexus, Amazon TV and Razor Forge, but if things look the way I expect them to, I'm going to go with the Forge. Being able to stream my PC Games to my TV is an AWESOME win and I get everything else that the other two do as well...

They should've gotten this out there much quicker, it's kind of dumbfounding how bad Google is at hardware launches. I've bought a Nexus 7 2013, N5, and Nexus Player at launch btw; and largely avoided most of the more severe launch issues with all three, but I still think Google could handle hardware launches much much better. I also bought a N9 last month, yet to open it tho since it's a gift for a February birthday and Amazon (where it was ironically cheaper) gives me until end of month to test and return it. Moto was pretty terrible too, absorbing and spitting them out didn't change much... 360 owner btw, and that order was the biggest hassle ever.

If you get two. U can use the VCOJAN25 from Newegg and get them for $87.50 each. Use https://www.androidcentral.com/e?link=https2F%2Fclick.linksynergy.co... as filler.

I would if I could stream Amazon through it. I'll stick with Roku for now. Posted via Android Central App

I hope Future Shop in Canada will start carrying the nexus player and gamepad.

Nexus Player is crap when compared to the FireTV. Really hate to say that, as I had high hopes for NP, but it's controller sucks (lack of buttons + build quality), software is greatly lacking, and the experience of apps in Nexus Player vs FireTV is staggeringly worse (such as Plex, much much better on FireTV). Also, while Nexus Player supports "Google Cast" (i.e. - Chromecast ability), I've yet to see it work well with any non-Youtube app...

I just bought one from Google with 1 day shipping last week. Damn you Amazon!

Yeah, I've read quite a few reviews that say the Nexus Player sucks. I'm going to order an ADT-1 instead. Costs quite a bit more (if you can find one), but you basically double the product (16GB storage, 2GB RAM, Tegra 4 vs Atom) and much better performance.

love my nexus player. fire tv for hackers. also gamestop has the red samurai bluetooth gamecontroller that works great for 13 bucks.

Tell me more. I was just in GameStop yesterday, asking the guy if he had a controller which would work with the Nexus Player. The guy said that the controller had to be compatible with lollipop. It seemed strange to me. $13 for a better game pad sounds good to me. So there's no hacking required? Posted via the Android Central App

Although I've read several times, I still can't figure out the major difference between it and my Chromecast besides an actual UI for TV, and a remote. I guess my usage is too simple to need a NP. But... I'm a gadget nerd who still wants one. Maybe that's the sign to save my money. I really am interested in that Yota Phone 2! Posted via Android Central App
Android Central Newsletter
Thank you for signing up to Android Central. You will receive a verification email shortly.
There was a problem. Please refresh the page and try again.