Hands-on with the Nextbook Ares 8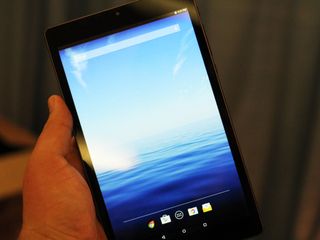 Nextbook, a company that makes affordable Android and Windows tablets, has some relatively new Android based tablets available, and we got to see what it was all about.
In the past, it was a general rule to avoid any cheap Android device, but over the past year things have started changing. We have seen more and more affordable Android devices that are worth checking out, and it appears as though that trend may be moving towards tablets as well.
Nextbook currently has two Android tablets on the market, the Ares 8 and Ares 11, both affordable with some small differences. We got to take a look at the 8-inch variant, but lets run through some of the specs of both. With both models, Nextbook has packed a 1.83GHz Intel Atom processor along with 1GB of DDR3 memory. The Ares 8 comes with 16GB of on-board storage, while the 11-inch variant packs 64GB, and both have microSD card slots to add additionally storage if needed.
On the 11-inch, the cameras are improved, and it comes with a keyboard attachment as well, which the 8-inch does not. The Nextbook Ares 8 is available in 3 color choices, black, red, and blue, while the Ares 11 is only available in black. With the additional features of the 11-inch model comes a larger price tag as well, but it still comes in under $200 at $197.
Now, talking about the performance. Out of the box, the Ares 8 runs Android 5.0 Lollipop with relative ease. The 8-inch display features a 1280 x 800 resolution IPS display, which looked reasonably crisp. Of course it wasn't the nicest display that we have seen, but it was far from the worst as well. The cameras are nothing to write home about, but that is to be expected from a tablet in this price category. Switching between apps, and moving around the OS felt pretty smooth, with no huge stutters or lag when using it.
Image 1 of 6
Priced at $78, the Ares 8 is a great affordable option, so long as you aren't looking for the greatest tablet on the market. If you are looking to browse the web, watch a few videos, and keep up with your social networks, this tablet is something to be considered. However, if you are looking to play resource intensive mobile games, or need the absolute best in class, this one is likely not for you.
Purchase the Nextbook Ares 8 tablet for $78 (opens in new tab)
Purchase the Nextbook Ares 11 tablet for $197 (opens in new tab)
Android Central Newsletter
Get instant access to breaking news, the hottest reviews, great deals and helpful tips
Jared started off writing about mobile phones back when BlackBerry ruled the market, and Windows Mobile was kinda cool. Now, with a family, mortgage and other responsibilities he has no choice but to look for the best deals, and he's here to share them with you.
Wow! A $78 tablet is good for browsing and social networks. But if you want to play CPU/GPU-intensive games or want a premium device, look for something else. I'm so happy you published this comprehensive "review". And I never would have guessed the conclusion.

You are an idiot, it was a hands on. Read the title next time!

Yes a "hands on".
I don't see any hands on though Posted via the Android Central App on my Nexus 5 or Nexus 7 2013

Was that really worth calling someone an idiot for? What are you even trying to prove..from reading your comment you come off as the idiot here. Posted via the Android Central App

Don't think that everyone knows these type of things. This will come up on Google and naive people to specs etc will find this quite helpful. Posted via the Android Central App

Interested in the 11 inch version especially if the keyboard is quality Posted via Android Central App

Several uses for this kind of device. Dedicated Chromecast/desktop box remote device. Kids/old persons first tablet. Permanent bedside reader/surfer.

Pretty sure this is a Walmart exclusive...

Looks pretty awesome for the price. Just wondering about the battery life on it, can't find any info for it...

Battery life isn't too bad. I own one of these, and I can use it for hours in games without needing to charge it again. The box says about a 7-8 hour battery life. I would say more in the 6-7 range depending on app usage.

I've had two of them. The first one ran great yet had terrible battery life; it burnt itself out in two weeks. The second one doesn't run like the first one did, but you can't fry an egg on the casing either. Battery life is decent with a full charge, but neither device would charge without being turned off. This is about as bad a design flaw as possible. Really Nextbook? I like the way the tablet handles but its charging system is primitive. Is god enough to make me curious about the larger tablet but power issues have me quite wary. Oh, the cameras are garbage. I suspect this tablet to be a way to dump old hardware by pairing it with a decent processor and goodish ram.

Sound like a great bathroom tablet. Just wish we knew about battery life. Posted via Android Central App

Battery life is pretty good, in my opinion. I own one as a replacement for my old HP tablet that died on me. I get about 6-7 hours on a charge.

Used to work at Walmart.. I'd always advise against purchasing any of these tablets, not to up sell but if you look around you could find something halfway decent for the $78 you're paying plus extra. I would always point in the way of the nexus 7. Posted via the Android Central App

Very true. At least the 2013 model who is still fast and responsive. Posted via the Android Central App for Sailfish OS on my iPad 7

Get outta my head AC I was looking at the 11 inch plus a few other low end chromebook / android hybrid devices just this week. Actually saw this at Walmart today and I still couldn't tell you if I like it or not. No wifi available and half the keyboard was covered by the tablet. Not a very well designed demo if you ask me. Posted via the Android Central App

Wonder if this would be good for my little brother.
His 2013 Nexus 7 stopped charging and then it got stepped on and screen shattered into a million pieces.
He is using an old iphone 4 with lock button broken.
At least he hasnt cracked the screen (back is cracked).
Maybe it would be best to buy a Kindle fire kid version? Posted via Android Central App on 1+1

Regarding the kindle fire kid version. It's the same as the 6 inch they are selling except with a bumper. Reviews have been mediocre regarding it. I'll just get a real Kindle Fire or repair your tablet with the amount to buy this one. Posted via the Android Central App for Sailfish OS on my iPad 7

it is what it is, too bad us makers leave hdmi out, out. otherwise a his unit to use with chrome cast and basic functions. better than an 80. a23 from shenzehn. open your mind and think creativity pple rather than dog a price tag or small lag , as with android everything has a workaround

I was hands on with the Nextbook Ares 8 tablet for maybe two months now. Since the tablet has been mostly unused for the entirety of this two months, I am frustrated to say the least.
The tablet was purchased at a random Walmart supercenter. Out of the box the tablet turned on and the screen entertained me when I swiped my finger...it moves with consistent response. I downloaded some reference apps, like the Holy Bible, The USA Constitution, Video codecs, maybe a game or two. This tablet connects to the internet with my home Wi-Fi connection. This works great. The video quality pulls me in...I am pleased.
Perhaps a month has passed, of many hard, demanding days of work....I try to turn on my tablet and I am met with a very RUDE black screen. The feeling of resentment courses through my veins. What I'm dealing with now is a delicately childish ability to hold a battery charge, I presume.
I'm somewhat of an educated human being. Somehow, I am refused the ability to switch out a simple battery. I do this all the time with T.V. remotes and watches and things like that, but this sucker doesn't think I can do it.
So I call up the random Walmart supercenter, after re-reading the manual, as it states to contact the vendor. They CAN NOT do anything to help me. Rather they WON'T do anything as stated by the manager....or from what I can tell was someone that didn't really care about my situation.
I don't know if this thing is going to work at this point. I'm going to keep trying to charge it before I have to contact more customer service, or having to mail in my hardware for someone to look at it and say it's not within the manufactures ability to fix.
So I digress.
If I'm not going to abuse the hell out this tablet, and it isn't going to work, when I need it, being that I wouldn't have hours of my life to wait for the thing to charge up.
Money was spent on something I don't think works how it should. I could have bought alcohol or drugs or a prostitute, and actually got what I paid for. Right now I feel lied to and cheated out of money that may have made me happier on other levels of consciousness.
So, If this product isn't the best, and the next model up is what really works....why in the hell is this thing even sold? Why? Stop making an inferior product that makes me feel raped. Just stop. There should already be a research and development department that figures out these things before it is sold. Not me or another consumer itself. These things are done behind public eyes, NOT at the friggin checkout counter. Thank you.

This is a very late replay but this is for anyone looking at this. I have had my tablet for around 4 months now and it still works Like when I bought it. I think this person got a faulty one and should have taken it back.

The Ares 8 is horrible don't waste your money!!!!!! I've exchanged mine several times and NONE will charge!!!! Completely unprofessional and not worth $2 if you ask me!!!

It needs a preinstalled browser

I bought a nextbook ares 8, bought a bible app for it then broke my next book. The next day i bought a new next book Ares 8 (exact same tablet) and thought that by signing into my google acct it would allow me to just download my bible app. It shows I purchased it but it won't allow me to download it without paying for it again. Any suggestions of how to download my bible app without paying for it again?

Have this tablet and it performs quite well for my needs. A few things, when you get it is to update ALL of the apps in the app store after recieving it via WIFI. Replace the Google keyboard with SwiftKey (predicts your words better) and remove the bloatware that comes with it (Go into Settings and long press on any app and drag them to the trash can.) Another thing, you will see a coupon for five HDX movies from Vudu. That promotion has expired and you will need to prove that you got that tablet from WalMart to get them. Install Drippler, it is great app to see what apps you can get for your tablet and take advantage of iwhat it is capable of.
Register your device also in case there is a Marshmallow update (highly doubtful)

I've had one of these for two months. My impressions are as follows: performance is somewhat slow, but not intolerably so. Battery life is only fair, and the unit drains while asleep if connected to wi-fi. Preserving a charge requires turning the unit off when not actually in use. Someone said that their Ares 8 would only charge when turned off; mine does not have that problem -- I can charge it while off OR while asleep. The case gets a bit warm when display is on for an extended period of time (over an hour), but it's not hot enough to be a hazard. My biggest complaint: the screen cannot be dimmed sufficiently to use comfortably in the dark. I like to watch ASMR videos in bed, but find the screen to be uncomfortably bright in a dark room. I have not yet found a tinted screen protector to remedy the problem, but am still hopeful, since that was the main reason I bought this tablet. (It would hurt to drop and damage my iPad because I fell asleep holding it; a $78 device I'm willing to risk.) Is it worth $78? I'd say definitely yes -- UNLESS you plan to use it mostly in the dark.

I BOUGHT MY SON ONE ON 04/01/2016 and the red indicator light was on and it said it was charging but the charger wasn't plugged in... SO I TOOK IT BACK TO WALMART AN GOT A NEW ONE NOW ITS DOING THE SAMETHING DO ANYBODY ELSE OR HAS ANYONE ELSE HAD THIS PROBLEM???

I bought this for my 5 year old and can't for the life of me figure out how to put app data on the SD card there's just no option there at all. Any other lollipop device I've used didn't have this problem. I bought a 64 gig card just for the app data as he loves to play games which can be huge. As far as music and video he streams everything. He stays on YouTube kids so this SD card is useless. I wish I had known about this devices strange limitation before hand because I wouldn't have bought it. 16 gig can only hold so much transformers and angry birds games before you have to tell your 5 year old to pick which one of two games that he doesn't want. / end rant! Shakes fist at ares Intel and whoever else is to blame. Posted via the Android Central App

I forgot my password for my tablet and can;t use it. How can I change the password so I can get in?
Android Central Newsletter
Get instant access to breaking news, the hottest reviews, great deals and helpful tips
Thank you for signing up to Android Central. You will receive a verification email shortly.
There was a problem. Please refresh the page and try again.