Hands-on with the ASUS Transformer Prime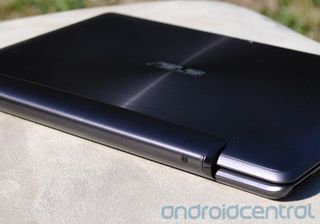 Youtube link for mobile viewing
Here it is, folks: The Android tablet you've been waiting to lead you out of the dual-core doldrums of 2011 and into the quad-core continuum of 2012. Welcome to the era of NVIDIA's Tegra 3 system-on-a-chip, bought to you by the ASUS Transformer Prime.
That's a lot of bluster, to be sure. But even in a short time with the Transformer Prime, you're quick to realize that this is a whole lot of hardware. NVIDIA's Tegra 2 dual-core platform brought Android tablets into the mainstream. And for as much as Tegra 2 brought to Android gaming and video playback, Tegra 3 takes it that much further.
But throw in the hardare prowess of ASUS' Transformer line -- this is the company that took a fledgling tablet and turned it into a viable Android laptop on the first try -- and what you've got is a combination of hardware and software that's leading the way into 2012 for an entire series of devices.
Check out our video hands-on above, and be sure to sift through our complete Transformer Prime review.
Transformer Prime Specs | How to root the Transformer Prime | Transformer Prime Forums
I want :) .... n I want that livewallaper :).. umm XDA? LOL

Nice review. Thanks. Which color was that? Charcoal gray or champagne? It had a bluish look - nice.

Man the turning in that wave racer game is awful. i have it both on my phone and tablet and everyone i show it to goes. awesome looks great 2 mins later they are playing something else. it always goes into the wall and doesnt turn right no matter what its played on. i wish they would fix that. if you try really hard you can kinda make it work but still its impossible not to flat our crash into a wall while trying to turn as hard as you can.

IT's great! Now I have to write Santa a letter)
Android Central Newsletter
Get the best of Android Central in in your inbox, every day!
Thank you for signing up to Android Central. You will receive a verification email shortly.
There was a problem. Please refresh the page and try again.