The Galaxy Note 7 is the first phone with Gorilla Glass 5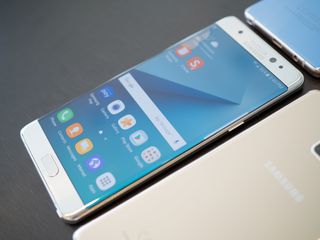 Just a few weeks after announcing the technology, Corning's latest Gorilla Glass 5 will make its retail debut on the brand new Galaxy Note 7. Gorilla Glass 5 takes all of the strength and clarity of the previous version and adds a major boost to the strength of the glass when it comes to breaking on impact from drops.
Without compromising any other features of the well-known screen glass, Corning claims that Gorilla Glass 5 can take drops from five feet off the ground onto "hard, rough surfaces" with an 80% survival rate. That's substantially better than competitive glass coverings, and of course an improvement over Gorilla Glass 4 that you'll find on the Galaxy Note 5.
What's particularly important about this upgrade is that the Note 7 uses Gorilla Glass 5 on the back of the phone as well, which is the side most likely to take daily abuse and harder impacts.
Now naturally that's not a "shatterproof" kind of claim like we've seen from some synthetic sapphire screens, but it's starting to approach that range of reliability. Knowing that your phone's screen glass is extra strong is more of a peace of mind sort of thing than an actually insurance plan against dropping your phone ... but we all know drops will happen — let's just hope that if you drop your Note 7, Gorilla Glass 5 will come to its rescue.
Android Central Newsletter
Get instant access to breaking news, the hottest reviews, great deals and helpful tips
Andrew was an Executive Editor, U.S. at Android Central between 2012 and 2020.
That's nice and all, but I wonder about the availability of tempered-glass protectors, especially since it has an edged display (though it's more subtle).

Probably just as bad as the ones for the S7 Edge. Guess PET or TPU is going to be needed. :(

If it's not 100%, any claims are pointless.

Yeah, 80% seems like nothing to crow about. I'd rather hear how better it is than GG4. I've dropped my phone with GG4 more times than I can count with no breakage.

Nobody's gonna be able to claim 100% survival rate.

True, nothing is 100% and there are always freak landings as well. But 5 feet and only 80% doesn't actually seem that impressive. A mere incremental improvement. Or, to put it another way: would it make me stop buying screen protectors and cases? Nope.

Sapphire on just the back, actually would have made some sense. Won't need to armor up the phone as mutch.

Isn't sapphire less prone to scratching but more prone to shattering? Posted via the Android Central App

Yes and no....... Sapphire is more shatter resistant then gorilla glass. the tradeoff is it's hardness offers less give in the face of an impact so the vibrations from said impact would cause it to shatter... it takes a lot to break the sapphire crystals but it doesn't crack it shatters. posted via the Pokémon Central app
-----------------------------------------------
before you see the light, you have to deal with the darkness

I honestly don't care about the back. I think it's stupid to put glass on the back anyways. fragile and slippery. Just so It can be more of a shiny object. Just make the front stronger because I'm in the 20% Posted via the Android Central App

They make the back glass so it feels more solid, people don't want plastic backs and metal is out of the question for wireless charging. Posted via the Android Central App

Plus metal is just as or even more slippery. luvin my s7 edge

I like my s7 edge so much that I don't know if I can give it up for the new Note.

Then don't? It's not worth the upgrade IMO. Posted via the OnePlus 3

Is it scratch proof? Posted via the Android Central App

Is it eedyott proof, cause I may eventually get one.

Good one.lol Posted via the Android Central App

Gorilla glass is horrible. It's never been scratch proof. Not sure why every manufacturer uses it. There must be something else better out there. I went to the gorilla glass booth at the last CES and told them how much their product sucked.

I called it when Gorilla Glass 5 was announced..... Awesome! Posted via the Android Central App

I was hoping for a flat screen version. I'll look at it when it hits the stores. But I'm waiting to see what Nexus has coming up. I had a Note2 for a short time and didn't really utilize the stylus, so I see little benefit for my particular usage. I'll have to see a direct comparison to the S7E and the N7... but I'm not seeing any reason to choose the N7 over the S7E yet. If one were to buy a N7 (or S7E) from say, BestBuy, it would be unlocked. Would it get OS and security updates any faster than buying from a carrier? I'm thinking so, but figure it will still have to filter through Samsung before being released to the end user. At least it won't have to be filtered again through VZW/ATT, etc. Nah, I think I'm really leaning Marlin this fall. But I still want to check out the N7/S7E. And the V20, for that matter. At least the V20 will come with Nougat.

There are only carrier versions of the Note 7 available until they announce otherwise and that includes Best Buy. If you didn't use the stylus then the Note line probably isn't for you and you may as well get a S7 or Edge version. The only things the Note 7 has that are improvements over the S7 are Gorilla Glass 5, Type C connector, Iris Scanner, Stylus, larger on board storage for the base model, a slightly larger screen with a better screen to body ratio, and some free stuff like your choice of either a Gear Fit 2 or a 256gb storage card. There are several awesome deals going on for S7 devices all over the place so you will likely spend less to get an S7 vs the Note 7.

That seems to sum it up pretty well. I prefer the flat screen, but am tired of my 5 inch screen on the GS/4 and want something bigger. Samsung may have lost me this time around. Seems only the S7E or the N7 have the screen size I want.. but only in the edge version. Rats.

The only reason i havent bought a Galaxy for the past year is the lack 64GB version so that is huge deal for me. Finally i will get this baby :)
Cant decide on color thought, i love blue but i think my usual color Black will be a better choice in the long run. Grrrr choices choices :D

Again you are missing the point. Yes GG5 is stronger than GG4, but did Samsung keep the same glass thickness in this phone compared to Note 5? They could've decreased the thickness keeping the same resistance to breakage.

LOOKING forward to getting this phablet
Android Central Newsletter
Get instant access to breaking news, the hottest reviews, great deals and helpful tips
Thank you for signing up to Android Central. You will receive a verification email shortly.
There was a problem. Please refresh the page and try again.