Google's Titan key doubles its reach as it expands through Europe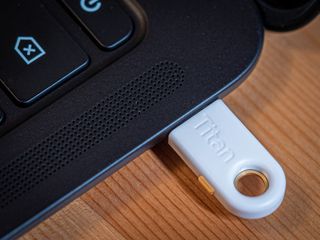 (Image credit: Android Central)
What you need to know
Google's Titan USB key is now available to users in 5 more countries, making 10 nations covered total.
Austria, Germany, Italy, Spain, and Switzerland join the US, Canada, France, Japan, and the UK.
Google is giving away free Titan keys to users on federal political campaigns.
We're big fans of serious security solutions like Google's Titan keys. Even stronger than normal two factor authentication (2FA), Google Titan devices are universal hardware two factor (U2F) keys that make it almost impossible for someone to login to your accounts without your permission. Every login requires a hardware key, and Google has been slow to offer the hardware USB keys in more than a few countries since they launched. Now Google is doubling the number of countries that can buy the Titan keys, in both USB-A and USB-C flavors, from five countries to ten.
All of the new countries are in Europe, and Google has yet to expand access to any countries in Africa or South America, and Japan represents the only Asian country on the list. The Titan key supports the standards of the FIDO alliance, which Google says "provide the strongest protection against automated bots, bulk phishing attacks, and targeted phishing attacks." Of course this election season makes it an important year for information security on a global level, and Google is offering members of federal political campaigns a free Titan USB key through the Defending Digital Campaigns non-profit group.
The Titan USB keys are available to anyone through the Google Store, and Google also offers bulk orders. The key is now available in Austria, Germany, Italy, Spain, and Switzerland, in addition to wider availability of the USB-C version of the Titan key in the U.S., Canada, France, Japan, and the U.K..
Titan Security
A safer way to live
Google has made huge strides in improving consumer-grade security. Its U2F Titan Keys go a step further and work with pretty much any device you have, now in more countries.
Can you set these up from a phone? I bought a yubikey and tried to set it up on several services using several browsers on my phone, which i couldn't. So I pulled my laptop out because it's apparently 2007 and tried to set them up using Firefox and edge, which j couldn't. So rather than downloading Chrome for Windows which i don't want, i put it back in it's packet where it's been for at least 6 months. Not exactly an accessible technology.
Android Central Newsletter
Thank you for signing up to Android Central. You will receive a verification email shortly.
There was a problem. Please refresh the page and try again.