Play Music Valentine's Day subscription offer will surely get your heart racing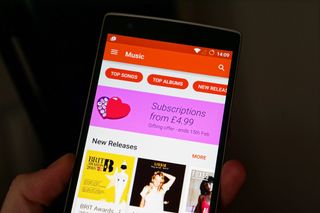 Google has slashed its pricing for Play Music gift subscriptions, offering a 50-percent discount for those looking to woo their love interest with the sound of One Direction. The best part is while this is an offer for gifting the subscription to someone else this weekend, you can also gift yourself the available offers.
You'll be able to pick up one month's worth of streaming for just $4.99, while 3- and 6-month subscriptions will set you back $14.98 and $29.97, respectively. It's also worth noting that while these deals are enticing with their prices alone, Google also throws in YouTube Red and YouTube Music access, making the promotion that much sweeter.
This offer ends February 15.
Check out the Google Play Music Valentine's Day promotion (opens in new tab)
Via: SlickDeals
Android Central Newsletter
Get instant access to breaking news, the hottest reviews, great deals and helpful tips
I don't want to sub, but the fact that I can gift myself this is making me think about it.

I love my Play Music subscription. You can buy more than 1 for yourself. I just bought 2 6-month "gifts" for myself using the $50 Nexus 6P credit and additional credits I've accumulated from the Rewards app. Play music at no cost for the next year. Awesome.

How do you activate the gift? I have it on auto-pay every month to my credit card.

Just send it to yourself in the checkout and when you get the email click the link to activate the gift. You'll get a popup on your browser when activating that says something like "Your gift has been activated. You will not be billed again for Play Music until _______". After the second one, mine said I won't be billed until March 2, 2017. Can't beat that. Considering buying more, but that would be with my money (instead of my accumulated credits).

Thanks! Just bought a year worth so far. Only saving $3/mo but still worth it

you can stack up to 9 times totaling 5 years sub. so $3 a month for 5 years = $180 savings

How is it only saving $3/month? Isn't the regular price $9.99/month, so the savings would be $5/month?

He probably has the special introductory rate of $7.99

Good point, I keep forgetting about the intro rate and that some people have it.

Thanks for the suggestion - just gifted myself a year and then I'll get it again next time around!

Spotify still rules as a better service Posted via the Android Central App

With YouTube Red and YouTube music included with Google Play Music, at half the cost, this deal destroys Spotify

That is the biggest reason I would consider this. It's pretty much so that I can have background music playback, unless Spotify has that. Also, it seems like youtube has everything, and Spotify has just about everything.

Anyone already have a Family account and try gifting yourself this?

wont work for family plan

Do I lose my $7.99 early adopter discount if I subscribe to the 3-6 month options. I don't wanna risk it. Posted via the Android Central App

I wouldn't risk it, I had to cancel my YouTube red subscription in order to redeem the code, so you will probably have to do the same, and once your code expires, you'll probably have to resubscribe at the $9.99/mo rate

I think your case is different. you are probably subscribed to youtube RED rather than play music sub.
thats why you have to cancel it

no you wont. your old subscription will kick in once this expires

still1 is right. My account is still showing the $7.99 renewal rate when the gift subscription ends later this year.

Where can you see the renewal rate? Just gifted it to my self, but can't see the 7.99 on renewal anywhere

Ignore that....Found it in play store, under "My Account"

Gifted my self wooo savings Posted via the Android Central App

Thank you AC!! Posted via the Android Central App

Fyi, you can gift yourself (or someone else) up to 5 years. Posted via the Android Central App

Just redeemed 3 years worth of music... Good deal. From my Note 5 using the Android Central App

Gifted my self with Google Opinion Rewards. Life is good. Posted via Nexus 6 running on any data plan I want

Anyone know if this will work with Google Apps accounts? We don't get the family plan deal, will this one work? I have the original, free gApps with my personal domain. Thanks! Tom.

It does. I use Google apps and there was no issues. From my Note 5 using the Android Central App

Wait, why do i see $4.99 for 1 month, $24.99 for 3-month and $49.99 for 6-month subscription?

Because you were too late

The article states the offer is open till Feb. 15.

This must be for America only. It's $50/ 6 months here in Canada.

Looks like they got rid of the 6 month special offer. It's up to $50/6 months.

How are the 3 month for 24.99 and 6 month for 49.99 deals when 1 month is 4.99??? Posted via the Android Central App

Hey author... your article states that it's good until Feb 15. When you go to that page now, the deal has definitely ended (5:00 PM MST Feb 12).

Most odd. Here in the UK the Valentines offer is £4.99, £23.99 and £49.99 for 1, 3 and 6 months respectively (that's $7.24, $34.80 and $72.52 US) making one month much cheaper than the usual £9.99 monthly subscription. Can I buy multiple one month vouchers to apply to my own account?

I just bought 3 of the one month subscriptions and successfully applied them to my account.

Now bought 6, my account will resume as normal in August. A good deal, thanks for alerting us to it Android Central!

Just gifted myself a year for $60 by stacking the 1 month gifts. :)

Seems to have ended already
Android Central Newsletter
Get instant access to breaking news, the hottest reviews, great deals and helpful tips
Thank you for signing up to Android Central. You will receive a verification email shortly.
There was a problem. Please refresh the page and try again.