Google's new site helps you find the right Chromebook for you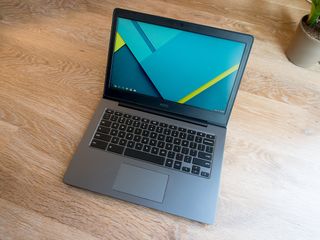 (Image credit: Android Central)
Google just made it easier to find the right Chromebook for you, adding a new section to its Chromebook site called "Find Yours." The sections helps you sift through the various brands, screen sizes, and device types in order to select your ideal machine.
Simply navigate to the Find Yours section of the Chromebook site and scroll down to find a wide swath of Chrome OS devices, including laptops, convertibles, and desktops, all from manufacturers like Dell, HP, and Samsung. Select the More Filters button to get a list of criteria, then select the various filters based on your needs. As you do, the gallery of available devices shrinks until computers meeting your exact specifications are all that's left.
After you've found the machine you want, you can select it to bring up an information card. That card will also feature several links for stores where you can purchase the product.
I recently bought the 4GB Asus Chromebook Flip. I'm LOVING it!!

Hopefully this is better than the Android recommendation site that said I should get a 2014 Moto X if I wanted a good camera

That's hilarious! Posted via the Android Central App

Lol Posted from my Nexus 6/Nexus 7 2013/Surface Pro 3

Since this post is about picking a Chromebook, can you guys talk about Neverware and the CloudReady software they put together for use in Windows and Macs? I would love to see your opinion about the subject. Thanks. Posted via the Android Central App

That site is so bad. No order to anything. Just a blur of chromeos devices. Posted via the Android Central App

And their selection filters really boil down to selecting by brand name. How useless is that?
Why not allow selection by batter run time, processor mips or some kind of speed measurement , ram, storage, usb connectors, and budget?

Not really what I would expect from a "Help me find..." site. They could list pros and cons, put them in a comparison grid, sort them by intended use, something. But, it does save one a few clicks, I guess.

Took a quick peek at the site. Seems quite useless. Why? Because you can filter on brand, general screensize and formfactor. How about battery life, screen quality, CPU / GPU / RAM or any other every day useful aspect? Also there is zero indication of what device is suitable for a given scenario. How is any uninformed prospective buyer going to be helped by this site as it is right now? I'ts a glorified ad banner, but if this article is to be believed it's way more. The site currently has a selection of 28 devices (wide swath, really?) across several form factors. Filters are OR based, meaning there is no fine tuning your search, but you can select the one aspect that you think is important and all brands you're okay with. Basically, if you are well informed or have made up your mind already, the site is redundant. If not, the site is not helpful.

Ignore the guide I'll make it simple buy at least a Intel celeron chrome book with at least 4GB of ram, don't get the ARM powered garbage. Posted from my Nexus 6/Nexus 7 2013/Surface Pro 3

It would be nice if that kind of filter was provided, but its not, so we end up getting random recommendations from articles.
I remember when intel Celeron was a pejorative. (And a strong one). Unless we have something to compare it to, we are guessing.
Guess we better go to a store where we can find em, and try em.

That is one useless website there, Google. Just a big old wall of chromebooks. More helpful would have been, maybe, a selection tool. Or links to reviews. Or recommended applications. SOMETHING to actually help you choose other than a little market-speak, a (starting) price and a link out to buy.

My friend's laptop is Toshiba Chromebook 2 2015 (CB35-C3300.) It's really incredible. I think it's the best chromebook out there. Posted via the Android Central App

Just about to say that, I have one. It's fantastic.. The Asus is pretty good too Posted via Techmology

Useless website.No real information provided.If you're reading the comments prior to going to the website,don't waste your time. Posted via the Android Central App
Android Central Newsletter
Get the best of Android Central in in your inbox, every day!
Thank you for signing up to Android Central. You will receive a verification email shortly.
There was a problem. Please refresh the page and try again.