Google wants your next car to have Google Assistant built in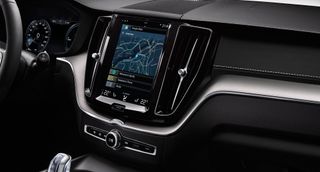 Android is the world's most popular mobile operating system, powering devices we use every day such as our smartphones, TV set-top boxes, and wearables. You may even use Android in your car via Android Auto. Google is continuing its work to make our cars smarter via Android, announcing new partnerships with automakers in its latest blog to get Android Auto and Google Assistant built right into the infotainment console of cars coming off the lot.
Android Auto has been around for nearly three years and is already available in a variety of car makes and models, as well as aftermarket stereos. Furthermore, at last year's Google I/O, the company announced a native Android Auto app for smartphones, which opened up access to the millions of Android users around the world who now only need a cheap car mount for their phone to enjoy Android Auto in any car (even if yours is still rocking a tape deck). Despite all that, Android Auto may still feel like a work in progress to some and an unnecessary luxury feature to others.
Google wants to change that perception, so at this year's developer conference, Google will be unveiling the next phase of Android Auto's development, which includes partnerships with car companies such as Audi and Volvo who will be including Android Auto and Google Assistant integration in their new lineup of cars — bringing us that much closer to making Knight Rider a reality.
Google will discuss these new Android Auto innovations at an informational session Wednesday at Google I/O and will also have some live demonstrations available on site. According to Bloomberg Technology, Google will demo the updated OS running on the Audi Q8 and Volvo V90 SUVs. You can learn all about the latest Android Auto developments at the informational session Wednesday afternoon which will also be livestreamed for those not in attendance.
Marc Lagace was an Apps and Games Editor at Android Central between 2016 and 2020. You can reach out to him on Twitter [@spacelagace.
And have a car entertainment system that is in perpetual alpha (beta if we're being nice)? No thanks.

Another Android thing that won't get security updates for the 'actual' life of the item right?

Why don't you make the Gmail app able to create labels and or folders for organizing email? Why don't we start with the basics, Google.

This has always been annoying.

Screw Android Auto. Ugly and poorly designed UI. I just use a phone mount and use Waze (or Google Maps) straight from the primary UI, without the poorly thought-out Android Auto interface getting in the way.

Yes please! I have hoped for this type of native google integration for years!

My next car won't have it installed. I don't like new cars and I prefer simpler vehicles since they are less prone to serious or nuisance issues

That had something to do with the article? Probably should have just kept this to yourself. I don't know you and I certainly don't care if you buy old cars.

His/her comment may well have related to the article. They basically said they buy older cars as there is less stuff to go wrong. Not that this is necessarily a view I share but Android Auto = potentially one more thing to go wrong. Its a bit rich to complain (particularly as you're probably wrong) that someone's comment doesn't relate to the article/doesn't interest you when yours literally adds nothing!

Every vehicle that I get in has Android auto LoL it's called me and my everyday carry Android device.

We drive two Volvo vehicles and do not need full Android Auto integration but I'd love to see Google Maps (w/ real-time traffic) available in Sensus rather than Volvo's native Navigation. Volvo/Sensus' Pandora app already works great when I use my device as a hotspot (thanks, Mint SIM). I use my device (Nexus 6P) for all other functionality and don't have the need for full-blown Android Auto.

Android auto won't get updates in 10 years when many of the cars are still being driven, and when I'm likely to own one.

I would actively refuse to buy from manufacturers with Google Assistant in them. I hate the extent to which Google digs into things, which is why I'm still not on Android. I don't want my car asking me questions and reporting back to Big Brother whatever I say and do.

To the author: there's no such thing an an Audi Q8. You probably mean A8 or Q7 :)

or how about making them work with no issues? When they say updated meaning what just UI changes and no internal changes to make it stable and no issues?.

Just the thing to make the roads even more dangerous. Something mounted so you have to take your eyes completely off the road to look at.
Android Central Newsletter
Get the best of Android Central in in your inbox, every day!
Thank you for signing up to Android Central. You will receive a verification email shortly.
There was a problem. Please refresh the page and try again.