Google releases Pixel's awesome Wallpaper app for all Android devices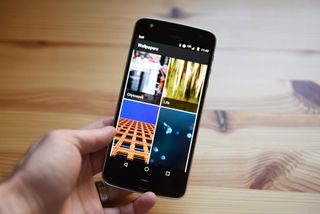 Google has released a new app to the Play Store for all Android users running Android 4.1 Jelly Bean and above. The app, simply called Wallpaper, offers almost the same functionality as the built-in wallpaper switcher on the Google Pixel, minus the array of interesting and unique Live Wallpapers that we covered in our review.
The upside is that now everyone has access to dozens of beautiful wallpapers curated by Google from Google Earth, Google+, and 500px's extensive selection of photos taken in the following categories:
Earth
Landscape
Cityscapes
Life
Textures
Each of these has what I would consider the most interesting feature of the app itself: a Daily wallpaper toggle that downloads a new image every 24 hours. Many of the pre-loaded options are stunning high-resolution shots of everyday things, elevated to a new form thanks to professional post-processing and framing.
Those running Android 7.0 Nougat can also choose to apply a single wallpaper to both the lock screen and home screen at the same time, or apply two different images separately. Those running Jelly Bean to Marshmallow only have the option of changing the home screen through the app.
What do you think of the new Wallpaper app? Will it replace Muzei (opens in new tab) or another third-party option you're currently using? Let us know in the comments below!
Daniel Bader was a former Android Central Editor-in-Chief and Executive Editor for iMore and Windows Central.
Maybe this will finally get me to delete my folder of wallpaper apps

Meh, I'll stick with my custom Tasker profile. I want a group of images I choose to be my wallpapers, and I want them rotated more often than every 24 hours.

It's not showing up in the Play Store for me, and the link in the article is dead. Did they remove it?

Edit - They have the link wrong. https://www.androidcentral.com/e?link=https2F2F...

Thanx http://www.androidcentral.com/users/hmmm
Your link worked for me https://www.androidcentral.com/e?link=https2F2F...

Thanks. It's weird, I searched for it, I looked at all the apps made by Google, and it didn't show up. I figured it had been pulled. But nope, your link works, so ¯\_(ツ)_/¯

I did the same, followed the link, searched, looked through googles apps, but nothing. The link, on the other hand, worked

It's there now. Just downloaded it yesterday

Seeing the same thing as @hmmm pointed out wrong link.
https://www.androidcentral.com/e?link=https2F2F...

I can´t find it on the Play Store and your link is not working. Where is it?

But I love how Muzei mutes the image and you can set it up to change the image more frequently than daily. .

Yes, the ability to mute and adjust the wallpapers is a killer feature imo.

+1 for Muzei, and it lets you plug in different image sources

Same for me. Muzei's features can't be replaced.

Having a look around with it now. I like the fact that it isn't purely a live wallpaper. If you pick a static image, it's just a wallpaper. That distinction is important, because certain things in launchers just don't work with live wallpapers. It's one of the reasons I switched away from Muzei. My home screen setup, and the blurring effects in it, work better with static wallpapers. I currently use an app simply called "Wallpaper Changer", which switches between a selection of static wallpapers, or allows you to switch wallpapers with a simple shortcut or gesture. but that only switches between whatever wallpapers I've put in to it. It doesn't pull in content by itself. Google wallpaper does. Whether it will work the way I want it, so I can replace the app I use now, we'll see...

Can't wait! My XL arrives tomorrow! :)

Cool. One of the reasons I use the Arrow launcher is for the Bing daily image. Be nice to have a bit of variety.

It can't do exactly what I want it to do. It needs 2 things: 1 - The ability to set it more than just a 24 hour refresh. Hourly, weekly, location based. All things I can do with my current app. I don't do them all the time, but they're nice features to have. 2 - It needs a simple launcher activity, so that I can switch to the next wallpaper at the press of a button, or a gesture. "I don't like this wallpaper. Next" I can do that with my current app. I have it set to a double tap on home screen. (Maybe it can do this through the Pixel launcher, i don't know) That said, if you're not as picky as me, and few people are, it's a good app. This is the app I use, BTW https://www.androidcentral.com/e?link=https2F2F...

You should leave feedback for the team within the app. It's new and they will likely consider those changes.

Daniel, looks like you paid the subscription for Newton, I was tempted but just seemed like too much, how are you finding it?

It's a cool app with some quality images.. but a little limited, im far too invested in Muzei and assorted plugins, not to mention my own obsession with changing theme's.. or changing w,paper on an hourly basis..

"Those running Jelly Bean to Marshmallow only have the option of changing the home screen through the app." #dealbreaker Though I suppose there's probably a way around it by downloading the photo into your gallery app.

Well that explains that..... Was trying to figure out what I was missing. Lol

Zedge is what I use. Love it.

I like also Zedge and MTP Ringtones & Wallpapers https://www.androidcentral.com/e?link=https2F2F...

I'm finding Google Now Launcher's performance to be a little laggy after using the Wallpaper app. Am I alone in this or is this something others are seeing too?

Nope. I'm back to Action Launcher 3 for that very reason.

Let me know when i can download the Dialer and replace it with Google's

On my s7 edge I can set both home and lock screens .

They stole Terra time wallpaper

If you don't have a Pixel phone, that app is crap.

Not sure why homage to bings ap isnt here but Bing has been doing this for years on android as well as desktop

Looks like, at least for the daily wallpapers, you can only set Home screen or Home screen and Lock screen - I can't find a way to set Home screen and Lock screen independently (so that I can pick up from two different categories). Am I missing something?

You can only do that if you're running Nougat.

I know this is old but how do you set both the Home Screen and Lock Screen together? Whenever I use the Google Wallpaper app on my VZW stock S7 it only sets the Home Screen. I see no option for both. In the Display/Wallpaper normal settings you have that drop down to set Homescreen or Lockscreen or Both. When I select the Both it doesn't allow me to choose the Google Wallpaper app. it disappears.

Ah thank goodness, I sometimes switch to wallpapers saved to my folder but having more official ones is a plus from me.

I can't seem to find the live wallpapers. I have the Nexus 6p. Any way to get those? All I see are images.

Still can't get live papers on Nexus 5x
Android Central Newsletter
Thank you for signing up to Android Central. You will receive a verification email shortly.
There was a problem. Please refresh the page and try again.